In lieu of my usual BB Cream or CC Cream, I used foundation today — Maybelline Dream Liquid Mousse to be exact. A lot of readers have been asking for a review of this product and so I decided to give it a test run.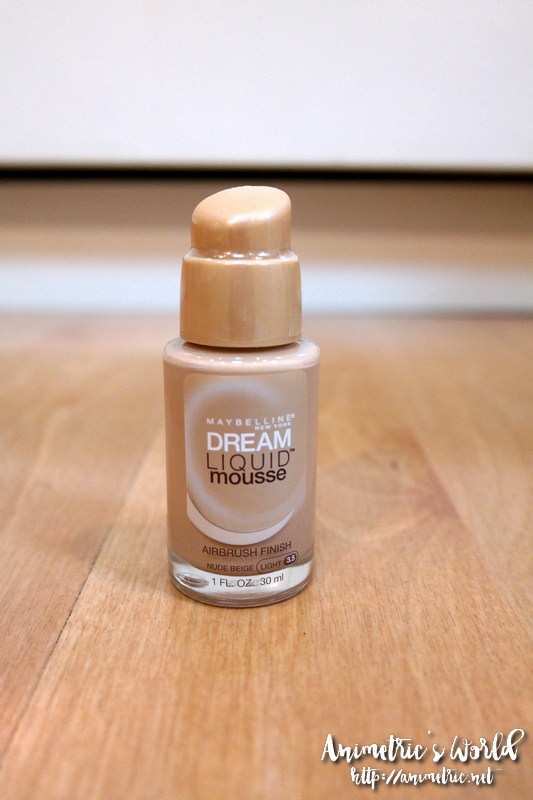 I got two shades of Maybelline Dream Liquid Mousse from the Maybelline Dream Perfection Launch a few months ago, 3.5 Nude Beige and 4 Sandy Beige.
I went with 3.5 Nude Beige because I felt the other shade was too dark for me. I think one shade lighter than this (that would be 3 Nude) would be better for me though.
Anyway, this one blended with the skin on my hand… problem is, my face is a bit lighter than my hand.
Here are my photos before and after applying Maybelline Dream Liquid Mousse. In the before photo on the left, I had just washed my face and applied my usual Laneige skin care products.
Applying foundation instantly gives you a more composed look. Maybelline Dream Liquid Mousse is so light and spreadable I just used my fingers to apply it. This photo was taken a little before 10am this morning. My face is a tad darker than my neck.
This photo was taken at around 4:30pm, over 6 hours after I applied Maybelline Dream Liquid Mousse. Of course it doesn't look quite as fresh as it did earlier but then I had been in places with no air-conditioning beforehand so I'd have to say not bad.
What I like about Maybelline Dream Liquid Mousse:
I love its super light and smooth consistency. It's incredibly easy to apply because it spreads on your skin like a dream. I believe it's even easier to apply than BB Cream because it's so spreadable.
It's easy to forget you're wearing anything on your face because it's so lightweight.
It dries to a matte finish and it looks natural.
There are six shades available.
Coverage is pretty good for something so light. Visible pores and blemishes practically disappear. I actually have a pimple on my forehead but you don't see it, lol.
It's reasonably priced at P599 per bottle.
Downside? Well unlike most BBs or CCs, this doesn't have SPF so you will need to put on a separate sunscreen underneath if you're using it during the day.
Maybelline Dream Liquid Mousse is available for P599 a bottle at leading department stores and drugstores nationwide.
Like this post? Subscribe to this blog by clicking HERE.
Let's stay connected: