I first encountered Manam Comfort Filipino Restaurant in Greenbelt when I went to Burger Bar with some friends. It was named Namnam Comfort Filipino Restaurant back then. Sometime later, a good friend of mine invited us to eat at Manam. My hubby wasn't too excited as he's not very fond of Filipino food which has quite a bit of vinegar. He can't stand the scent of vinegar, lol. Anyhow, I assured him that I had seen the menu online and there seemed to be a lot of things we could order that contained no vinegar.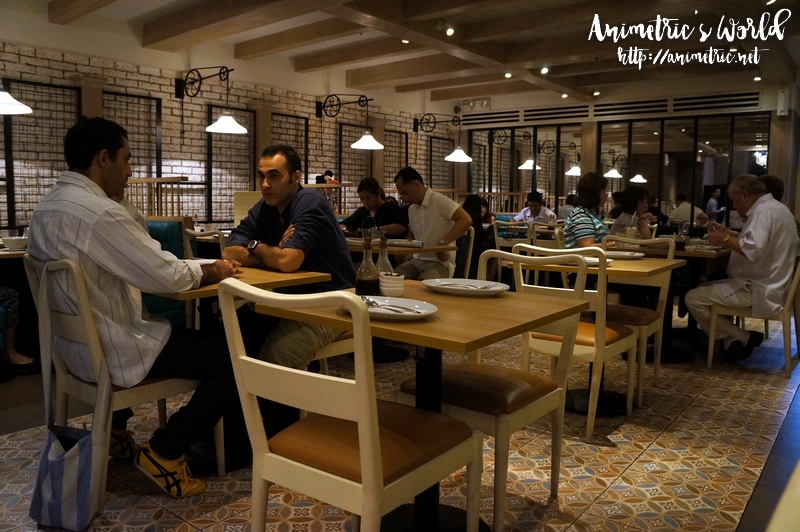 For a weeknight, Manam was pretty packed. It got even more full as the evening wore on.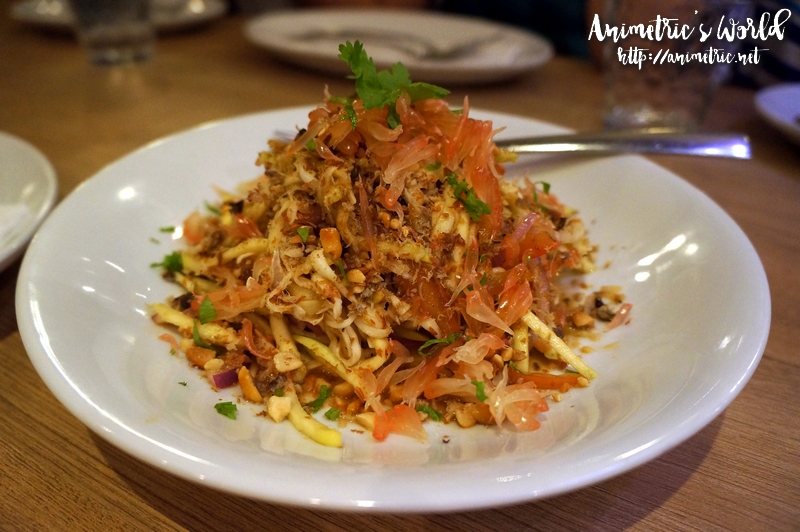 For starters, I ordered Ensaladang Namnam (P115 for Small). What's great about Namnam is you can order dishes in either small, medium, or large size. This salad is comprised of julienned green mango, bagoong (shrimp paste), tinapa (smoked fish) flakes, pomelo, native tomatoes, red onions, and peanuts. While the description was very promising, the sour taste of the green mango overpowered everything. I think more sweet-spicy bagoong is needed to offset the overly tart flavor profile of this dish.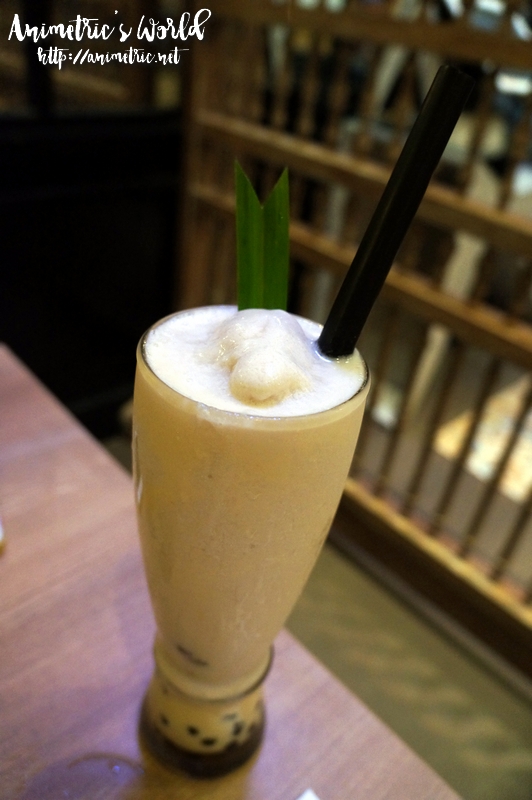 Out of curiosity, I ordered Gabi + Black Sago Shake (P95). It's sooooo good. In fact, it's much better than those purple-colored taro drinks milk tea places serve because it tastes very natural and it's not overly sweet. It's reasonably priced given the size and the all natural ingredients used too (real mashed taro, wow)!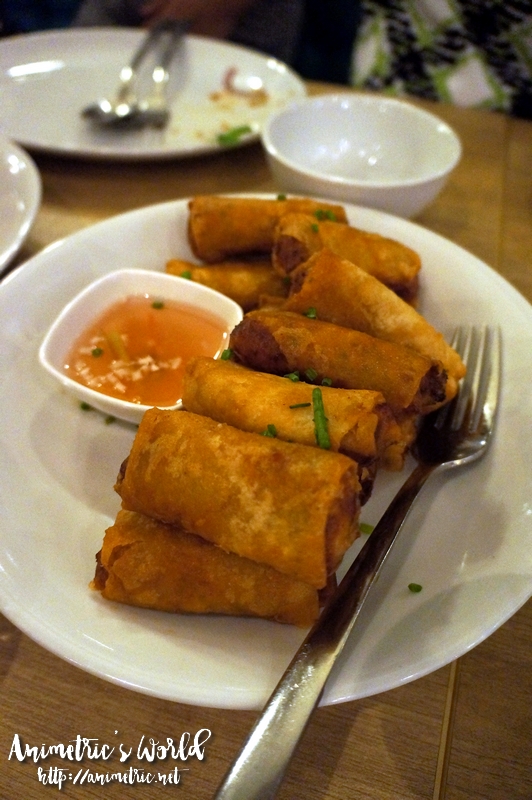 I also ordered Deep Fried Chorizo and Kesong Puti Lumpia (P360 for Large). I was totally blown away by this appetizer. Tasty ground longganisa is mixed with creamy kesong puti (white cheese) and then wrapped with a crunchy lumpia wrapper. Yum! I think I had three, lol.
One of our main dishes was House Crispy Sisig (P375 for Large). It was served sizzling hot in a big skillet. It's the usual chopped pork jowls, cheeks, and ears but it's fried to a crisp and topped with lots of crunchy chicharon. It's so sinfully irresistible. I'm very picky when it comes to sisig but this is really delicious.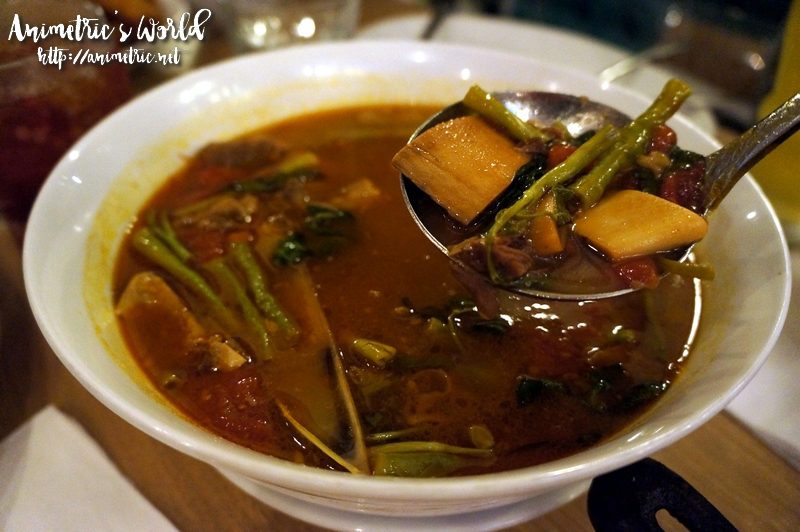 The most memorable dish of the night for me was Sinigang na Beef Short Rib and Watermelon (P390 for Medium). Oh wow. It's tart, sweet, and savory all at the same time. The soup has this deep rich flavor which is such a joy to sip. The fresh vegetables and tender beef complement it perfectly. This definitely trumps the traditional tamarind-based sinigang.
We also tried Breakfast Fried Rice (P160 for Small). As the name suggests, it's got your usual breakfast items stir-fried into the rice — corned beef, bacon and steak bits, plus scrambled eggs. Tasty!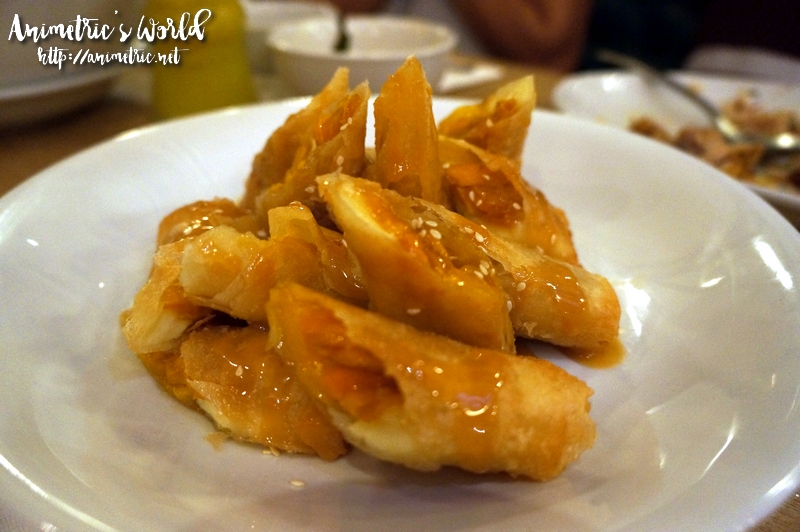 For dessert, we opted for Turon of Mango and Kesong Puti (P230 for Medium). I was so full already at this point but I tried a piece. It was good.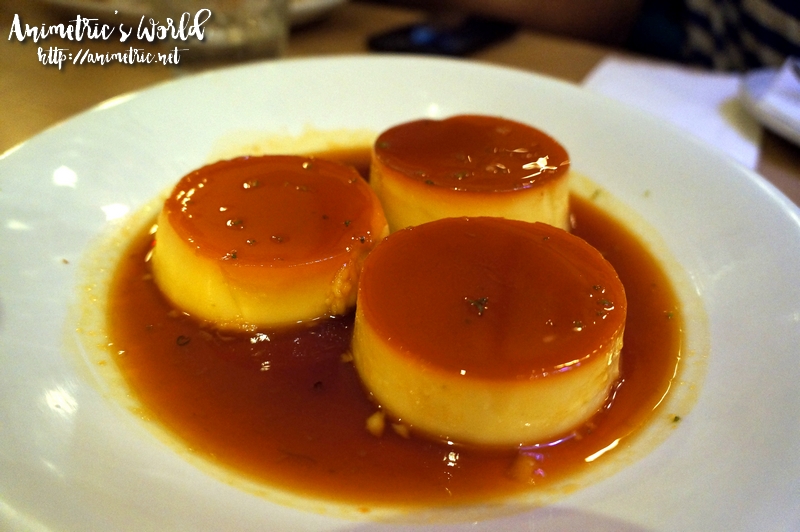 Then we had Gata Leche Flan (P148 for Medium), which is made with coconut milk instead of cow's milk. It's very rich and creamy and it melts in your mouth with the added bonus of coconut flavor.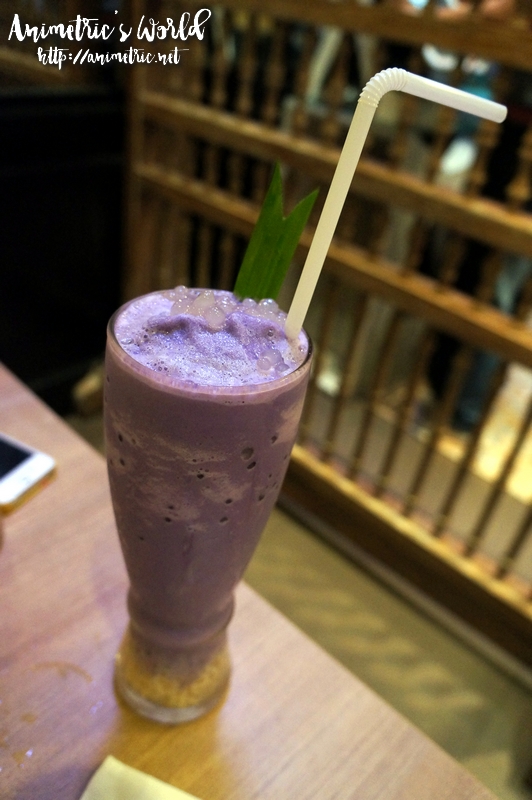 Oh yeah, hubby tried Ube + Sago Shake (P95). I had a sip and it tasted like melted ube (purple yam) ice cream with milk. He liked it a lot but I prefer the Gabi + Black Sago Shake that I ordered.
All in all, we had a pleasant dining experience at Manam Comfort Filipino Restaurant. Prices are reasonable given the portions and the quality of the food. The fact that you can order small size dishes at P100+ to P200+ per serving makes meals a lot more interesting since you can get to taste a wide variety of viands without spending a fortune. It's recommended that you call for reservations though since the place fills up quickly. Hubby liked it there too, lol.
Manam Comfort Filipino Restaurant
G/F Greenbelt 2, Esperanza St. cor. Greenbelt Drive,
Ayala Center, Makati City
625-0515
Like this post? Subscribe to this blog by clicking HERE.
Let's stay connected: