Had dinner with friends at 8 Cuts Burger Blends in Greenbelt 2 last Jan. 18, 2013. I've actually been hearing a lot about the place and so I was quite excited to try it out.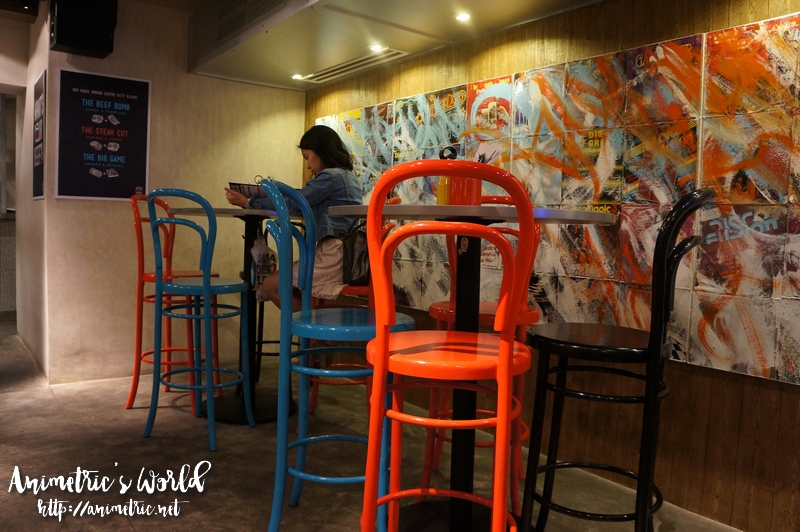 The place is very casual and colorful. High chairs and circular cocktail-ish tables make for that bar vibe. Everything in the menu was so tempting we wanted to order everything! XD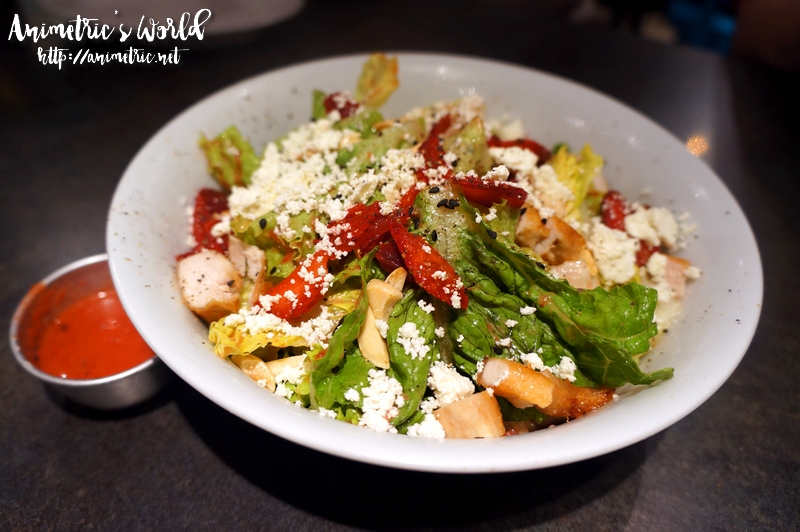 For starters, we had the Holiday Salad (P245 Solo / P360 For Sharing). Now this is my kind of salad — light and refreshing! Romaine lettuce, grilled chicken strips, basil, feta cheese, and almond slivers are all tossed together and served with strawberry vinaigrette on the side. It's so good I can have just this for dinner and be perfectly happy.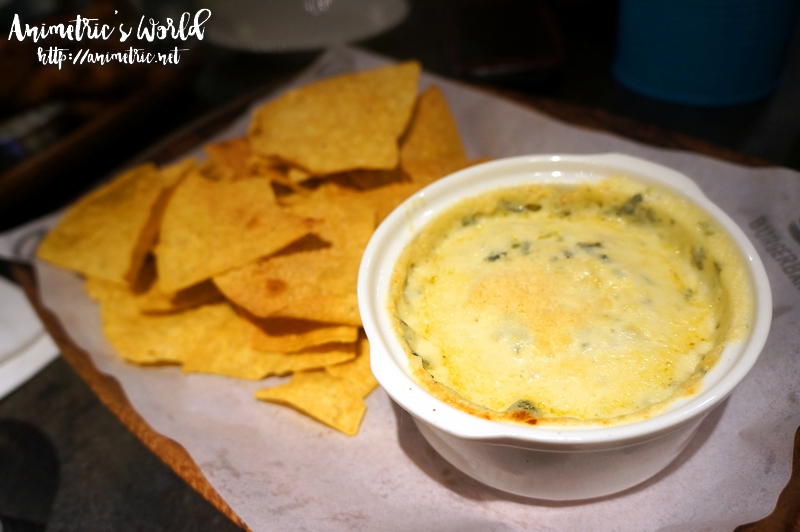 Then we had The Dip of Warm Artichoke & Spinach (P285). A big bowl of cheesy and creamy with artichoke and spinach bits and pieces inside is served with lots of nachos on the side. Yum! I love spinach and artichoke dip… in fact I usually buy it bottled in the US just so I can enjoy it at home.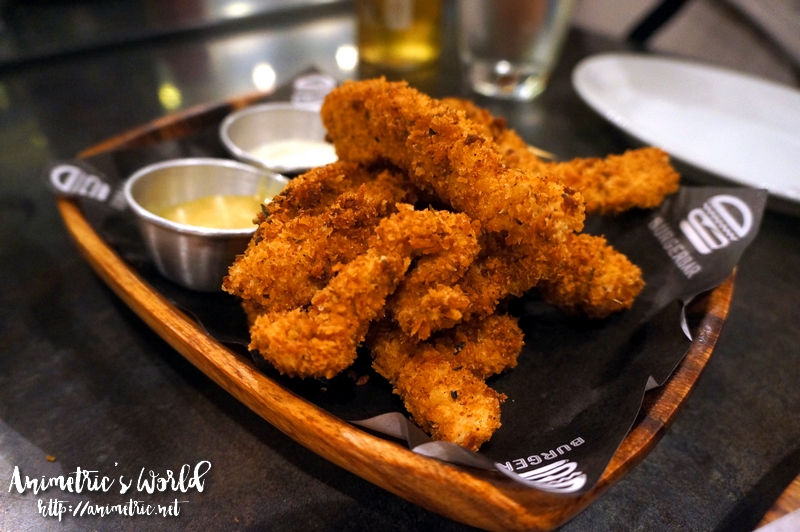 Next up was Buttermilk Chicken Tenders with Roasted Jalapeno Ranch & Curried Mango Aioli (P290). I'm not too fond of chicken in general but these crunchy, tasty strips make for the perfect appetizer. They go so well with the sauces too. Kids will love it!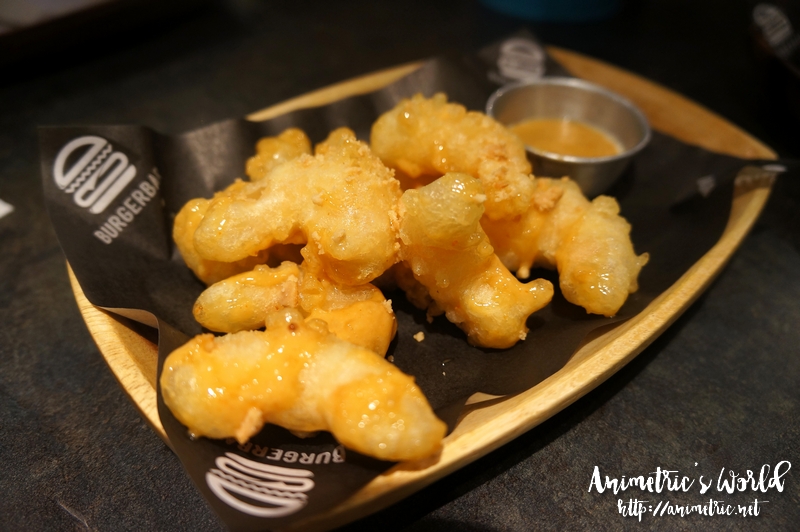 One of the appetizers that caught our eye in the menu was the
Chinatown Rock Shrimp Poppers (P260)
. Tender, juicy shrimps are encrusted in crisp batter. Delicious!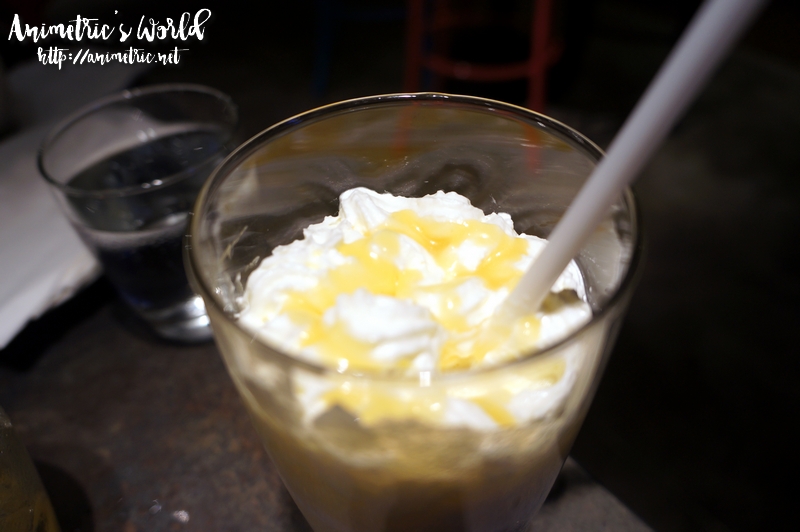 Salted Caramel Milkshake (P175) came highly recommended so we had one order split into two servings (that's why my glass above isn't full). Unfortunately, I found it too sweet. The drink itself tastes like melted vanilla ice cream topped with whipped cream and drizzled with salted caramel syrup. I'm not fond of ice cream-based drinks so this doesn't really work for me.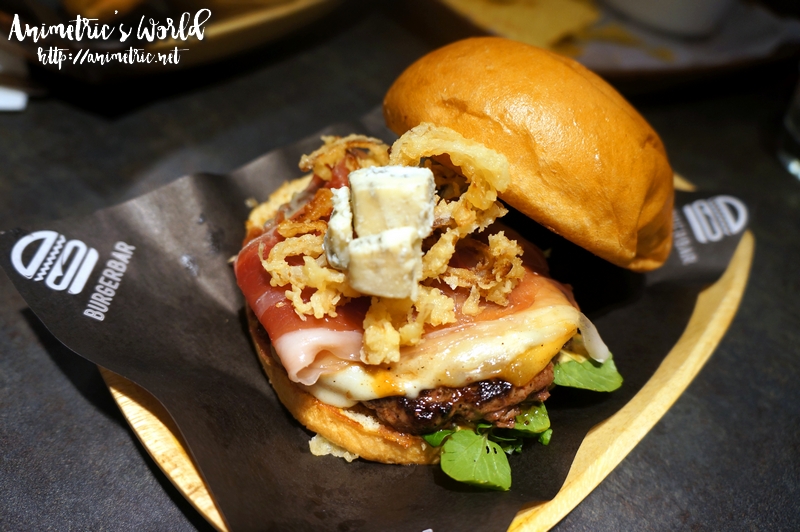 We had so much appetizers that I was on the verge of getting full but then we couldn't end the night without having 8 Cuts burgers, could we? Normally the way to go about it is to compose your own burger — you choose the type of bun and patty you want then layer on the toppings. A custom burger with one topping would cost about P185. But as I've mentioned earlier, the menu items were too hard to resist so we decided to order a few of their signature burgers and split amongst ourselves so we could taste different variants. First on the table was The Bar Burger (P290). Smoked scamorza and gorgonzola cheeses, fresh prosciutto, watercress, caramelized onions, and crispy onion rings top Burger Bar's trademark Big Game Blend patty. Yum!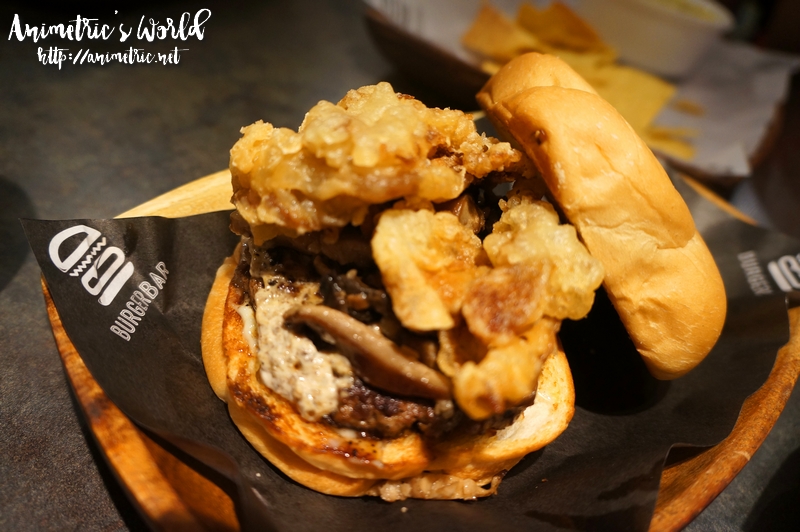 Next up was The Rising Shroom (P280). Steak Cut Blend patty is topped with fried oyster mushroom tempura, white truffled cream cheese, and sauteed mushrooms. We all loved the combination of the flavorful beef patty and the chewy juicy mushrooms.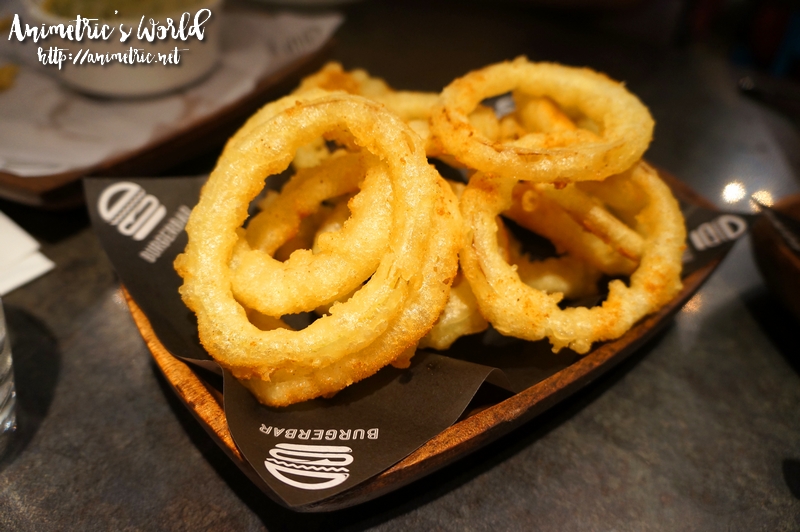 We had a serving of Onion Rings (P80) too. They're so crispy it's like eating chips. They're slightly seasoned with barbecue flavor for that extra kick… no need for sauces or dips!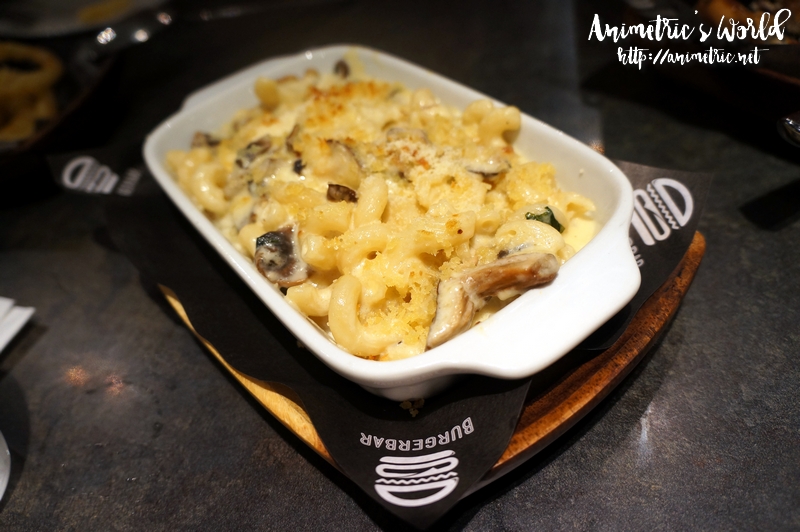 8 Cuts Burger Blends serves pastas too. We had Mac N' Shrooms (P195). Cheesy baked macaroni with juicy mushroom pieces… mmm, I love cheese and I love mushrooms!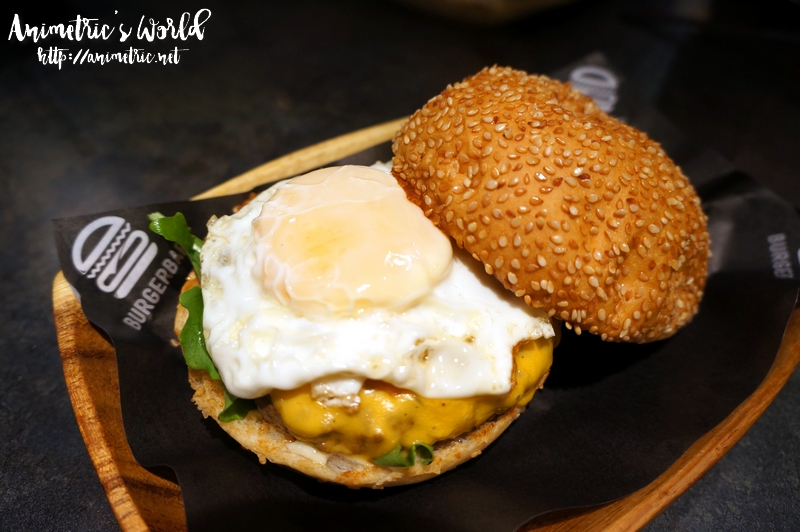 Everybody's favorite was the Hangover Burger (P285). 8 Cuts' Big Game Blend patty, yellow cheddar, crisp prosciutto, arugula, caramelized onions, and barbecue sauce are topped with a fried egg. We actually split this burger into four and surprisingly, the egg is cooked in such a way that the yolk is soft and moist yet does not run. The combination is unexpectedly delicious!
You can actually add P85 to any burger order and get skinny fries + soda with it. Add P105 and you get skinny fries + local beer. Add P190 and you get skinny fries + imported beer.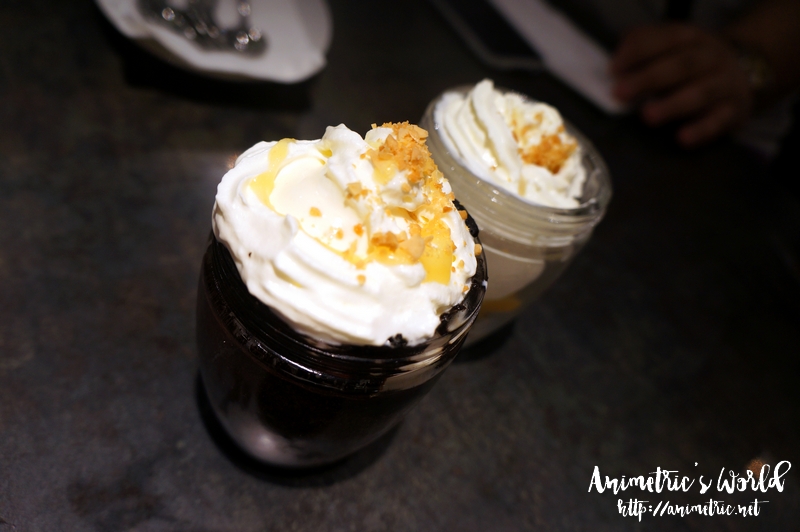 All of the desserts come in jars and each costs P135. We tried all four variants: Caramel Vanilla Bread Pudding, Blueberry Cheesecake, Molten Chocolate Bottoms, and Black & White Banana Split. They're all yummy but my favorite is the Caramel Vanilla Bread Pudding while hubby liked Blueberry Cheesecake. Each jar contains the deconstructed version of the dessert it's named after. For example, Blueberry Cheesecake has cheesecake and graham crust at the very bottom of the jar, then ice cream, then a whipped cream topping. In order to get the full dessert experience, you will have to use one of their extra long dessert spoons and dig all the way down so you get all the layers in one go.
For a weeknight, 8 Cuts Burger Blends was jam-packed with diners. Try to go in early to get a good seat because once the mealtime rush kicks in, it's hard to get a table. As for me, I found the food to be delicious, satisfying, and reasonably priced.
Have you tried 8 Cuts Burger Blends? If you're hankering for Filipino food, check out their sister restaurant Manam.
8 Cuts Burger Blends
Level 1 Greenbelt 2, Makati City
625-2792
Like this post? Subscribe to this blog by clicking HERE.
Let's stay connected: