The first K-drama I've ever watched was Memories of the Alhambra on Netflix, starring Park Shin Hye and Hyun Bin. I loved the lipstick Park Shin Hye was wearing throughout the series. Once they showed her applying makeup and I saw that it was Mamonde Creamy Tint Color Balm Intense. Park Shin Hye is Mamonde's endorser so it was not surprising.
She picks out the pink tube in the middle.
I decided I liked it hahahaha. The rest, as they say, is history.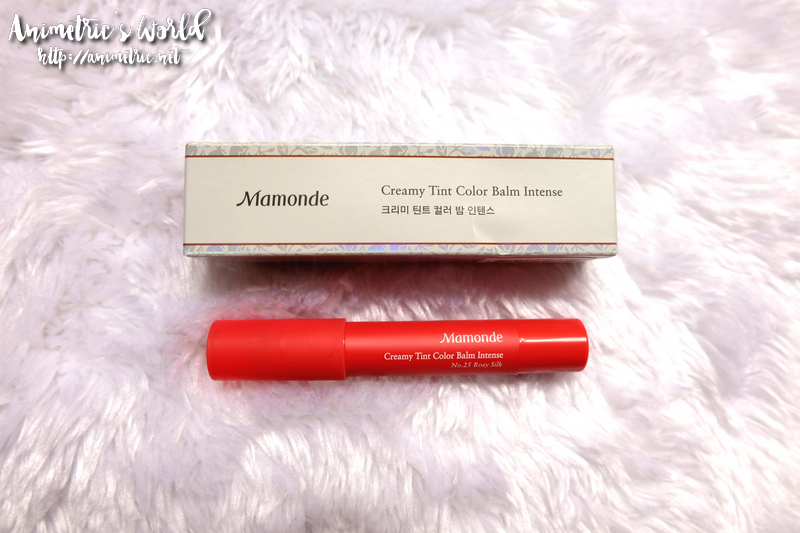 Since Mamonde is not yet officially sold here in the Philippines, I turned to Shopee. I was able to find a seller who had it. I bought Mamonde Creamy Tint Color Balm Intense in #25 Rosy Silk for P375. I don't know what shade she used but based on the swatches online I decided this was the shade for me.
It actually looks like a crayon. Mamonde's website describes it as a product with the intense color of lipstick and the creamy texture of a lip balm.
Here's a comparison between this product and Mamonde Creamy Tint Squeeze Lip. Note that Color Balm is matte whereas Squeeze Lip is glossy. I bought similar shades because when it comes to lip color I'm really more into rose shades. Don't really like red, brown, and coral shades because I feel they all make me look old lol.
Here's Mamode Creamy Tint Color Balm Intense on the lips under natural light. I love how pigmented it is.
It's really intense even under artificial light.
What I like about Mamonde Creamy Tint Color Balm Intense:
It's super pigmented! They weren't exaggerating when they called this product intense.
It glides on your lips like a dream.
It's pretty long lasting.
If you blot it lightly with a tissue, it becomes MLBB (My Lips But Better) like how it looks on Park Shin Hye in Memories of the Alhambra.
It's not drying.
There are 27 shades available.
Downside? There's not a single online store which sells all the shades. I'm just happy I found a shade I like on Shopee.
This is currently my favorite lip color product and I'm planning to buy more shades.
Like this post? Subscribe to this blog by clicking HERE.
Let's stay connected: