We wanted to have dinner at Wee Nam Kee one Sunday evening. I told my hubby that in order to be seated, we'd have to be there maybe 5pm or earlier. After much ado, we ended up at Ayala Triangle Gardens at 6pm and wow, we were #33 in the queue to get into the restaurant. I suggested that we pack up and leave because at that rate it could be close to midnight before we could get a seat.
Since everyone was already gungho about Chinese food, I suggested that we go to Lutong Macau along Jupiter St. instead. Malls were out of the question because I was pretty sure that they'd be packed with Christmas shoppers and parking would be a nightmare.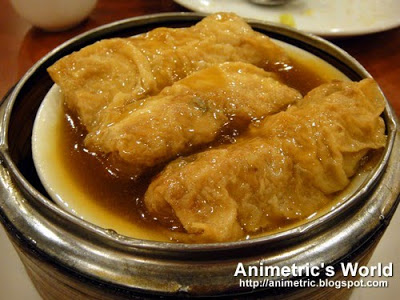 Lutong Macau serves typical Chinese food. They even have set menus (lauriats) for groups of 10-12 people. That night, we started our dinner off with an order of Steamed Seafood Roll (P98, pictured above), which is my hubby's favorite dimsum. It's actually tofu skin filled with lean meat and bits of seafood. He said it's pretty good and comparable to
Gloriamaris
'.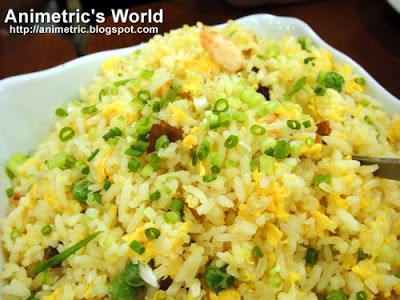 Our server suggested that we order Yang Chow Fried Rice (P200, pictured above) since steamed white rice costs P38 a cup. There were seven of us (5 adults and 2 kids) dining and so it would be more costly to order on a per cup basis. It was pretty good. Hubby just ordered one extra cup of steamed rice and we were all set.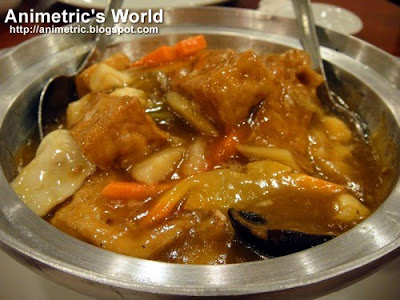 My sister-in-law decided go for Braised Seafood with Beancurd in Pot (P300, pictured above). It had fish fillet, squid, tofu, mushrooms, shrimps, and vegetables stewed in a thick brown sauce. It was a big hit with my 6-year old who just lost her front tooth since the components were quite soft. 🙂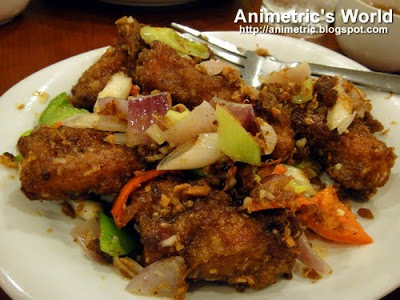 Meanwhile, my mom-in-law picked out Fried Spareribs in Special XO Sauce (P300, pictured above) from the specials menu. Very garlicky, peppery, and wow I could actually taste the scallop shreds from the XO sauce! 😀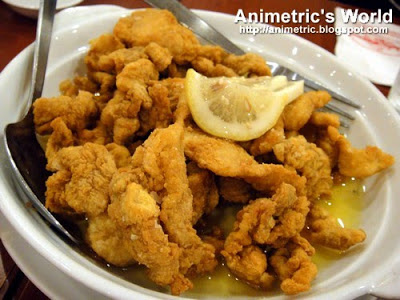 Since we already had seafood, veggies, and pork, I decided to order Chicken Fillet in Lemon Sauce (P260, pictured above). I was actually skeptical because I'm not very fond of chicken, but the dish was marked as one of their bestsellers. Surprise surprise — the chicken was lean and crispy — just the way I like it! I could tell that the lemon sauce was made of real lemons, it was tangy yet sweet. We all loved it.
The place is simple, well-lit, and just a bit rundown. There are a lot of round tables equipped with lazy susans for group lauriat dining. Food is pretty good though and there's a lot of value for money. Our bill came out a little over a thousand pesos which isn't bad at all for a group of seven diners. For a minimum of P300, they deliver within the area too. Makati too far? Check out their branch at SM Megamall's Megastrip.
Lutong Macau
116 Jupiter St., (same side as McDonald's)
Bel-Air Village, Makati City
896-7777 / 895-3333
Like this post? Subscribe to this blog by clicking
HERE
.