I keep saying I want to be fit and healthy. But it's just SO HARD to find the time to work out. There's always something else to do. It's much easier for me to make dietary changes since I'm the one in charge of meal preparation at home.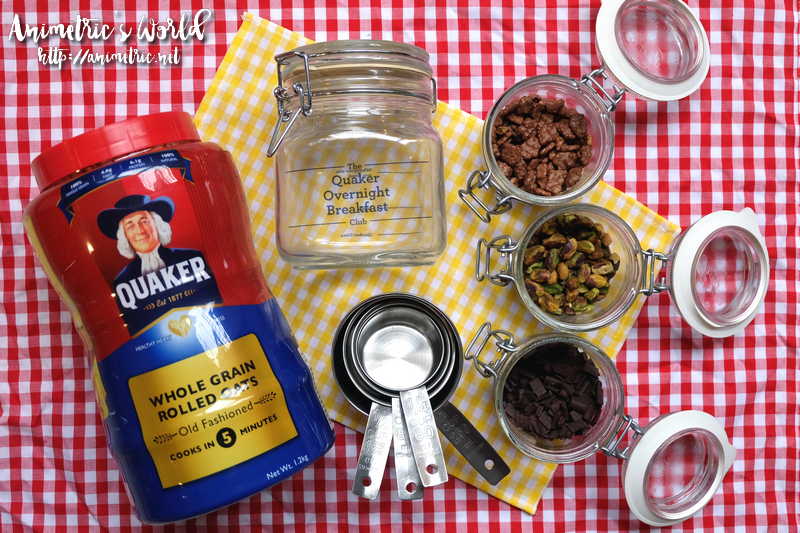 One thing I've always been curious about is Overnight Oats. I've seen all the fancy photos of delectable looking jars filled with oats, milk, and everything nice. Never did try making myself some… until Quaker sent me a whole bunch of oats and a nice jar, lol! I used to have a lot of mason jars. I didn't know what to do with them so I gathered every single one and sold them all for cheap. An airtight jar is a must when making Overnight Oats.
They also included recipe cards! Leafing through them, I realized it's super easy to make Overnight Oats. You just need equal parts of oats and milk then add whatever you want for flavor. The possibilities are endless. Throw in fresh fruits, nuts, chocolate chips, honey, marshmallows, yogurt… whatever strikes your fancy. Seal the jar and leave in the refrigerator overnight. Take it out the next morning and enjoy a filling breakfast!
For my maiden attempt in making Overnight Oats, I decided to use Quaker Whole Grain Rolled Oats. This is my favorite Quaker variant. I love how the oats look, smell, and feel.
So in my lovely jar went the following ingredients:
1/2 cup of Quaker Whole Grain Rolled Oats
1/2 cup Milk (up to you if you want skim, low fat, or full cream)
1 tbsp shelled pistachio nuts
1/2 tbsp Belgian dark chocolate chips
1 tbsp hazelnut cereal
1/2 tbsp honey
I closed the jar tight after swirling the ingredients together a bit and placed it in the refrigerator overnight.
Let me just tell you I was SO EXCITED to have breakfast this morning lol! I scooped out my Overnight Oats from the jar and transferred to a bowl. You can actually eat it from the jar if you want but I wanted a better view of my first ever serving of Overnight Oats.
OMG it's SOOOO GOOD!!! I love how the oats came out so chewy and nice, flavored so wonderfully by the honey, nuts, and chocolate. This really beats boiling the oats to a congee-like texture. I felt more full afterwards too. I want to do this again tomorrow with different toppings!
Did you know that a jumbo 1.2kg jar of Quaker Whole Grain Rolled Oats like the one I have costs only P180+ at the supermarket? So yeah, Overnight Oats is something everyone can do!
Have you tried Overnight Oats?
Like this post? Subscribe to this blog by clicking HERE.
Let's stay connected: