I almost always color my hair myself. I have a lot of white strands scattered all over so if I went to a salon every time I needed to cover them up I would most definitely end up spending a fortune. I usually grab something from Etude House or Tonymoly for this purpose since I find Korean hair coloring kits very economical, effective, and easy to use. Then I came across Lolane Z-Cool Bubble Color Foam from Thailand.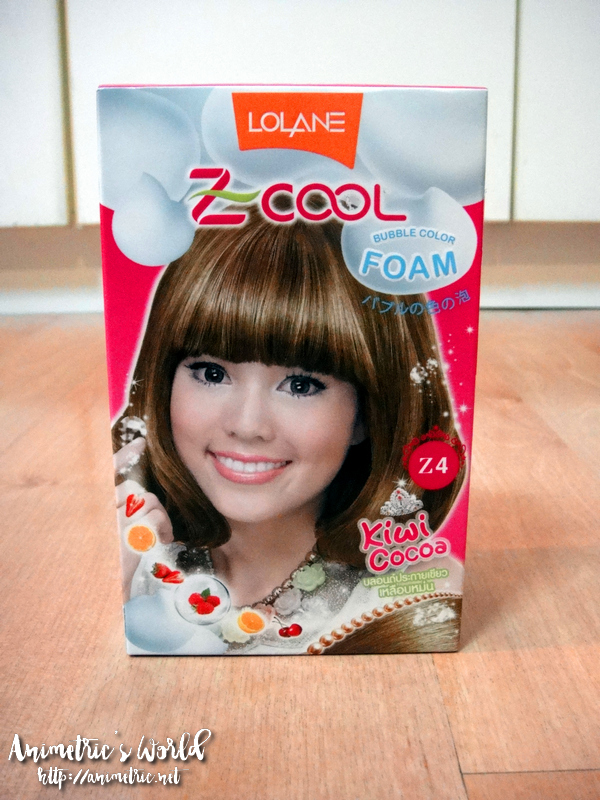 I got Lolane Z-Cool Bubble Color Foam in Kiwi Cocoa. Yes I am leaving my Korean comfort zone momentarily to give this a try. I got this as a gift but I have seen Lolane around department stores and all Lolane home color kits cost around P300 or less.
So anyway the Lolane Z-Cool Bubble Color Foam kit contains the items above — 2 bottles, gloves, instructions, a pump, instructions (in English, yay!) and a sachet of Lolane Natura Keratin Repair Mask.
You mix the contents of bottle 1 and 2 by pouring everything in bottle 2.
Then you put on the pump dispenser. Swirl it around gently so the solutions mix. Do not shake and do not swirl vigorously. Doing so ruins the foam's consistency.
The kit comes with these latex gloves which fit nicely.
This is how the foam looks if you did your swirling correctly. I like that it's just white so staining is very minimal if not non-existent.
I covered each strand of hair with foam as best I could, concentrating on areas with white hair. This kit doesn't come with the usual plastic cape so I piled my hair up after application and put on a disposable shower cap to keep it all from messing up my shirt or running down my neck. After applying, you leave it on for 30 minutes.
After 30 minutes, you're supposed to rinse off the foam thoroughly and use this sachet of Lolane Natura Keratin Repair Mask.
It's white, thick, and creamy. You cover your entire head with the sachet's contents after rinsing off the foam. Leave in for 5 minutes then rinse off thoroughly.
So anyway, these are before and after shots of my hair.
It is greenish blonde brown, I think, like its shade's name Kiwi Cocoa. Of course this is under the fluorescent lights of my bathroom.
This is how it looks outside the house. My daughter said my hair color is a lot lighter after I used Lolane Z-Cool Bubble Color Foam.
What I like about Lolane Z-Cool Bubble Color Foam:
It's cheaper. The Korean brands I use cost P400+ per kit. This one is only P349.
Scent-wise, it's fruity, definitely better than US brand kits albeit Korean brands are still more pleasant to the nose.
It's easy to use and it's not messy. The mousse consistency is very stable and not watery so it doesn't run down your face or neck or wherever.
It effectively lightened my hair and that's important to me, lol.
I super love the Lolane Natura Keratin Hair Mask that comes with it. It made my hair super super soft, shiny, and manageable right after coloring.
Downside? As I mentioned above, it doesn't smell as good as Korean brands. It has this heavier chemical aroma but it's tolerable. I could also feel the invisible fumes go into my eyes — Korean brands don't have that effect. Oh, since this is a mousse, as expected there is really no grey coverage. My white strands look white gold now, lol. If you just want a quick change of color without the hassle and the hefty price tag, this is a good alternative.
Lolane Z-Cool Bubble Color Foam is available for P349 at leading department stores (SM, Robinsons, etc) nationwide.
Like this post? Subscribe to this blog by clicking HERE.
Let's stay connected: