One of my most awesome discoveries at the Big Bad Wolf Book Sale is Augmented Reality (AR) books by Little Hippo. They're app-enhanced books with pages that come alive, making reading and learning more fun for kids. Leaves rustle, animals move, and sounds can be heard. You can even interact with the characters and things on the pages.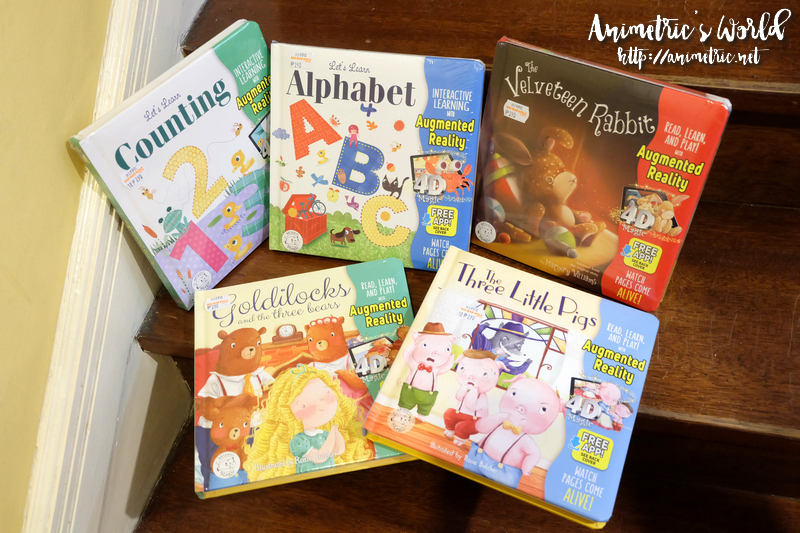 These are some of the Augmented Reality books available from Little Hippo. There are over a dozen titles listed on their website. I was able to find around 6 different AR books at the Big Bad Wolf Book Sale. Each hardcover AR book retails for a very reasonable P290.
You will need to download the free Hippo Magic app onto your mobile device to make the most of your Augmented Reality book. The Hippo Magic app is available for free at Google Play and the App Store.
Let me demonstrate how AR works. I'll leave the Three Little Pigs book on a flat surface.
I open the Hippo Magic app and aim my phone on the book. Voila! A background and a character pops up and talks to me! I'm so amazed. I can just imagine how much more magical it would be for children.
The AR book combines regular pages you can simply read through with AR-enchanced pages which come alive with the app.
Simply look for the Hippo Magic symbol to find out if a page is AR-enhanced. To make the page come alive, just point your device with the open app onto the symbol.
I've experimented with all the AR scenarios and I find that the best way to go about them is to put the open book on top of a flat surface, like what I've done here.
Here are some of the AR scenarios I've experienced while reading through Three Little Pigs. There are interactive portions, like the coloring activity in the middle screen. I somehow colored the grass blue, the house yellow, and the door + window green. As a result, that was what came alive in the next screen.
The AR book is nothing short of magical. Several senses are stimulated. There are bright colors and movement to see, sounds and music to hear, and touchscreen activities to help develop hand-eye coordination. I believe that it is best experienced on a bigger screen though so it would be better to use a tablet instead of a phone.
You can purchase Little Hippo AR books at the Big Bad Wolf Booksale from now until March 4, 2019. But wait, there's more! As part of my 10th Blogversary series of giveaways, I'm giving away all 5 AR books on the first photo to one lucky winner. Contest mechanics now on my Instagram post.
Like this post? Subscribe to this blog by clicking HERE.
Let's stay connected: