Over the past couple of years, I've become a lot more conscious about how I do product shots. I used to just lay them all on my bedroom's wooden floor and shoot away. Looking at those photos now, I am able to say with conviction that most of them look like crap. A lot of them are kind of dark too. You always hear people say content is king. Newsflash: The photos that appear on your blog are part of content. They have to be clear and they have to look appealing.
One of my problems when shooting product photos is limited time. I have to wait for the best natural lighting, which varies from day to day. If it's a cloudy or rainy day, I can't do it. If I get home too late, it's already dark. But there are times I need to do shoot ASAP. So I decided to buy a lightbox. I saw one being sold on Shopee for P1,200 and it looked promising. My Light Up Studio Lightbox arrived a few days after I placed the order. It came in a black bag with handles so you can fold it up and bring it with you.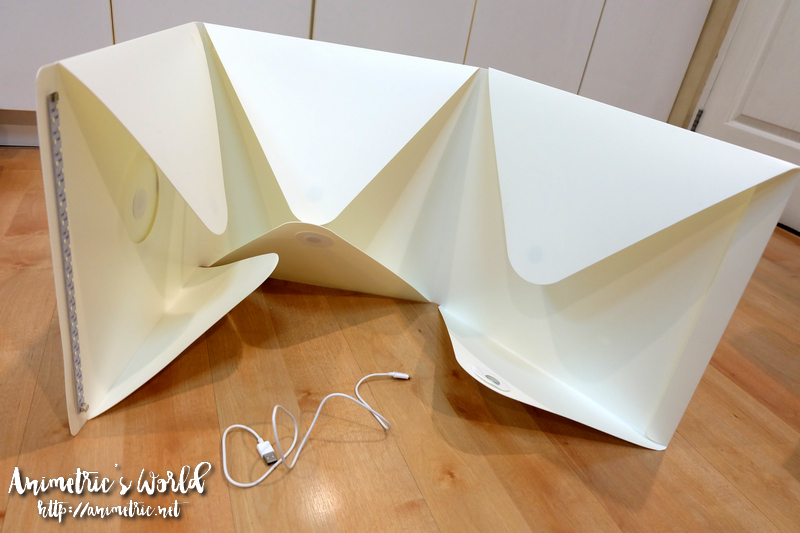 After much effort, I managed to unfold the tightly folded lightbox. It also comes with a cable which you will use to plug in the LED light panel to a power source.
This is the LED light panel.
The sides of the lightbox come with these round magnets covered by white stickers. Unfortunately, my magnets were displaced when I got them. I had to stick them on the flaps myself, which entailed guessing where they went. The instructions don't really cover where to stick the magnets because they are not supposed to come off.
I followed the instructions and assembled the lightbox. It was SO HARD to align the magnets on the side flaps. My lightbox came out all floppy and lopsided. It seemed to be always on the verge of collapsing too. I hated it.
I gave it a 2-star rating on Shopee because it looked nothing like the product photos I saw. It was such a nightmare trying to align the freaking magnets. Fortunately the seller messaged me to ask what was wrong. I told her about the displaced magnets. She promptly sent a representative to our place the next day. Her rep confirmed that the magnets on my unit were indeed misaligned. She fixed the positioning of the magnets and glued the stickers to the flaps so they wouldn't move.
So anyway, after the magnets were fixed, we were able to set up the lightbox properly. I forgot to mention the lightbox also comes with 2 background sheets which you can affix to the lightbox via built-in hooks.
The lightbox has a hole on top which you can uncover if you want to take top shots.
So it looks something like this.
I use a powerbank to energize the LED light panel. This is the white background sheet.
This is the black background sheet.
I took sample product shots too.
Lol most of what I have in my room are makeup products.
This is a sample of a top shot (flatlay). I wonder if I can get rid of the shadows.
Here's a closer photo.
Same product, different background.
I wish the LED light panel was a bit brighter. I'll try using an additional light source next time.
Here's another sample shot.
Overall, I'm pretty satisfied with what this lightbox can do. There's a lot of room for additional styling. You can use different backgrounds, additional light sources, etc. Granted, it was quite challenging to set up. You have to follow the instructions to the letter. It wasn't possible for me at first since my magnets were displaced. I have to commend the excellent customer service I got from the seller.
I still prefer natural lighting when doing product shots but I love the flexibility this lightbox gives me. Now I can shoot when I need to.
You can purchase this product at https://shp.ee/4xaiyit.
Like this post? Subscribe to this blog by clicking HERE.
Let's stay connected: