Most people are cooking and baking these days. A lot of us have been cooped up at home for more than a month. Due to the risk involved in going out for supplies and even accepting deliveries, we've resorted to making our own food. I for one feel that cooking takes up a major part of my day. This is partly because I need to wash everything afterwards too. We used to have a helper who would take care of chores, but she was unstable and was always threatening to leave. That said we slowly automated our home while she was still here. We bought machines to replace her — washing machine, clothes dryer, dishwasher, induction cooker (this eliminates the need to have LPG delivered, we used to have her wait for the delivery guy), and so forth.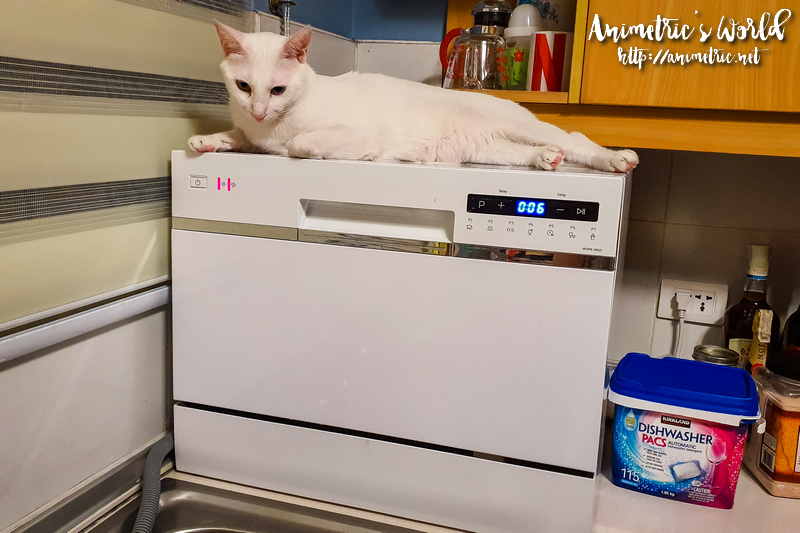 So the topic of washing dishes after cooking came up at the Quarantine Cooking and Food Hacks PH FB group. The dishwasher was mentioned in passing. I posted a photo of our cat on the dishwasher and got a load of questions about it (the dishwasher). First of all, this is a brandless dishwasher we bought from China about a year ago. It's priced at a lot less than what's being sold here but they sure look the same.
What we have is a tabletop model that resembles an oven. We use Kirkland Dishwasher Pacs (P999.75) bought from Landers as our detergent. That comes out to P8.70 per cycle, which isn't bad. There are a lot of cheaper dishwasher pacs but this one is pretty good when it comes to getting rid of grease.
This is what it looks like when we load dishes and utensils.
Here's the view from the front. Of course, I can't fit my bigger pans and 10kg rice cooker bowl anymore so those I wash by hand (with Joy). It's still better than washing all of this by hand. I tried and I was washing dishes for maybe an hour. So yes, even if this won't wash everything, it will take care of a big part of your load. We're a family of four so there's always at least four of everything to wash. Then there are the things I use to cook.
If you look at this photo closely you can see that I actually have one frying pan in there lol.
Okay so is a dishwasher for you? If you have no helper, yes it helps a lot. It's not as easy as loading all the dirty dishes inside though. You have to remove leftovers like food and rice bits because those could clog up the drain. Dishwasher pacs are also not as widespread as regular dishwashing liquid and they cost a bit more. This uses hot water to wash so it helps with the grease. The time it takes for a cycle to finish depends on the level of wash you set. Our cycle usually takes 30 minutes. There's no drying function so we have to dry what we washed with a clean cloth afterwards… or we just take them out in the morning (we cycle after dinner) and they'd be relatively dry.
I don't really remember how much this unit cost but I'm sure it's way below P20k.
When you have a whole load of stuff to wash and no helper, this is a great thing to have. I'm not selling dishwashers nor am I trying to convince anyone to get one, just sharing my experience of what it's like to have one.
Like this post? Subscribe to this blog by clicking HERE.
Let's stay connected: