Many years ago (before I got into blogging), I bought a Japanese home coloring kit from Wellcome supermarket in Hong Kong. The brand? Liese! Yes, I actually got Liese Creamy Bubble Hair Color in a pink shade that time. The problem was, I didn't really understand the instructions so I did it wrong (I shook the bottle vigorously for starters). My hair didn't really get colored. I was like jeez it's exactly the same as when I started.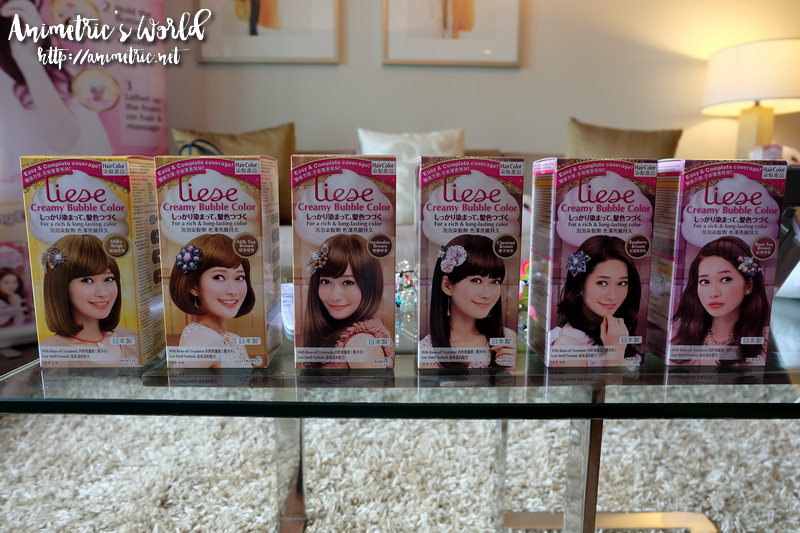 How surprised I was when I got an invitation to try out Liese Creamy Bubble Color. The brand has finally reached our shores! I relayed my first Liese experience to the brand people and they assured me that this time, we'd do it right.
I chose to color my hair with Liese Creamy Bubble Color in Rose Tea Brown (₱449). I've somehow decided that I'm done with orange and yellow based hair color. I prefer red and purple based shades now.
Unboxing the kit reveals 2 bottles, a pair of gloves, and a rinse-off treatment.
Pour in the contents of Bottle 1 into Bottle 2.
Put on the cap and do not shake the bottle! Simply twirl it around or swing it to the left and right a few times… 5x to be exact.
Replace the bottle's cap with the pump dispenser and squeeze out the foam.
Apply the foam onto your hair. For my hair length and thickness, I needed to use 2 kits.
You need to cover your entire head of hair generously with the creamy bubble foam and massage into a thick lather.
Leave on for 30 minutes.
I love how the creamy bubble foam doesn't drip or run! It just stays put so you can do stuff in peace while you wait out 30 minutes.
After 30 minutes, I washed off the Liese Creamy Bubble Hair Color and applied the Rinse Off Treatment. My hair was amazingly tangle-free and easy to comb after! This was the resulting color after my hair was blow dried. Nice! I had black roots prior to coloring and they're gone!
They told me my hair would be super soft and easy to comb for at least a week after using the Liese Rinse Off Treatment and they were right! I super love Liese! I'm so glad they had me take home a few extra kits for my next DIY hair coloring session.
Watch this short video to make sure you use Liese Creamy Bubble Hair Color the right way. Liese Creamy Bubble Color is available for ₱449 per kit at the Liese Blaune is available at the
Liese Philippines Lazada Store
. Need to cover white hairs? Go for
Liese Blaune
.
Like this post? Subscribe to this blog by clicking HERE.
Let's stay connected: