Liese has always been one of my preferred DIY hair coloring kits. The problem was, it didn't really provide any grey coverage. Since I'm already in my 40's, that's one thing I really need. Sometime late last year, Liese Blaune launched in the Philippines. Liese Blaune is Liese's answer to grey hair. Now you can literally shampoo those white strands away.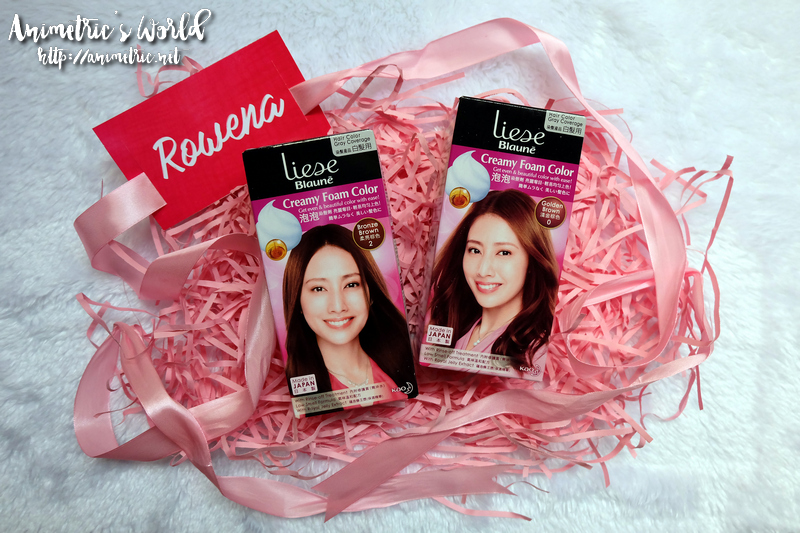 I got Liese Blaune in 2 shades: Bronze Brown and Golden Brown.
I decided to try Golden Brown, the lightest shade. Like Liese, the Liese Blaune kit comes with 2 bottles, a pair of gloves, and a rinse-off treatment.
You pour the contents of Bottle 1 into Bottle 2 and then twirl the bottle around. Do not shake, just twirl as indicated on the label.
After twirling 5 times, replace the bottle cap with the pump dispenser.
Put on the enclosed gloves so you don't stain your skin and nails during application.
Liese Blaune is just like Liese — easy to apply and mess-free. Cover your entire head of hair with the foam and massage into a lather. It's not drippy so you won't even need a cape. My hair stayed up with all the suds as I waited for 30 minutes, which is the time it needs to develop.
Make sure to use the rinse-off treatment after you wash off the foam. Wait until the water runs clear before applying this.
Here are my before and after shots. Notice how my white strands disappeared in the second photo. They look "metallic" upon closer scrutiny, but at least they are not white anymore lol. My black roots became reddish brown too.
Liese Blaune however, dried out my hair a bit. I didn't experience any dryness when I used the original Liese several times in the past.
What I like about Liese Blaune:
It's hassle-free and convenient. I've tried a lot of DIY coloring kits and this is still the easiest to use.
There's no mess at all. You don't even need a cape because the product doesn't drip all over your head.
It can cover white strands, albeit I can still identify them up close because they are lighter than the other strands. At least they're not white anymore.
The scent is minimal and pleasant, sort of fruity floral.
Price is reasonable at ₱489 per kit.
Downside? I noticed it's a tad drying. My hair did however became soft and smooth again after I used Shiseido Tsubaki Cool Head Spa Shampoo and Conditioner.
Liese Blaune is available at the Liese Philippines Lazada Store.
Like this post? Subscribe to this blog by clicking HERE.
Let's stay connected: