We hired a car service and crossed over from Singapore to Malaysia to visit Legoland Malaysia. Everyone in our group loves Lego and so this was actually one of the highlights of our short vacation.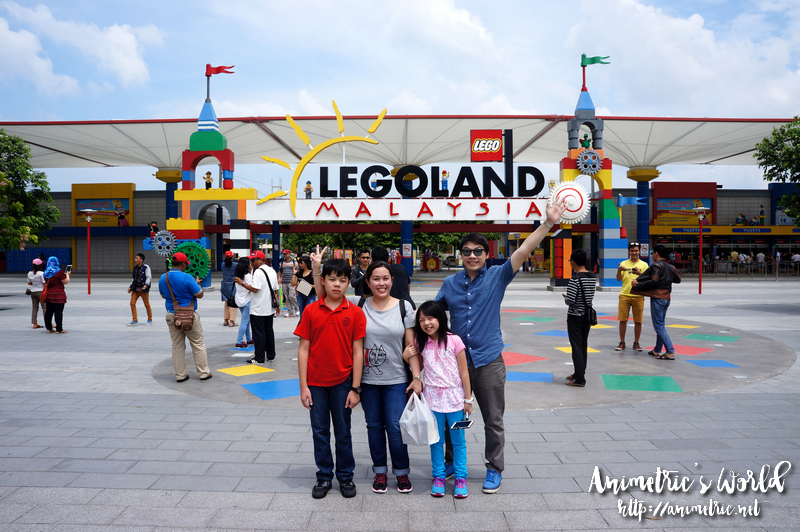 We checked in Legoland Hotel (more of that in a separate post) so we could just step out and walk over to Legoland.
It was very hot! Thank goodness our day started out kind of cloudy.
Virtually all the attractions are made of Lego.
Small kids can actually ride these Lego cars.
There were Lego boats too!
Legoland Express — it's a train you can ride that goes around the entire park. The line was kind of long so we skipped it.
An Egyptian-themed ride!
There are a lot of Lego play areas for younger kids.
We watched a 4D Lego Movie — there are four in all and one is shown every 30 minutes. Opted for Spellbreaker 4D, which was a nice swords and sorcery type of flick.
We also went up the observation tower, an elevator-type of ride which takes you high up while it slowly rotates so you can see the entire park. This is my view of the log ride we went on, where we all ended up dripping wet!
My hubby and kids bought new shirts because they were so soaked. Mine was only soaked in front so I just let it dry. Even the animals are made of Lego in this park. 🙂
There are a lot of game booths where you can win prizes too, but you have to pay per game.
There are too many photo-worthy things at Legoland Malaysia.
This castle is actually the entrance to The Dragon roller coaster ride.
This theme park is too picturesque, really.
They have an entire pavilion called Star Wars Miniland dedicated to Star Wars!
There were several rooms full of Star Wars dioramas, all made of Lego.
Wow, right? Some of the dioramas are animated too, coming to life when you press a button.
I have a lot more photos since I took pics of every single room.
Even my kids who haven't yet watched Star Wars were awed. We're actually watching now in preparation for Star Wars Episode VII: The Force Awakens this December!
In the center of the park is an area with landmarks from all over the world, all made of Lego. It's called Legoland Miniland. Since we didn't have time to visit the actual Petronas Towers, I just took a photo with the Lego version.
Look it's the Taj Mahal! They also had The Forbidden City, Angkor Wat, and a lot more landmarks made of Lego.
This is The Port of Tanjung Pelepas in Johor, Malaysia.
This is Legoland's rendition of Bolinao, Pangasinan. Philippines represent!
This is the royal mosque located in Bandar Seri Begawan, Brunei.
Legoland is a theme park designed for younger kids. There are a lot of kiddie rides and Lego-themed playgrounds. There are only four roller coaster rides and all of them are very tame, no loops or extreme drops. Entrance tickets cost RM165 (around P2k) per adult and RM133 per child (around P1.6k). We got 20% off because we booked in advance online at the Legoland Malaysia website.
Some Legoland Malaysia tips:
Like I mentioned above, buy your tickets in advance online. Not only do you get 20% off, you also get to proceed directly to the turnstile. No more lining up to buy tickets!
Wear cool clothes that dry easily (like those dri-fit shirts and shorts) because at least 2-3 rides can get you wet. They have body dryers there but if you're wearing thick jeans like I was they won't be very effective.
Bring your sunglasses and hats because it gets really really bright and hot.
If you buy Lego sets in the park stores, you can avail of a service wherein they'll take your packages to a pickup area near the entrance/exit. That way you don't have to lug around your purchases.
Legoland accepts Singapore dollars as payment but will give you Malaysian Ringgit in change.
Legoland Malaysia
7 Jalan Legoland, Bandar Medini,
79250 Nusajaya, Johor, Malaysia
+(60)7-597-8888
http://www.legoland.com.my/
Like this post? Subscribe to this blog by clicking HERE.
Let's stay connected: