When we visited Legoland Malaysia, we stayed overnight at Legoland Hotel Malaysia. It was pretty impressive as gigantic Lego structures greeted us the moment we stepped into the lobby.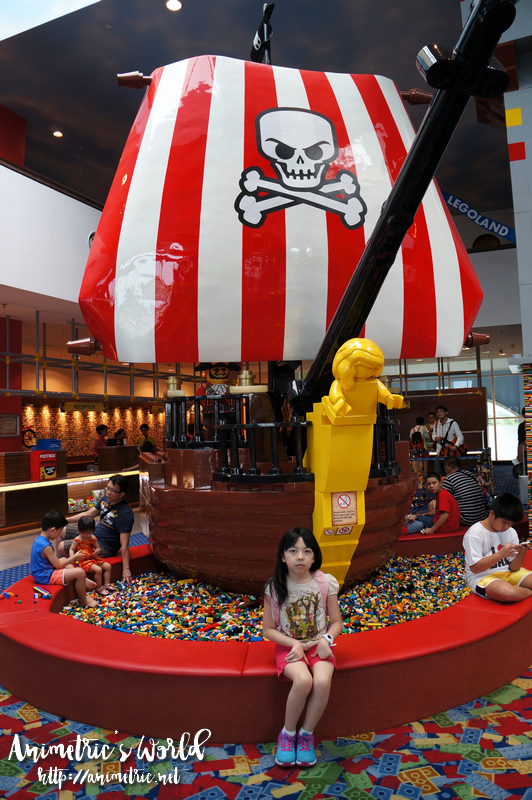 The ground floor has several play areas with thousands of Lego bricks so there's never a dull moment. There are hand-sanitizing stations all over the place too.
You can go inside the Lego structures. The lobby is like one giant Lego playground.
We were given 2 card keys when we checked in. Unlike most hotels, Legoland doesn't take the card keys back when you check out. They let you keep them as souvenirs.

Anyhow all the rooms at Legoland Hotel Malaysia are themed and there are three themes to choose from: Pirate, Adventure, and Kingdom. We let our daughter pick the theme and I was surprised when she said Kingdom because she has never really fancied princesses. So off to the Kingdom floor we went. Even the corridors and elevator doors are Kingdom-themed.
This is the corridor outside our Kingdom-themed room. Oh yeah, there are 3 types of themed rooms at Legoland Hotel Malaysia:
Themed Room (Pirate, Adventure, or Kingdom)
Premium Themed Room (Pirate, Adventure, or Kingdom)
Kingdom Themed Suite
All the rooms can accommodate 5 people (max 3 adults) except for the suite which can accommodate 8 people (max 4 adults).
We got a Kingdom Premium Themed Room. The difference between a Themed Room and a Premium Themed Room is the decor. The Premium Themed Room gets a lot more ambiance by way of the wallpaper and Lego ornaments. The Themed Room looks bare in comparison but costs P1+k less. Anyhow the Kingdom Premium Themed Room cost us around P11.6k for a night. It does however come with buffet breakfast for 5 people.
There's a king-sized bed.
There's a study area where you can work.
We get to see Legoland Malaysia when we look out our window.
The room is divided into two sections, this is the kiddie section furnished with a double decker bed.
There's a pullout bed too — 3 people can stay in this area.
The kids get their own TV!
There was a Lego spider on the bathroom wall which freaked our daughter out.
The bathroom is pretty small and basic — toilet, shower, and 2 sinks.
Toiletries are provided though.
We also got a digital safe, complimentary refreshments, and a crate of Lego to play with.
Yes, you get all of this for free!
You'll never be bored at this hotel.
Each room has a treasure hunt too! Gather clues inside the room, write down the corresponding numbers, and then use the combination to open the box!
This safe — the one with a crowned frog standing on it! Our kids tried to figure it out on their own but I ended up solving it for them hahaha. The sign outside the box says you get to keep whatever's inside if you open it.
These Lego toys were inside!
Legoland Hotel Malaysia has a nice pool on the fifth floor too. Check out our Lego-themed breakfast buffet experience at Bricks Family Restaurant HERE.
Overall we were pretty satisfied with Legoland Hotel Malaysia. The wifi is slow and crappy though, good thing they have a Business Center where we could do online check-in and print out boarding passes for our flight. The elevators are a blast, there's a disco ball in the middle of each one which turns on when you get in and they start playing cool 70s disco music — songs like "Dancing Queen", "YMCA", etc. Legoland Hotel is also but a few steps away from Legoland and Legoland Water Park. There's also a strip mall beside the hotel with shops and fast food joints like KFC, Burger King, Pancake House (yes, our very own homegrown Pancake House) and lots more. We paid a little over P10k (US$230+) for one night.
Legoland Hotel Malaysia is also about 45 minutes away by taxi from Johor Premium Outlets where you can shop for brands like Kate Spade, Ralph Lauren, Coach, Nike, Michael Kors, Adidas, Samsonite, Cotton On, DKNY, and Calvin Klein just to name a few. While it's still cheaper to buy these from the US, prices are generally cheaper at Johor compared to Manila.
Legoland Malaysia Resort
7 Jalan Legoland, Bandar Medini,
79250 Nusajaya, Johor, Malaysia
+(60)7-597-8888
http://www.legoland.com.my/
Like this post? Subscribe to this blog by clicking HERE.
Let's stay connected: