A little over a week ago, we were invited to preview Le Petit Souffle's new dishes. These delicious offerings will be made available at the soon-to-open Le Petit Souffle branch in SM Megamall.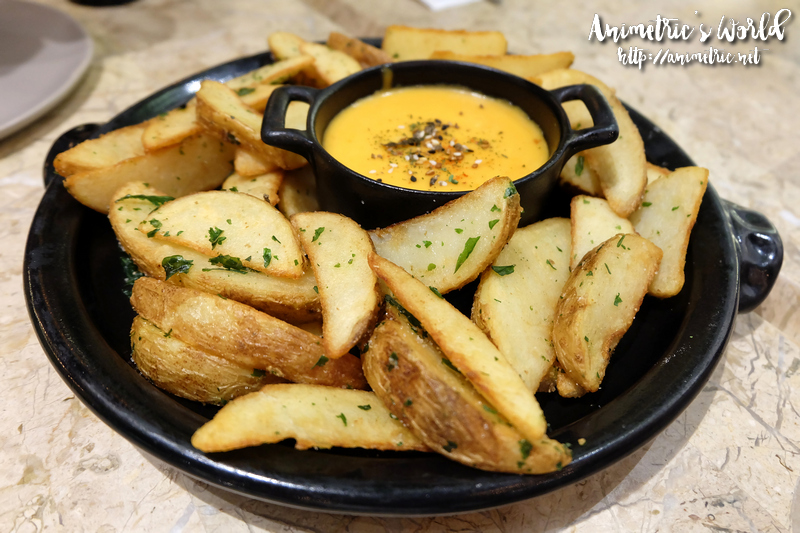 Fromage, Frites, Fondue
I love Le Petit Souffle. I mean, there are very few places here in Metro Manila where you can get authentic honest-to-goodness souffle and here, they come in all shapes, sizes, and flavors. Anyway back to the preview dinner… for appetizers, we had Fromage, Frites, Fondue which is basically seasoned potato wedges served with a mix of melted cheeses for dipping.
Chopped Chicken and Miso Salade
The next dish was still an appetizer — Chopped Chicken and Miso Salade. It's mixed greens, bean sprouts, cubed radish, sweet corn kernels, nuts, and chicken slices served with a miso (soybean paste) based dressing. It was good but I felt it was a little short on dressing. They should add a bit more dressing for a salad of this size.
Ratatouille Souffle
Our main dish was very interesting — Ratatouille Souffle. I know that Ratatouille is a French tomato-based vegetable stew… so I was asking myself how do you turn a dish like this into a fluffy souffle? Oh but they did it! Out came this lovely perfectly baked and fluffy souffle from the kitchen.
Digging into it revealed the tomato-based vegetable stew that is Ratatouille. OMG, we were eating veggies and chicken pieces but it was sooooo good. It was kinda like eating lasagna made from the freshest ingredients. The fluffy souffle was light as air yet at the same time chewy. Waaaah I can't explain it… you just have to try to believe. This will be served in Le Petit Souffle Megamall when it opens this July.
Cold Matcha Latte with Matcha Softee

I had a Cold Matcha Latte with Matcha Softee to wash all the food down. Um… I'm not really an ice cream person so next time I prefer this drink without the Softee. Everyone else on the table thought otherwise, they liked it just like this haha.
Madrid Fusion Manila "Polvoron"
The real stars of our dinner however were the desserts Chef Miko Aspiras served in the recently concluded Madrid Fusion Manila. First dessert out was the Madrid Fusion Manila "Polvoron". Now Polvoron is the Filipino candy made from powdered milk that's usually bought as pasalubong (gift). In recent years, we've seen Polvoron evolve… now we have flavored Polvoron — chocolate, cookies and cream, cashew, etc. Chef Miko Aspiras takes Polvoron to another level by making them from ingredients native to the Philippines. On this platter we have the following flavors: Squid Ink (OMG the best for me, it tastes like squid chips!), Pili and Corn, Strawberry and Goat Cheese, Ube (Purple Yam), Matcha Calamansi, Roasted Pumpkin, and one that tasted like the classic traditional milk Polvoron we all grew up with.
Madrid Fusion Manila "Laro"
The second dessert was dubbed as Laro (Tagalog word for "play"). It's supposedly inspired by old-fashioned playtime where kids sweat it out so the flavors are tangy. You have to eat all three components of the dessert together — the soft and foamy meringue, chocolate crisp, and the panna cotta-like rectangle on the side.
At Le Petit Souffle with Jackie Go
We were so full afterwards! According to Chef Miko, they will be creating classy gift packaging for the Polvoron you'd be proud to bring as pasalubong. Can't wait to see what they'll come up with when Le Petit Souffle opens in SM Megamall in a couple of months!
For now, do visit Le Petit Souffle at Century City Mall to try their delicious French-inspired cuisine.
Le Petit Souffle
3/F Century City Mall
Kalayaan Ave., Makati City
886-3056
Like this post? Subscribe to this blog by clicking HERE.
Let's stay connected: