One of my beauty dilemmas is unwanted hair — on the underarms and lower legs specifically. I just want them gone forever! Shaving is too temporary a solution. Although I can do it fairly quickly, hair is back in a couple of days. Waxing yields better results since I can go hair-free for weeks but it's too hard to do it myself when it comes to the underarm area. So how does one get rid of unwanted hair permanently? There seems to be only one way — Laser Hair Removal. So I turned to Wink Laser & Wax Studio.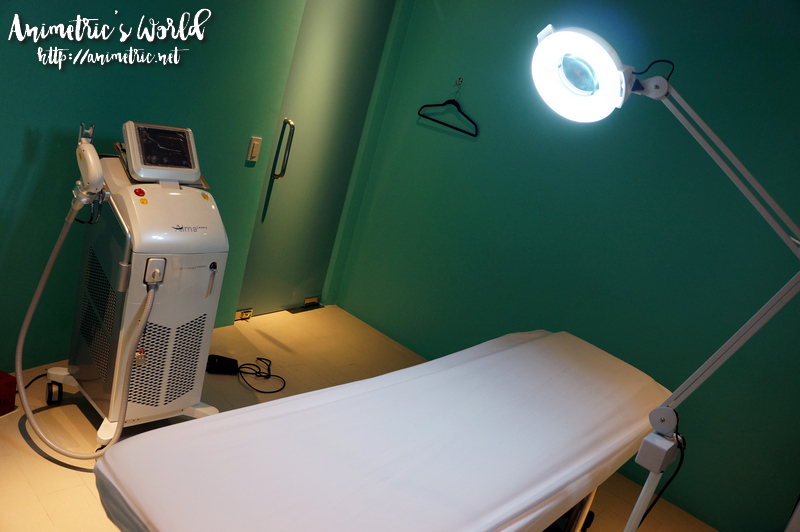 Wink's promise of permanently hair-free lower legs after just 4 sessions was enough to convince me to give it a go. One session of Half Legs Laser Hair Removal costs P5,000.
This is the Alma Soprano Accord, the machine that's used for Laser Hair Removal. It uses low fluence (energy) at a high repetition to prevent any damage to the skin.
You will need to wear these opaque goggles to protect your eyes from the laser.
The first step in Laser Hair Removal is the shaving of existing hair. Some cream is applied first so you don't get razor burns.
Then hair is shaved away.
After shaving, extremely cold gel is applied to the area to be treated with laser. This is to counter the heat that is emanated from the laser hand piece that will be used. Laser Hair Removal works by selectively heating dark target matter (the hair) in the area that causes hair growth without heating the surrounding tissue (skin). The hair follicles are heated up to disable them from producing any more hair. After consistently heating the hair follicles over several treatments (on average it takes 6-12 treatments), at least 80% or more of the hair follicles will be unable to produce hair.
I didn't see the actual laser action because I was wearing goggles but I felt the slight heat. No biggie, it was painless as promised. If it gets too hot for you they can either tone it down or apply more cold gel. One session of Half Leg Laser Hair Removal takes a little less than an hour. Your legs are wiped down afterwards and you're good to go.
At the moment I've done a total of 3 sessions, I have one more later this month. This is part of my leg more than 3 weeks after the laser hair removal treatment. Still relatively hair-free. I'm having my 4th and last session 3 weeks from now. I'll update you on how it goes and if I stay hair-free afterwards. I want to have this done on my underarm area too. You're supposed to have this treatment every 6-8 weeks for body hair and every 4-6 weeks for facial hair.
I highly recommend Wink for your hair removal needs. You get an even better deal if you buy treatments by the bulk. You can check out the services and book your appointment at http://www.winkstudio.ph/
Wink Laser & Wax Studio
3rd Level C2 Bldg., 7th Ave. cor. 28th St.,
Bonifacio High Street Central, Taguig City
950-4543
Wink Laser & Wax Studio
3rd Level Trinoma (near Mindanao Parking, across Sony)
EDSA cor. North Ave., Quezon City
808-7258
Like this post? Subscribe to this blog by clicking HERE.
Let's stay connected: