I first tried Las Flores back in 2013. There was an event at their BGC branch for another brand, but it was practically a showcase of Las Flores' food. I remember enjoying the food. When I checked their menu, I was surprised to find that prices were just above average, not too high. It's now 2019… we went to have dinner with friends at Las Flores The Podium.
Las Flores The Podium has an impressive facade. It looks tall because it actually houses two floors. It's located on the ground floor.
The place was full on a Saturday night. I took this photo as we were leaving that's why the table is already unoccupied.
While we were waiting for our orders, they served us a complimentary bread basket.
For our appetizer, we had Bombas De La Barceloneta (P295). These are potato and wagyu beef "bombs". They're really, really good. It's hard at eat just one piece.
We also had Jamon Iberico Croquetas (P250). These are also good, but the Bombas are better.
Then we had Ventresca De Atun, Escabeche De Soja Y Miel Con Boniato (P595)… or in English, Tuna Belly in Soy Honey with Sweet Potato. Delicious, albeit expensive, considering it's a pretty small serving.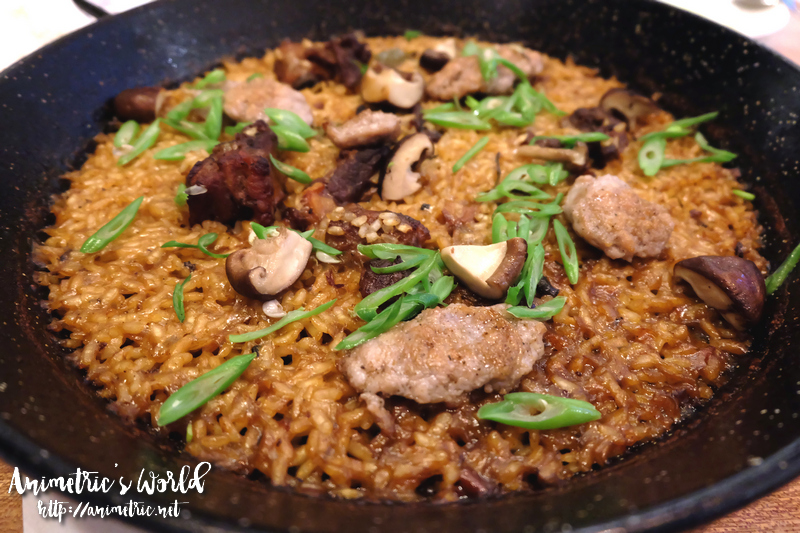 When in Las Flores, ordering paella is a must since it's what they are known for. We had Paella de Montaña (P795) which consists of pork ribs, butifarra (a type of sausage), and vegetables. It's good but wow, the serving is a joke. The paella was maybe 1 cm in thickness. When you scoop it out you hit the bottom of the pan right away. Two people can finish this, maybe just one if a person is hungry and this is all he is having.
This is Paella De Cochinillo (P1,295), or Suckling Pig Paella. Like our other paella, it's a very thin layer and you hit the bottom of the pan as soon as you take a spoonful. The 6 pieces of cochinillo you see on this photo are all you're getting. Pretty crazy considering this is over P1k. I don't know if it's just me but I found this a tad salty.
Okay so Las Flores' prices have gone up by a lot. But then, it has been 6 years since the last time I visited. The tapas are kind of reasonable, but the paellas are just too much. Their paellas can be shared by 2 people, 3 max if they aren't hungry. Taste-wise, I find them overrated. They are okay but nothing mind-blowing. However, Las Flores The Podium is admittedly a lovely place to chill for the weekend.
Would I go back? I don't know. As it is, I'm inclined to find a Spanish restaurant with more value for money.
Las Flores
G/F The Podium
18 ADB Ave., Ortigas Center, Mandaluyong City
0915-6545231
Like this post? Subscribe to this blog by clicking HERE.
Let's stay connected: