The last Rexona event I attended was held at a restaurant which was unfamiliar to me — Las Flores at Fort Bonifacio Global City. At the time, I had a loaner unit of the Samsung NX2000 camera with me. I haven't been attending food events lately and so I haven't really had the opportunity to test the cam on food. I really love taking pictures of food more than any other subject. Since there was a lot of food on the menu that day, I decided to make a separate post about Las Flores' food.
I was told that Las Flores is Apples Aberin's (she's Unilever's PR Head for Personal Care) favorite restaurant. It's actually a small hole-in-the-wall-ish Spanish restaurant located at the ground floor of One McKinley Place. There's no parking lots near it, you will have to avail of their valet service for which they will charge you P50 because they will take your car to a paid parking area as you dine. My hubby is very meticulous about cars so he most probably won't want to avail of the valet service. That said, it's not very likely that I will be able to go back here on my own, lol.
For starters, we were served Ensaladilla Rusa con All I Oli Suave or Russian Salad with Alioli (P195). I remember it as having tuna, potatoes, olives, hard-boiled eggs, and lots of mayo which I am not very fond of. It was okay, I guess.
I liked Ensalada Las Flores con Queso de Cabra, Tomates, Patatas Paja y Manzana Caramelizada or simply Las Flores Salad (P325) a lot better. Mixed organic greens are tossed with goat cheese, caramelized apples, tomatoes, and then topped with shoestring potatoes (I could tell they used Piknik). I liked that they used a fruity vinaigrette so the salad came across as light and refreshing. Honestly speaking the food items' names are too long for comfort. It's like a roll call for every single ingredient used.
We also had Fresh Marinated Mussels with Escabeche Spicy Sauce & Jerez Vinegar. I'm not fond of shellfish but this one was pretty good, although I'm not sure if they normally serve it because I didn't see it in their ala carte menu. It was kind of spicy and definitely very flavorful.
I had a glass of freshly squeezed Orange Juice (P95).
We also had Atun en Escabeche de Vino y Aceite de Oliva Virgen or Marinated Tuna in White Wine with Escabeche Sauce (P395). It's a dish reminiscent of Spanish sardines. Chunks of boneless tuna fish are marinated in spicy seasoned olive oil. I think this is better than Spanish sardines because the fish is meatier and there are no fish bones to contend with. Plus points for presentation too. They open the glass container when the dish is laid down your table.
The food kept coming! So you see this is why it doesn't have to be a food event to make you fat, lol! We had Salmon de Tazmania Ahumado con Ricotta y Aceite de Trufa con Miel or Tazmania Smoked Salmon with Ricotta and Hint of Truffle Oil (P595). Each piece is more or less gone in one bite. I don't recall tasting the or even smelling the truffle oil. It is however topped with caviar which makes it so much more luxe. Something to order for the discerning palate but practical people like myself would probably not order this lol.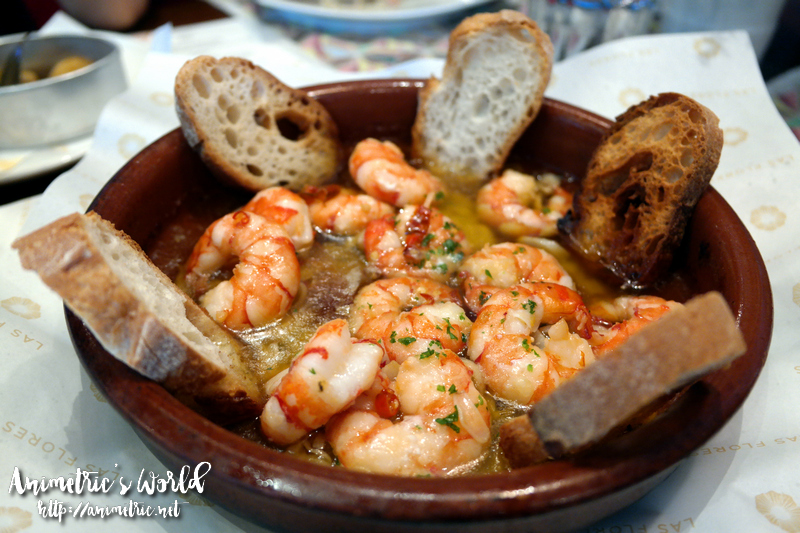 This was really good, too bad I'm allergic — Gambas al Ajillo Picantes, Por Supuesto or Spicy Garlic Fried Shrimps in Olive Oil (P345). I only had the bread and the garlic oil. No, I think I also had all the garlic chips underneath, hahaha. The shrimps looked really plump and juicy and there were a lot of them.
I can only guess what this is — Zucchini Carpaccio? If yes, that would P295. I liked how they plated it though.
What Spanish meal is complete without paella? We had Paella de Marisco or Seafood Paella (P495). I estimate one serving is good for at least 3-4 people (provided that's not all their eating) since it's so rich. It's topped with manchego cheese which melts over the rice and gives it a chewy cheesy topcoat. Yummy!
This was the grand finale of the hot dishes, sort of — Angus and Foie Minis (P825). Australian angus beef is topped with foie gras and served with melba toast then sprinkled with lots and lots of freshly grated parmesan cheese. I love foie gras so I had to have this, lol. It was pretty good although the foie gras wasn't as buttery as I would've liked.
For dessert, we had Crema Catalana con Piña or Crema Catalana with Pineapple (P195). It's basically creme brulee with pineapple inside. I liked that it was not overly sweet and the tangy pineapples complemented the creamy custard perfectly.
We also had Pastel de Queso con Naranja or Cheese Cake with Orange (P195). Yup, good too. There were two other desserts but I was on the verge of food coma already so I skipped them.
For the record, all of the above dishes were shared by several people, lol. I am still very much in control of my weight. It was sooooo hard losing 20 lbs and I'm not about to backslide into fatness.
If you have a penchant for Spanish food, Las Flores may be well worth a visit. Yes, prices are above average but they're not too high so I wouldn't classify it as overboard. If you want a nice quiet place to have a sophisticated dinner, go go go. I guess though if you're like personally driving a Porsche or Ferrari or some other expensive car like that it would be no no no, lol. Oh yeah, I also think they should simplify their dishes' names. They should work on fine tuning the service too. The whole place was reserved by Unilever that day but there weren't that many people eating (I estimate maybe 50?) but service was extremely slow. The servers tend to forget your drinks too. It was past 2pm when they served dessert and we started eating at 12nn. Maybe they were overwhelmed. I don't know.
*All photos in this post were taken using the Samsung NX2000.
Like this post? Subscribe to this blog by clicking HERE.
Let's stay connected: