As promised, I'm posting a detailed review for the Laneige Powder Fit Cushion. I love Laneige. It's one of my favorite Korean beauty brands. I like their BB cushion best among all the brands I've tried. I've gone through over a dozen cushion refills over the years.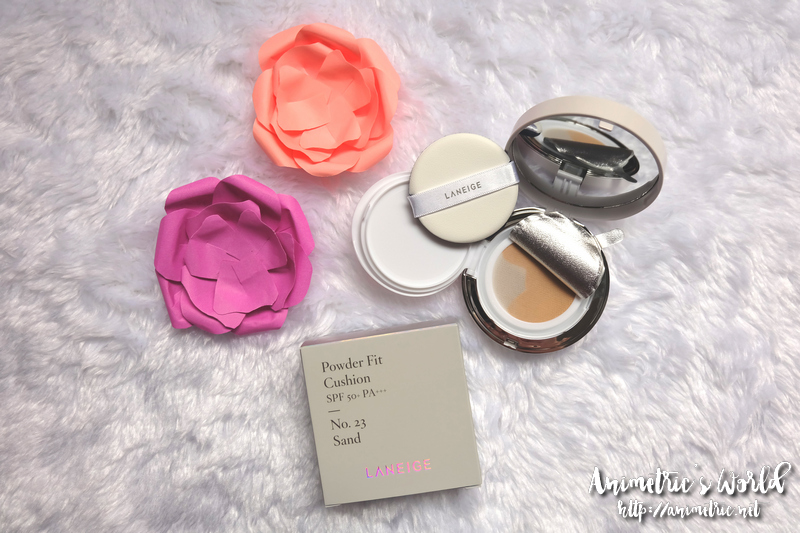 So this is the Laneige Powder Fit Cushion (₱1,350).
I was kind of worried because my usual Laneige cushion shade is #21 Beige. Althea doesn't carry anything except #23 Sand for Laneige Powder Fit Cushion. I figured since it's just one shade away from my usual I'd be able to make it work.
It's got SPF 50+ PA+++ so your face is nicely protected from the sun's harmful rays.
So here's the difference between Laneige BB Cushion and Laneige Powder Fit Cushion — the latter is not really a cushion. Creamy liquid foundation is dispensed via a mesh net. You have to press on the mesh with a puff to get the product.
Here's a swatch of Laneige Powder Fit Cushion No. 23 Sand. Yes, I can definitely work with this shade! It's not as dark as I expected it to be. It's yellow-toned too so it's perfect for my skin which reddens easily.
So here's my face before and after application of Laneige Powder Fit Cushion No. 23. I love how it evened out my skin perfectly!
Here's how it looks under natural light — perfect shade match!
Here's how it looks 8 hours after application, no retouch. Props to my Happy Skin Glam Squad Liquid Matte lipstick too, also no retouch!
Why I love the this product:
It provides better buildable coverage compared to my usual Laneige BB Cushion.
Love the easy-peasy convenient application. It's foundation but you can apply it like a BB Cushion.
The shade is perfect for me. Surprisingly, this is the DARKEST shade. There are 4 available shades (Nos. 11, 13, 21, 23) although Althea carries only one.
It has a light fresh scent which is characteristic of all Laneige products.
It's pretty long lasting — still okay 8 hours after application.
It's lightweight and doesn't feel heavy on the face.
Downside? Since this is the darkest shade, I'm not sure if people with skin tones darker than mine can make this product work. It's also not refillable so you have to buy a new compact when it runs out.
You can purchase Laneige products at the Laneige Flagship Store on Lazada.
Like this post? Subscribe to this blog by clicking HERE.
Let's stay connected: