At long last, I'm writing a beauty review. I was sick for most of December and not feeling particularly presentable so it's been a while since I posted something beauty-related.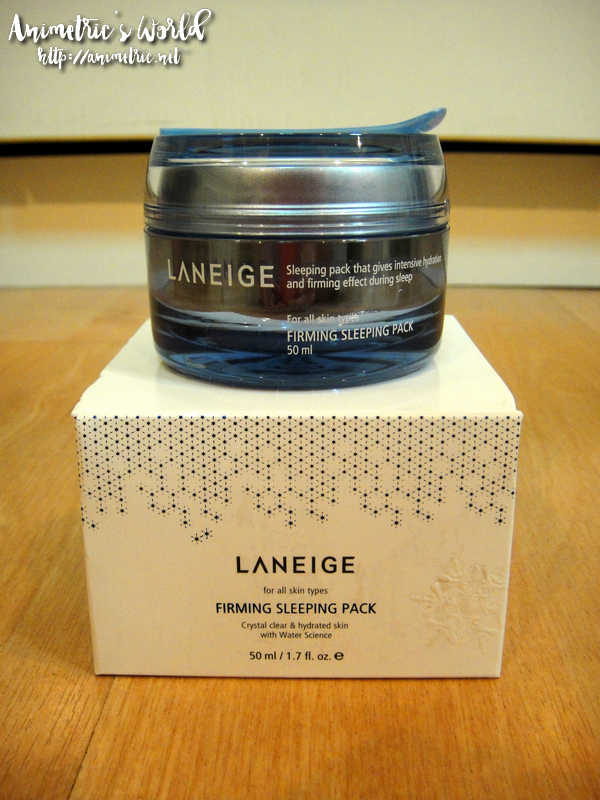 My first beauty review for the year is for a product from none other than my favorite beauty brand, Laneige. I love Laneige. I've been using Laneige skin care products for more than two years now. What I'm reviewing is something I discovered during our trip to Korea back in 2012, Laneige Firming Sleeping Pack. I bought my first jar in April 2012 for KRW30,000 (around P1,250). This product became available in the Philippines several months later for P1,650.
With your purchase you get a jar of product and a spatula.
It's sealed for your protection.
The product has a similar look and consistency to white gelatin.
You can mix it up and it would get clumpy like this.
But it will actually liquify and go back to its original form shortly after… it will look exactly the way it did when you first opened the jar.
Prior to buying this product, I had been using Laneige Water Sleeping Pack which is a cool gel-type product you use before going to sleep. It moisturizes and brightens my skin overnight. I love it although I haven't gotten around to reviewing it. When my skin became super dry back in December 2012, Laneige Water Sleeping Pack was one of the products that saved it. When I went to Korea I was about to buy a jar of Laneige Water Sleeping Pack selling for KRW20,000 (P838) but the salesperson recommended that I get the newer amped up version which was the Laneige Firming Sleeping Pack that I'm reviewing now. She said it had anti-aging properties so it would firm up my skin and prevent signs of aging in addition to what the Laneige Water Sleeping Pack did. I figured since I'm nearing my 40s I might as well get this. She also said that I just needed to use this once a week while I could use the Laneige Water Sleeping Pack every night.
What I like about Laneige Firming Sleeping Pack:
It's not greasy and it has a cooling effect. You're supposed to use it after cleansing, toning, and moisturizing. It's the last step before you go to sleep.
It smells nice, but then all Laneige products do.
It lasts long. I've been using this 1-2x a week for about 10 months and the jar still isn't empty.
My skin feels firmer after use.
Downside? It's kind of tricky to apply because it's gelatinous. It also does not feel as relaxing as the Laneige Water Sleeping Pack as this has a slight tingle which I suspect is because of the firming action. Although this is the more scientifically advanced version of Laneige's Sleeping Pack, I actually like using the Laneige Water Sleeping Pack better (it's cheaper at P1,250 too).
I can't really show a before and after photo as I use skin care products in unison as part of my regular regimen but this is my first photo for 2014 taken after more than a week of being sick. I have absolutely no makeup on. If I don't look 40 (although I'm still several months away from it) it means my skin care regimen is working, lol.
Laneige Firming Sleeping Pack is available for P1,650 at Laneige boutiques located at the following malls:
SM Mall Of Asia (Level 2)
Robinsons Place Manila – (Level 1 Pedro Gil side)
Trinoma (Level 3)
Robinsons Galleria (Level 2)
Robinsons Magnolia (Upper Ground Level)
SM Aura Taguig (Level 2)
SM Megamall (Level 2, Bldg A)
Like this post? Subscribe to this blog by clicking HERE.
Let's stay connected: