I visited the Lancome Boutique in Greenbelt 5 last November 16, 2011 for the unveiling of its latest anti-aging serum Lancome Visionnaire and the launching of Kate Winslet's limited edition make-up collection for the holiday season.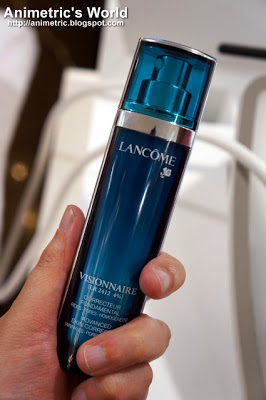 Visionnaire is Lancome's first advanced skin corrector. It addresses problems concerning wrinkles, pores, and evenness. Lancome Visionnaire can even lighten acne marks. Visible results can be seen in 4 weeks. I've been using this for exactly one week now and I'll be doing a comprehensive product review after a month.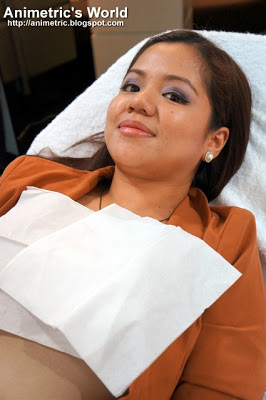 To demonstrate Lancome Visionnaire's effect instantly, fellow blogger Shen agreed to undergo an intense facial massage with the product.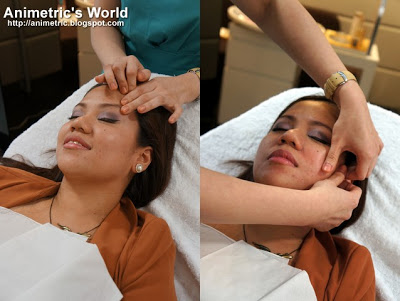 Shen's foundation and blush were removed so that the product could be massaged into half of her face. This is so we can see the difference. As you can see, a lot of pressing and kneading occurred to ensure that the product penetrates the skin immediately.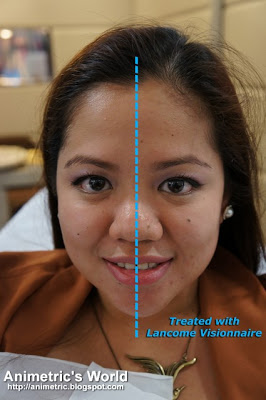 Afterwards we were asked to take a closer look to see the difference. I noticed that the right side of Shen's face had a tighter, more lifted appearance. Notice how the right cheek looks slimmer.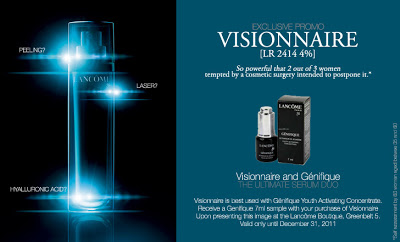 Lancome Visionnaire is so powerful that according to clinical tests and studies done by Lancome, 2 out of 3 women who are considering a cosmetic surgery intended to postpone it after trying the product. From now until December 31, 2011, simply present the image above (you can print it out, save it onto your cellphone, etc) to the Lancome Boutique in Greenbelt 5 and get a free Lancome Genefique 7ml deluxe sample with your purchase of Lancome Visionnaire. Lancome Visionnaire is available for P4,950.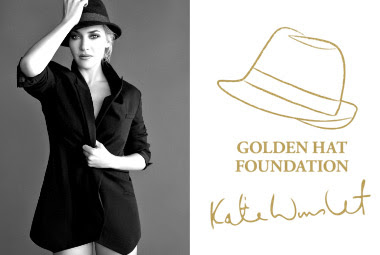 But wait, there's more (that sounds so home TV shopping-ish… XD)! Lancome also launched a special limited edition make-up collection in collaboration with Kate Winslet and her Golden Hat Foundation. The Golden Hat Foundation aims to raise funds in order to help autistic children by teaching them to communicate more clearly as well as offer them education, job training, and recreational activities adapted to their disability. Lancome has pledged to donate a very generous 150,000 euros of its sales profits to the Golden Hat Foundation.
Kate Winslet's limited edition make-up collection includes: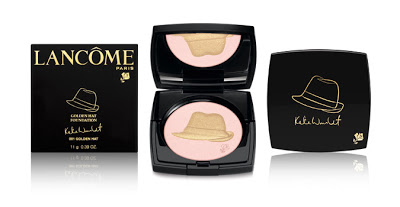 The Golden Hat Illuminating Smooth Powder – Goldenescent Glow (P2,295, pictured above), an all-over powder that gives your face a soft and delicate glow with touches of gold.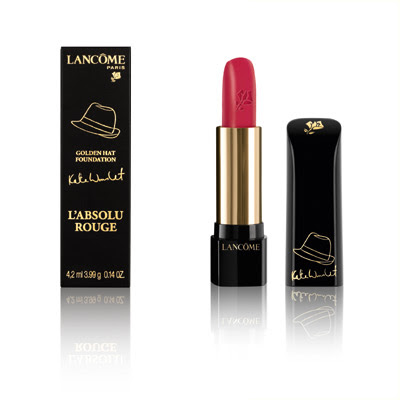 L'Absolu Rouge Advanced Replenishing and Reshaping Lip Color (P1,495, pictured above) which is available in 5 shades.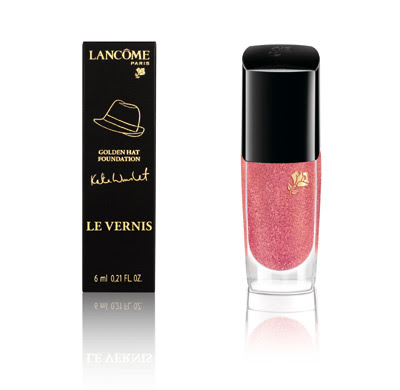 Le Vernis Divine Lasting Color and Shine (P995, pictured above) features 5 vibrant new pink-based shades for ultra-feminine nails.
All the make-up included in the collection are dressed in a limited edition casing with The Golden Hat logo and Kate Winslet's signature. Buying items from this collection lets you contribute in the fund-raising effort for autistic children.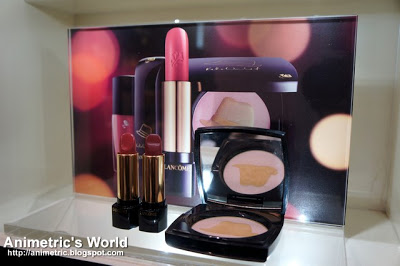 Yep, they have the goods on display in Greenbelt 5. 😀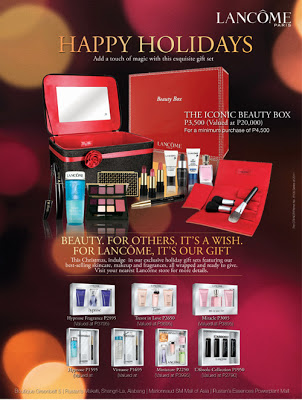 Here's even more good news. Buy P4,500 worth of Lancome products from Boutique Greenbelt 5, Rustan's, Marionnaud, and Rustan's Essences Power Plant Mall and get the Iconic Beauty Box containing P20,000 worth of Lancome products for only P3,500. It's a real steal! One bottle of Lancome Visionnaire should do the trick. XD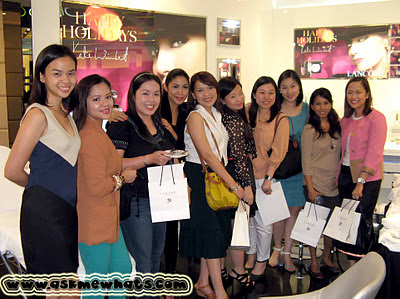 I'm grabbing this group photo off Askmewhats since I don't have a single photo of myself in my cam. XD
Lancome is available at Greenbelt 5, Rustan's, and Marionnaud.

Like this post? Subscribe to this blog by clicking HERE.Become a Facebook Fan for more updates from Animetric's World.