Last summer, I took a Personal Beauty course at Maquillage Professionnel. I enjoyed it immensely and I can confidently say that I can make myself over for whatever occasion with the skills and techniques that I picked up from the course. I really love make-up and the way it can transform a face, and so the next step for me was to enroll in a professional make-up artistry course.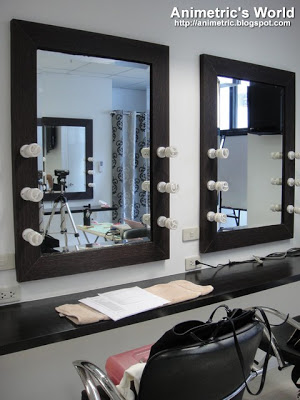 I chose to enroll at HD Makeup Studio and Academy (formerly Basement Academy). A few friends of mine graduated there — specifically Nikki of Askmewhats, Shen of Shen's Addiction, and Kim of The Beauty Addict. This is my station.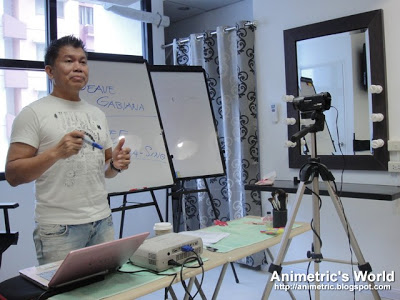 I chose this school because they're the only school which teaches HD make-up at the basic level. It's a separate advanced course elsewhere. Our instructors are none other than the founders themselves Jeave Gabiana and Steph Chua-Sing.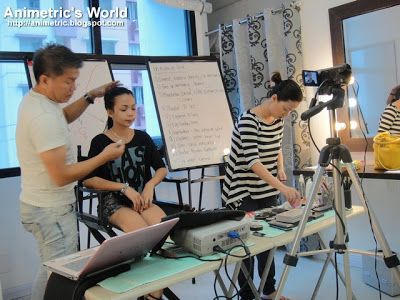 Sir Jeaves told us that he used to be an invesetment banker. Both he and Steph are US-trained. I like how they really instill discipline in each student. We have to be very clean whenever we work on models, we can't use the brushes to directly manipulate the cosmetics — we have spatulas and palettes that serve as our "serving spoons" and mixing trays. Basically they lecture, demonstrate, and then it's hands-on time.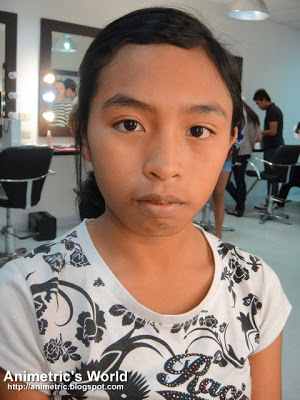 We drew lots to determine which model will go to which student. I got a very young girl who I estimate is about 14 years old. She has really thick eyebrows. Sir Jeave handed me a razor and told me to start shaving. I was terrified as I had never done it before. I think shaving her eyebrows alone took me a good one hour. O_o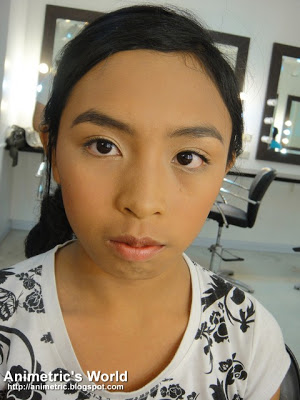 I was tasked with creating a no make-up look for her. I borrowed Graftobian foundation from Steph since I had none that matched her skin tone. My darkest foundation was still too light for her. I used Sanford Eyebrow Pencil, Elf eyeshadow, Maybelline eyeliner, Maybelline Magnum Mascara, Graftobian blush, and Avon lipstick.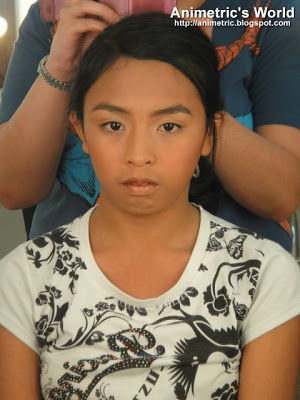 Here's another after shot… we're required to take before and after photos of all the models we work on.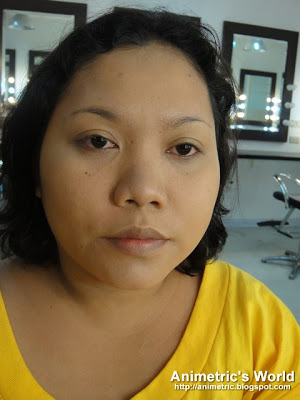 My next model was on the chubby side. I was to create an evening look for her. I forgot to take a before photo when I started and so she already has some foundation here.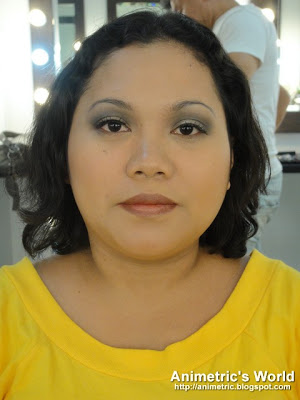 I was a lot quicker the second time around since I didn't need to shave her eyebrows. I used Graftobian foundation, Sanford eyebrow pencil, Fanny Serrano eyeshadows (never again will I use this as it was sheer torture to blend), Fanny Serrano gel eyeliner (this FS product is quite good), Graftobian blush, and Avon lipstick. I promise to be more detailed in my next posts. It was too nerve-wracking for me to go into full blogger mode during my first session.
Just to let you know, enrolling in this course entails quite a few things:
Tuition fee is P18,500 inclusive of models. This is one of the reasons why I picked this school. Other schools ask you to bring your own. It's not easy finding a willing victim… er… model.
You have to buy your own make-up, brush set, and other materials needed (cotton buds, wet wipes, brush cleaners, etc). I'm telling you now that you will spend thousands because I already have.
You will go overtime because nobody leaves if as much as an eyebrow hair is out of place. My class was supposed to be 10am to 6pm. I got home almost 10pm. I spent something like 5 hours standing and doing make-up. My back was killing me when I got home.
There is no mealtime break. Everyone votes for a place to order from and then someone will go get the food.
If you just want to learn how to do your own face, I suggest enrolling in a Personal Beauty course at Maquillage Professionnel. If you're looking to go pro, that's when you enroll here because they really mean business at HD Studio.
Will keep you updated on my progress as I go along… 🙂

Like this post? Subscribe to this blog by clicking HERE.Become a Facebook Fan for more food adventures from Animetric's World.