A lot of people I know don't have the patience for complicated skin care regimens. In fact, a study once shown to me during a beauty event stated that most Filipinas only use facial wash for skin care and pretty much nothing else. Most don't see the need for toners, moisturizers, and serums. But you do need them, promise. If you don't want to look old way before your time or older than your actual age, you'd better put in the time, lol. So how about an all-in-one product that will do everything? Check out the Kracie Hadabisei All in 1 Facial Mask!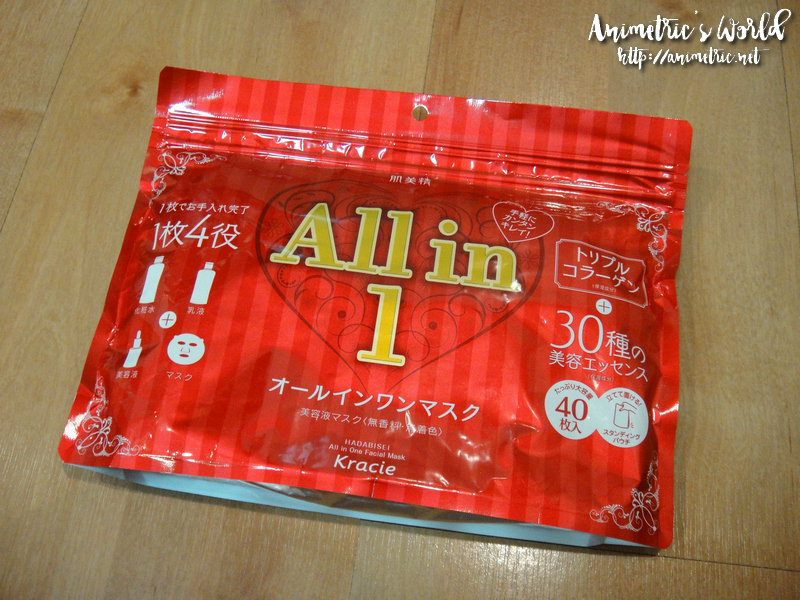 Kracie Hadabisei All-In-One Moisturizing Facial Mask (P795)
Lucky for us, these days, more and more beauty products are being created to address different lifestyles. Kracie Hadabisei All in 1 Facial Mask is one of those products. So now, if you don't want to put in the time, you can put in at least 10 minutes for your ENTIRE skin care regimen and emerge glowing. Sound too good to be true? Read on.
Let's start by opening a pack.
One big foil pack contains 40 masks. You can use these 2x a day — morning and night. I prefer using once a day as my night time regimen though. I used these masks straight for about 2 weeks.
Okay, I found the mask to be kind of small in that it left about a 1-inch gap in between my hairline and my forehead even after stretching it as best I could. I was really stretching it at that. It doesn't fit as nicely as some other masks I've used. However this is a 4-in-1 skincare regimen condensed into a single step — toner + moisturizer + serum + mask. So really, all you need to do is wash your face and then put this on, leave it for 5-10 minutes (I prefer 10 minutes), and then remove. Spread any remaining liquid all over your face and neck. Easy, right?
This photo was taken after I woke up on my 10th straight day of using Kracie Hadabisei All in 1 Facial Mask nightly.
What I like about Kracie Hadabisei All in 1 Facial Mask:
It's perfect for traveling! I don't know about you but I don't like lugging around a horde of bottles when I travel so this is perfect since it comes in a resealable and flat foil package that's easy to pack.
It saves time and dresser space. Aside from the fact that there's no clutter since you can keep the pack inside a drawer, this product lets you do 4 skin care steps in 5-10 minutes.
Your skin is bright and smooth when you wake up in the morning.
It's very economical at about P20 per mask. Imagine toning, moisturizing, and applying 2 kinds of collagen plus 30 kinds of serum essences (yes, that's how pumped up these masks are!) all for P20 per session. If you use this 2x a day, one pack will last 20 days. If you use this nightly like I did, one pack will last more than a month.
Downside? My face felt sticky for a while after removing the mask, which is why I chose to use it only as my night time regimen since it's completely absorbed (no more sticky feeling and my face felt smooth) by the time I wake up in the morning.
Would I forsake my multi-step night time skin care regimen for this? Honestly no, because I'm OC like that when it comes to skin care BUT I would most likely keep a pack handy for those nights when I'm too tired and sleepy to go through all the motions of my normal regimen. I would also most likely choose to bring this with me when I travel.
Kracie Hadabisei All in 1 Facial Mask is available exclusively at Beauty Bar for P795 per pack. You can also purchase them online at http://shop.beautybar.com.ph/.
Like this post? Subscribe to this blog by clicking HERE.
Let's stay connected: