Last July 3, I went to The Cookery in BGC to learn how to whip up something yummy for my family the Knorr Lutong Nanay way. Everyone who reads my blog knows I don't cook… BUT I've always believed I can do anything, so I was pretty confident I'd get the hang of it. Plus how can I go wrong with Knorr? I know enough about cooking to know that Knorr makes preparing delicious meals a whole lot easier especially for working moms like me.
Our intimate Knorr Lutong Nanay cooking session was hosted by celebrity mom Camille Prats. Now on its 3rd year, the Knorr Lutong Nanay campaign's goal is to bring back the value behind home-cooked meals. It's actually great for working moms like me because the program introduces simple, smart, and delicious dishes that the whole family will love. Knorr aims to bring the family together through the best flavors found in mom's cooking. So when I was asked to be part of the Knorr Lutong Nanay campaign, I wholeheartedly agreed!
There were about 10 or so of us mommy bloggers at The Cookery. We started by introducing ourselves (and our blogs) to the group.
We were told that we would be cooking up four (4) kinds of sinigang that day. Without further ado, we moved on to Chef Sari Jorge's cooking demo for Knorr Sinigang na Pakwan! For those who don't know what sinigang is, it's a hearty Filipino soup characterized by its savory and sour taste that's usually derived from tamarind. These days instead of manually stewing tamarind to get the tart flavor, most homes (mine included) use Knorr Sinigang Mix so we can cook Sinigang anytime.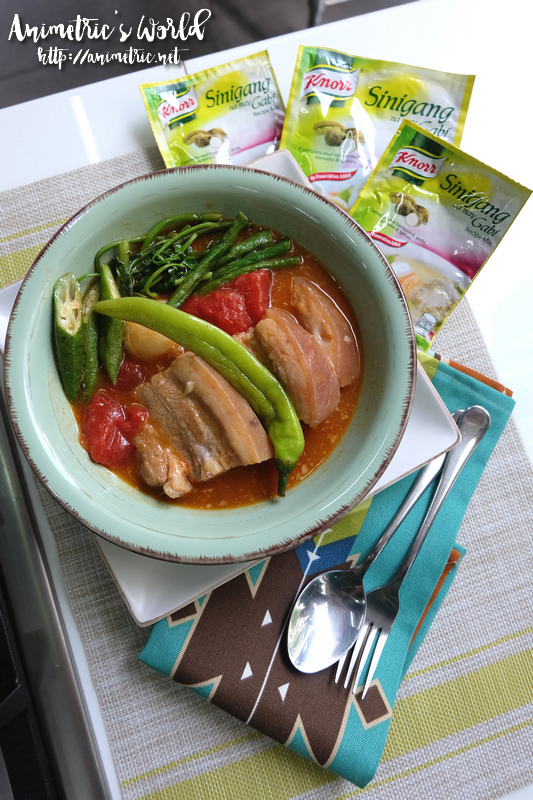 Anyhow does watermelon sinigang sound familiar to you? If the answer is yes, it's because the dish was inspired by a popular Filipino restaurant which serves it. I know we've ordered and eaten it before. My hubby and kids aren't really fond of sour flavors but they all loved watermelon sinigang. I'm so happy that I can now make it at home! I'm sharing the recipe with you here:
Knorr Sinigang na Pakwan
INGREDIENTS:
500 grams
 Pork Belly 3 inches x 1 inch slices
3 tbsp Knorr Liquid Seasoning
2 tbsp
 vegetable oil
1 liter water
3 cloves garlic, crushed
1/2
 onion, cut into 2 wedges
3 pcs tomatoes, sliced into quarters
1 inch fresh ginger, cut into fine matchsticks
1
 lemongrass stalk, white part only
2 pcs fresh kaffir leaves (optional)
200 grams gabi, sliced into cubes
500 grams seedless sweet watermelon, peeled and cut into 1inch cubes (divided into 2 parts)
1 22g pack Knorr Sinigang sa Gabi Mix
1 Knorr Beef Cube
1 tbsp
fish sauce, plus extra to taste
1 tbsp soy sauce
¼ tsp 
freshly ground black pepper
2
 long green chillies, sliced
150 grams
 sitaw, cut into 7 cm lengths
100 grams
 okra
1 bunch
water kangkong
steamed rice, to serve
fish sauce to serve
METHOD:
Marinate the pork belly in Knorr Liquid Seasoning for at least 30 mins.
Place a large casserole over medium-high heat. Add the oil and, working in batches, cook the pork until evenly browned. Remove with a slotted spoon and set aside.
Reduce the heat to medium. Add the garlic and onions to the casserole. Add the tomatoes, ginger, lemongrass, gabi and watermelon and cook for 2 minutes before returning the pork to the casserole.
Add the water, Knorr Sinigang sa Gabi Mix, Knorr Beef Cube. Cook for a further 1–1½ hours until the pork is tender.
When the pork is tender, remove the pork from the casserole and set aside. Strain the liquid and add the fish sauce, soy sauce and pepper to taste.
Add the remaining watermelon, beans, chilies, and okra and cook for 20 minutes, before adding the water spinach and cooking for a minute until all the vegetables are tender.
Serve with steamed white rice and fish sauce for dipping.
After Chef Sari showed us how to make Knorr Sinigang Na Pakwan, we were divided into groups. Each group would make a different restaurant-inspired sinigang recipe. I was teamed up with Neva (Manila Mommy) and Joy (Gastronomy by Joy). We were assigned to make Knorr Sizzling Sinigang. I know which restaurant serves it but I haven't tried it yet. We were given the recipe and the corresponding ingredients.
As per Chef Sari's advise, we started by frying veggies that would be used as garnish for our dish.
We had a lot of frying to do and so we took turns.
Knorr Sizzling Sinigang entails that we make a sinigang-based gravy to pour over beef and then garnish with colorful veggies. Chef Sari helped us out towards the end.
We pretty much watched her arrange our ingredients on the sizzling plate.
Colorful veggies can make a dish look so pretty and appetizing!
Check out our finished product — Knorr Sizzling Sinigang!
 One group cooked Knorr Surf and Turf Sinigang…
…while another group made Knorr Sinigang na Grilled Liempo. It never occurred to me that there can be so many ways of cooking sinigang!
I just love how the Knorr Lutong Nanay campaign brought us moms together for an afternoon of good food, conversation, and a whole lot of learning. I'm looking forward to learning (and cooking) even more in the coming days! 😀
Like this post? Subscribe to this blog by clicking HERE.
Let's stay connected: