Kanzhu Hand-Pulled Noodles is one of our go-to restaurants in QC and San Juan. We'd eat there when our helper would take the day off so we don't have to cook and clean up. We like it there because food is good and reasonably priced. They even have merienda deals we'd avail of when we needed to wait for the kids after school. They closed for a bit during ECQ but they've reopened and they're doing home deliveries. We tried their delivery service a couple of weeks ago.
We had the Wok Fried Fragrant Chicken (P265), a dish we haven't tried before. I don't know how to describe it but it's really, really good. Breaded chicken pieces and diced eggplants are cooked in a flavorful, aromatic sauce. It was hubby and the kids' favorite dish.
This is my favorite dish — Tomato Egg Dish (p165). This is a Taiwanese dish made of tomatoes, eggs, and leeks. So simple but so good! I've tried making this at home a few times but I can't get this flavor. Kanzhu Hand-Pulled Noodles' version is the best for me. I can finish an order by myself.
We also had Ginger Chicken Dumplings (P125 for 7 pcs). You can order these steamed or fried. We prefer steamed because we want to cut down on oil in our food. Really yummy and surprisingly cheap!
This is the Chinese Olive Fried Rice (P285). It came in a small box which was packed full so I thought it was a small serving. There's surprisingly a lot of rice in one order — enough to feed 3 people!
Of course we can't skip their specialty hand-pulled noodles. We had Sliced Beef XO Dry Noodles (P195) and Yuxiang Eggplant with Minced Pork Dry Noodles (P195). Their noodles are as nice and chewy as I remember. Super love these two! We usually just get Sliced Beef Dry Noodles (P225) but who would've thought these lower priced variants would turn out to be yummier.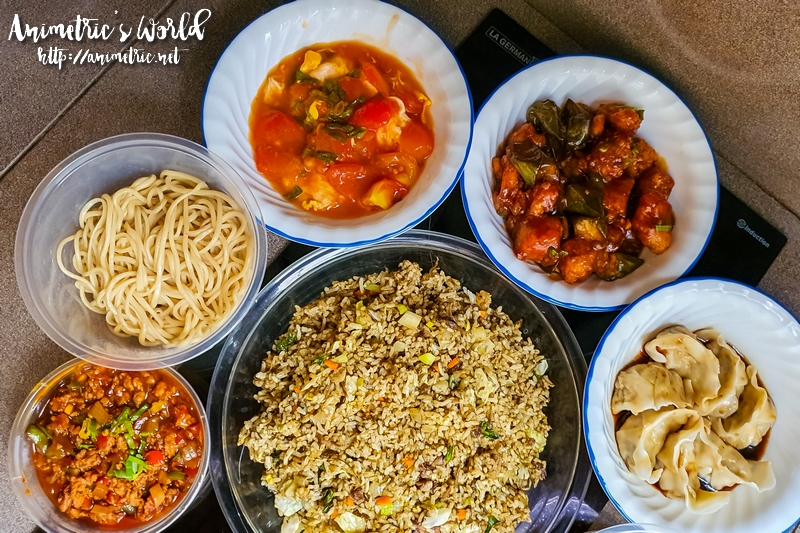 Super loved our Kanzhu Hand-Pulled Noodles weekend lunch at home! Will definitely order again. Dimsum and dumplings are all at the P100+ range and viands range from P100+ to P300+ each, good for 2-3 people per serving. Our order came hot and freshly cooked. Everything was delicious too! You can find the complete menu at the Kanzhu Hand-Pulled Noodles Facebook Page. Just call 09428201051 or 72386067 for delivery or orders for pick-up. If you're in the vicinity, you can also find them on GrabFood. 🙂
Like this post? Subscribe to this blog by clicking HERE.
Let's stay connected: