We were invited to dine at Kanzhu Hand-Pulled Noodles in San Juan City last July 8, 2011. It took the place of the now defunct Beijing Hand-Pulled Noodles.
Kanzhu Hand-Pulled Noodles is located along J. Abad Santos St. right across Serenitea. You can park either in front of the store or at the basement.
We were first served appetizers. Fuzhu (P80) was what we started dinner with. Sheets of beancurd skin are served together with sliced mushrooms, carrots, and bell peppers in a spicy vinaigrette. Interesting, I quite enjoyed it although some of my companions found it a bit too spicy.
Shredded Potato Salad (P70) was up next. Half-cooked potatoes are julienned and pickled in spicy vinegar. I have high tolerance for spicy foods but this is really hot. Too hot. It's a cold appetizer but the level of spicy-ness had me reaching for a drink.
Century Egg (P80) was a bestseller at our table. It's a simple dish comprised of hard-boiled century egg wedges in soy sauce but it was all gone in a flash. 🙂
Pork & Chive Dumplings (P80) can be ordered either steamed or fried. This is the steamed version. The dumpling wrapper is very chewy filled with lean and flavorful ground pork. Nice!
Next in line was Chinese Sausage Fried Rice (P150). There were actually two types of fried rice served but I found them both way too greasy so I'm just including one in this post. I just had a couple of spoonfuls and then moved on.
Moving on to the main dishes, we also had Kanzhu Braised Beef (P160). Tender and tasty, it would go well with steamed rice or as accompaniment to plain hand-pulled noodles.
Tomato Egg Dish (P80) was probably my favorite dish of the night. It seems like it's just scrambled egg cooked with sweet tomato wedges but I think there's more… I don't know how they did it but it's sooo yummy!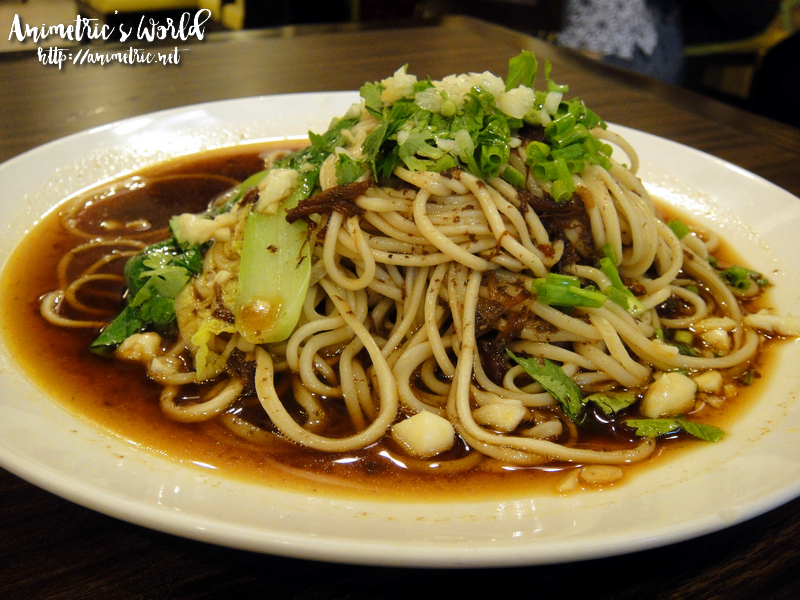 Kanzhu Plain Dry Noodles was the grand finale. It's not even in the menu and I don't know how much it costs. Based on the prices of the other noodles though I estimate it's around P130 or so. This is a great dish. The noodles are very chewy and cooked perfectly al dente. The shreds of flavorful beef and vegetables compliment it perfectly. It's topped with minced garlic for an added kick. This is definitely another favorite.
My hubby and I actually have lunch at Kanzhu Hand-Pulled Noodles from time to time since it's conveniently located and reasonably priced. You can even watch the chef in action as he "pulls" the noodles.
Kanzhu Hand-Pulled Noodles
G/F Citiplace Building,
8001 Jose Abad Santos St.,
Little Baguio, San Juan City
477-7919
Like this post? Subscribe to this blog by clicking HERE.
Let's stay connected: