Who hasn't been to BonChon to have some of their trademark BonChon Chicken? Since this is my 4th or 5th BonChon post, I won't be talking about the chicken. I'll be focusing on their new food offerings. They have a lot of interesting new dishes that we tried ordering for lunch last Thursday.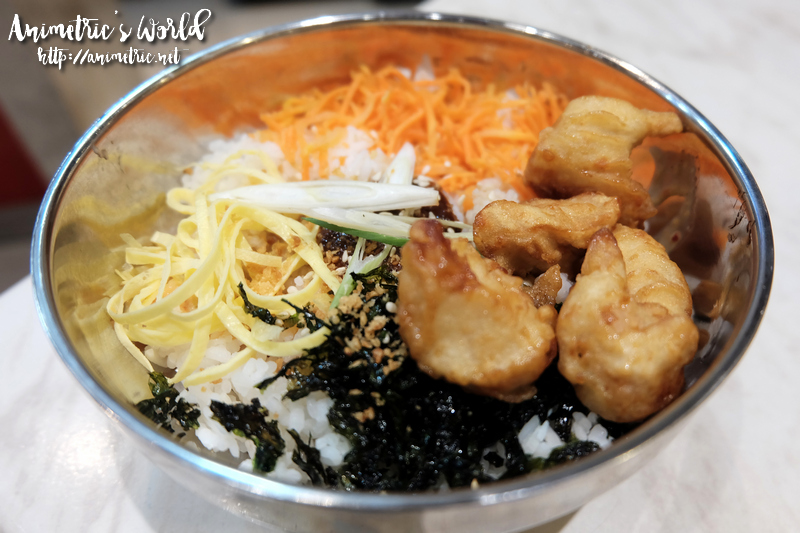 Meet BonChon's Bibimbowl. You can order Chicken, Beef, Taco, or Seafood Bibimbowl (P99 each ala carte). There's also a choice between Original, Fiery Spice, or Creamy Curry for the sauce.
My daughter and I ordered Original Chicken Bibimbowl sets for lunch. For P155, you get a Bibimbowl with pieces of fried chicken, egg strips, seaweed, carrots, and green onions on top of rice. You also get to choose a bowl of soup to go with it — Beef Bulgogi or Jjampong. We both went for Bulgogi since we're not too fond of spicy soup. The Chicken Bibimbowl is quite good, but I wanted a couple more chicken pieces and a bit more sauce in it. The Beef Bulgogi soup is very comforting and just perfect in terms of taste. It's quite reminiscent of sukiyaki, which I really like.
I've posted photos taken with my usual cam, the Fujifilm XA-2 and my current cellphone, OPPO F3 The Selfie Expert. I wanted to see how they compare against each other. What do you think?
This is the Gangnam Bao (P89 for Snack / P135 for Full Size). I ordered the snack size since we all had Bibimbowls. The only difference between snack size and full size is the number of chicken patties. You get 1 patty for snack size, 2 patties for full size. Soft steamed mantou buns are filled with crunchy BonChon chicken patties, shredded lettuce, mayo, and special sauce. It's available in Garlic and Black Pepper flavors. The snack size is actually filling.
We also tried their Bingsu (P79 if ordered as an add-0n, P89 ala carte) for dessert. Hubby got the newest flavor — Mango Cheesecake. The Bonchon Bingsu consists of shaved milk ice, toppings, and a dollop of milky soft-serve ice cream. This one had mango bits, cheesecake cubes, and crushed graham. Yummy and surprisingly big in size. We all expected it to be smaller lol.
My daughter had the Chocolate Brownie Bingsu. She said it was okay, I suspect the brownies came from either Goldilocks or Red Ribbon.
I had Matcha Vanilla Bingsu. My milky ice was topped with green tea powder, red bean paste, and what seemed like crunchy blocks of nougat. Pretty nice. I think 2 people can actually share a single Bingsu order.
Have you tried these new food offerings from BonChon? Maybe one of these days I'll give Jjampong a try. Ahhh I like their Beef Bulgogi too much to replace it. To find the nearest BonChon store, log on to http://bonchon.com.ph/.
Like this post? Subscribe to this blog by clicking HERE.
Let's stay connected: