Ever since I tried K-Palette Lasting 2 Way Eyebrow Liner, it has moved on to become THE ONLY product I use on my eyebrows. Whenever I find something that works, I'm not likely to let it go. I think I've gone through maybe 4 wands in the last couple of years.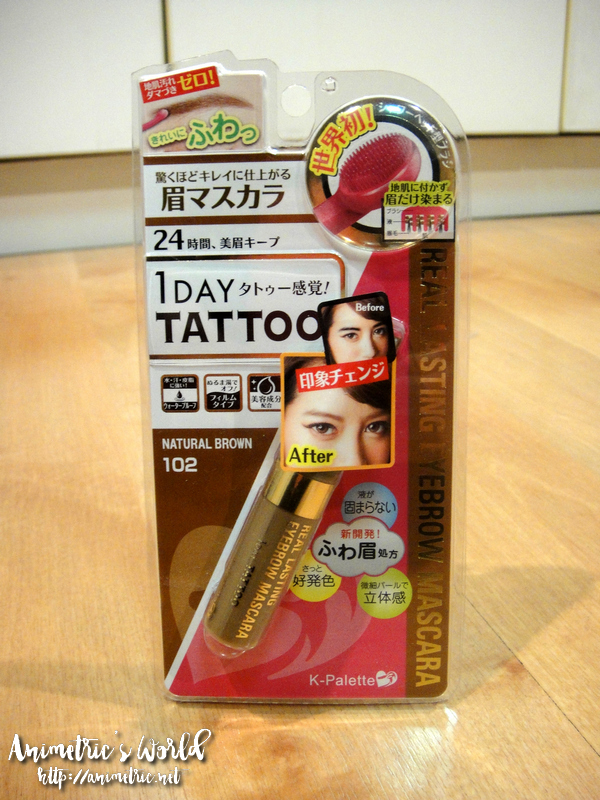 Just when I thought all was well with my eyebrows, out comes K-Palette Eyebrow Mascara. OMG. When I was in my 20s, I remember using Max Factor Clear Mascara to keep my thick eyebrows in check. Am I going to go back to using mascara on my eyebrows again? Anyhow, this has 2 shades available and I chose the darker one, Natural Brown 102.
You can see the product color because the tube is actually transparent.
Oh but instead of the usual mascara brush, you get a tiny little hairbrush-like wand like this. My Barbie doll had a hairbrush like this when I was a kid.
Here's a before and after application shot.
OMG, I'm totally in love with this product.
Here's the finished look, sorry I forgot to put on lipstick hahahaha! I usually start my makeup application process by putting on Burt's Bees Lip Balm (lipstick goes on last, as in before I leave the house) so that's all I have here.
What I like about K-Palette Eyebrow Mascara:
It's super easy to use, as in! You brush your hair, right? With this product, all you have to do is brush your brows. Just follow the direction of your brow hair's growth.
You don't need to draw. Just brush on following your eyebrow's shape and you're good to go. It keeps your brows in place too.
It gives more color and definition compared to a pencil but is still natural-looking. I don't look like I have kontrabida brows lol!
It effectively and completely covered the gaps I have on my brows. I find it harder to cover gaps using a pen, pencil, or powder.
It's not expensive! One tube costs P595 and can be used for at least 3 months (that is if you use it often like over 3x a week). If you use it maybe 1-3x a week it will last a lot longer.
Downside? There is really none I can think of. I was thinking it might be messy but it's not. If you think there's too much product on the brush, you can wipe some of it off with a tissue.
K-Palette Eyebrow Mascara is available for P595 per tube at Rustans Makati, Rustans Shangrila, and all Beauty Bar outlets nationwide. You can also buy online at http://shop.beautybar.com.ph/.
Like this post? Subscribe to this blog by clicking HERE.
Let's stay connected: