Okay WHY did I wait so long to watch this? Moon Lovers Scarlet Heart Ryeo is probably the most recommended K-Drama I've encountered. Practically everyone in my IG Stories has told me to watch it. But no, I put it off so much that it became the 95th K-Drama I've finished. This series just cements the fact the Lee Joon-gi is my idol when it comes to acting. I thought he was a shoo-in for Baeksang Best Actor for Flower of Evil, unfortunately he lost out to the Beyond Evil male lead.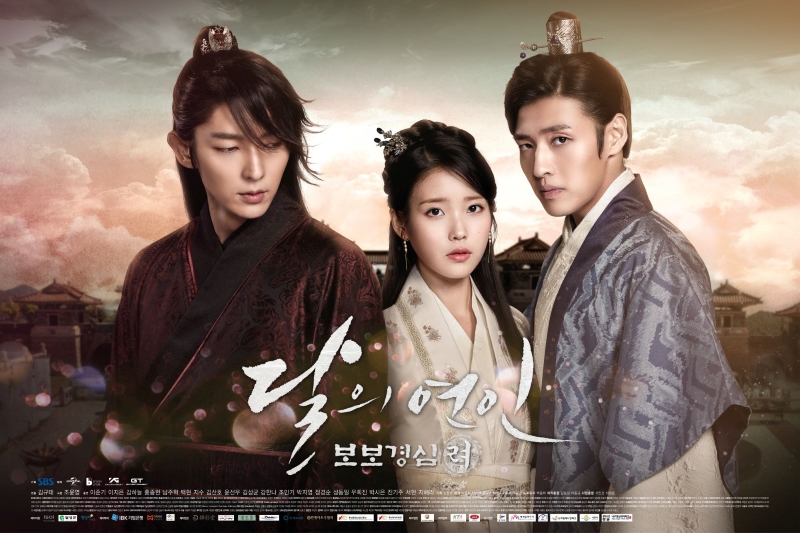 Anyhow Moon Lovers Scarlet Heart Ryeo is a young woman named Ha-jin who's drinking by herself near a lake to drown out her woes. Apparently her boyfriend went off with her friend and left her in debt. Ha-jin sees a boy drowning and tries to save him, only to end up drowning herself. When she gets out of the water, she is all wet and wearing a hanbok in the Goryeo era… and her name is Hae Soo.
In this timeframe, Hae Soo turns out to be a cousin of a noblewoman Lady Hae who happens to be married to 8th Prince Wook. Hae Soo has no choice but to quickly adapt to life in the Goryeo era. Her unconventional ways endear her to several princes (Wook's brothers and half-brothers) that even the dark and mysterious 4th Prince So is drawn to her.
In Scarlet Heart Ryeo, Hae Soo gets close to 5 princes but her main romantic interests are 8th Prince Wook and 4th Prince So. Hae Soo eventually becomes a court lady and she becomes quite skilled in maneuvering around the palace. She eventually learns of the heavy price that those who desire and gain the crown have to pay. Based on the timeline of events in the series, it's safe to say Ha-jin spends at least a decade of her life in the Goryeo era. My daughter and I were going like… and Ha-jin thought life in the 20th century was tough lol. Nothing could've prepared her for all the scheming, betrayal, hurt, and physical injuries she would have to suffer through in the Goryeo era.
I find it interesting how palace life is so pretentious and complicated. There are just TOO many things to consider with every decision. One faux pas can get you killed even if you're not in line for the throne. Nobody in power seems to have a happy life and many who gain the crown eventually go insane. It's not hard to see why.
As many of you already know Hae Soo eventually ends up with 4th Prince So, it's just that there are too many factors going against them. It's a tragedy, really. Had they met in a different time under different circumstances, they would have had a happily ever after. Hae Soo sadly acknowledges this in the last few episodes but there really isn't anything she or 4th Prince So can do.
I really really loved this drama. Well-cast, well-acted, and well-written, it also boasts of impressive set designs. It was such a joy taking in every episode. We went through 20 episodes rather quickly because the plot is so engrossing. IU's portrayal of Hae Soo just gets better and better. She was ehhh at first but wow she really improved. We could see and feel the maturity of her portrayal by the second half of the series. Kang Ha-neul and Lee Joon-gi turn in stellar best actor-quality performances as Wook and So as well. Kang Hanna (Princess Yeon-hwa) is a natural at playing antagonistic characters. She was really awesome especially considering this is her first drama.
Okay so if you still haven't seen Scarlet Heart Ryeo, I suggest you stop reading at this point.
Scarlet Heart Ryeo's ending leaves a lot to be desired. Hae Soo dies without ever getting the chance to tell So how she really feels, although she does write it all down in letters that were sent to him. Problem is he friggin' didn't read any of them before she died and so when he went to see her all that was left was an urn full of her ashes. Ha-jin wakes up in the present time, apparently she drowned and was comatose for a year. She is plagued by dreams of a man in Goryeo attire and she wakes up crying every time. Ha-jin comes across a Goryeo exhibit and sees scenes from the past depicted in old paintings. This makes her remember everything that happened and she forlornly apologizes to So for leaving him. So vows to find her, realizing that she was not from his time.
Highly recommended, one of the best series I've seen. Scarlet Heart Ryeo is available on VIU.
Like this post? Subscribe to this blog by clicking HERE.
Let's stay connected: