Okay… so my sister can't stop talking about the C-Drama Love Between Fairy and Devil. Saw it while I was browsing Netflix so I decided to give it a go. Gosh, before I knew it I was already 8 episodes in. This is such a far cry from the first C-Drama I watched, Love 020 the Movie, where everyone was so stiff and unnatural. All the actors in this show are God-tier in terms of performance, most especially the leads Dylan Wang and Esther Yu.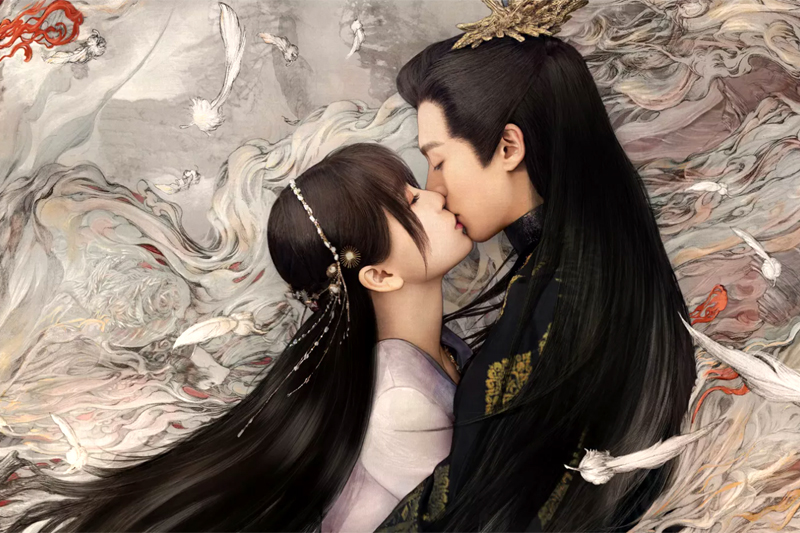 Love Between Fairy and Devil is about an innocent and lowly flower spirit named Xiao Lan Hua or Orchid. She works as a disciple of Si Ming or Lord Arbiter, keeper of the Books of Destiny. As the name suggests, Books of Destiny are leaves which contain a person's entire life and fate. It's Orchid's job to organize, do light repairs, and take care of these books for her master. As a flower spirit, Orchid can also cultivate and revive dead plants.
One day, Orchid accidentally sets the immortal criminal Dongfang Qingcang free from his eternal prison. Dongfang Qingcang is feared as a demon of the Moon Tribe who slaughtered thousands during the great war 30,000 years ago. Thus Dongfang Qingcang is finally able to leave the magical tower thanks to Orchid and he wastes no time setting his revenge plans in motion.
But there is one thing Dongfang Qingcang never expected — falling in love with Orchid.
I can't even begin to summarize this series. Whoever created this is just pure genius. Everything is so perfect — the set design, costumes, makeup, characterization, plot, and performances. It's such a lovely surprise. If you thought Scarlet Heart Ryeo was an emotional rollercoaster, this is even more so. You'll laugh, cry, laugh, and cry. Orchid and Dongfang Qingcang are so intense in their characterizations and performances they make most K-Drama couples seem like dead fish in comparison. I was surprised at how they spared nothing in terms of emotional range and wow, did they kiss A LOT. In K-Dramas, you'd get 2-3 scenes at the most. With Love Between Fairy and Devil, I have officially lost count (I mean, there are 36 episodes!)… and when they kiss they don't just bring their lips together like the Koreans do. They're really passionate and convincing.
The way each character in this series is so multi-dimensional and complex is so impressive. There are no meaningless extras. Acting-wise, I was most awed by Dylan Wang. He and Esther Yu have some soul-swapping scenes and you can tell from the change in his eyes just *who* he is at the moment — he doesn't even need to speak. Dylan Wang can give seasoned actors like Lee Joon Gi a run for the money, same goes for Esther Yu. Their chemistry is just insane.
Orchid and Dongfang Qingcang go through so much in this series that I feel it's enough suffering for several lifetimes. I just want them to live happily ever after.
Love Between Fairy and Devil has everything I want in a C-Drama — magic, fighting, intricate costumes, history, passion, complex characters, and a damned good plot. The OST is noteworthy too. I'm still LSS-ing the series' theme song "Love of Cang Lan". I had a blast watching it in Mandarin, there were actually times I could understand the dialogues without reading the subs. I suddenly want to brush up on my Mandarin so I'll probably be watching more C-Dramas from hereon out. My daughter is already telling me to check out The Untamed.
Available on Netflix and IQIYI.
Like this post? Subscribe to this blog by clicking HERE.
Let's stay connected: