For my 48th K-Drama series, I watched something new — Hi Bye Mama starring Kim Tae-hee. Up until this point, I've only heard about Kim Tae-hee being touted as one of Korea's most beautiful actresses (with no surgery!). I haven't really seen her onscreen. Now that I have, I must agree. Kim Tae Hee is really beautiful. I even researched her childhood photos and well, she looks exactly the same! Hi Bye Mama is from the same writer behind the series Go Back Couple / Confession Couple, so expect to see a few of the same supporting actors.
Hi Bye Mama is about a woman named Cha Yu-ri. Cha Yu-ri has everything go for her — a baby on the way, a devoted and loving husband, and a comfortable life. The problem is, she figures in a car accident which causes her to give birth and then die afterwards.
Her husband is beyond consolation and even tries to kill himself a few times. Her baby is left without a mom. It's just not fair. As a result, Cha Yu-ri can't rest in peace. She hovers around her family as a ghost, watching over them.
One stormy night Cha Yu-ri cries out to the gods, blaming them and cursing them for what happened to her. A miracle happens. Cha Yu-ri finds that she is alive again. BUT… there is a condition. If she can somehow regain her place after 49 days, she will be allowed to live again. That's going to be hard because five years had already passed since her death. Her husband had already remarried and her daughter is already 5 years old. There's also another problem — because of her constant hovering, her daughter has gained the ability to see ghosts… and that's not good. Not all ghosts are harmless and some can actually harm her.
Cha Yu-ri decides to do what she can to save her daughter in the 49 days she is given. She'll keep away the ghosts and try to find a way to remove her unwanted ability. Eventually Cha Yu-ri reveals herself (albeit unintentionally) to her husband, daughter, friends, and parents. She desperately wants to live but she can't bring herself to ruin the life her husband had already built in the last five years.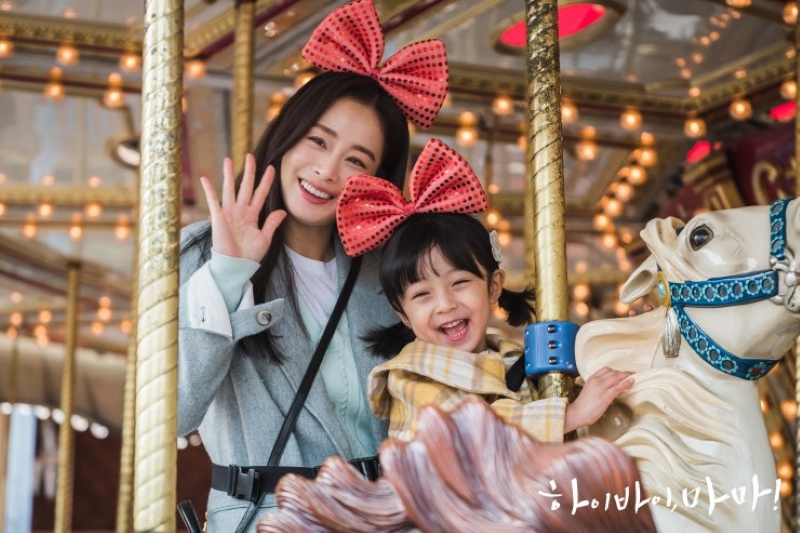 Hi Bye Mama is not a perfect drama. The story's premise is unrealistic — a woman who's been dead for 5 years miraculously resurrects. But the way the plot unfolds is so emotionally involving. Even I was sad over what happened to Cha Yu-ri! This is my first time to watch Kim Tae-hee in a drama and wow, I must agree she really is one of the most beautiful faces in Korean showbiz! Her acting skills are commendable too. Even if I knew from the start that a happy ending did not seem plausible, I just had to keep watching.
More than a love story, Hi Bye Mama is a series about a mother's unconditional love. Oh the lengths a mom will go to for her child!
Random fact: The kid who plays Cha Yu-ri's daughter is a little boy in real life. Talk about acting chops at a young age! The casting people said they picked this kid because among all who auditioned, he bore the most similarity to Kim Tae-hee.
Hi Bye Mama is available on Netflix.
Like this post? Subscribe to this blog by clicking HERE.
Let's stay connected: