For my 110th K-Drama, I watched Celebrity on Netflix. It's a short and sweet series, spanning 12 episodes that last anywhere from 37 to 45 minutes each. Celebrity is about a seemingly ordinary woman named Seo Ari who makes a living selling cosmetics door-to-door, kind of like an Avon lady. Ari lives her life from paycheck to paycheck, until she learns about social media celebrities from her best friend and colleague Jeong-sun.
As it turns out Ari's family used to be very wealthy. Her father owned a textile company and she used to be the most popular girl in school. He lost everything though and so Ari, her mother, and her brother have all been living a simple life.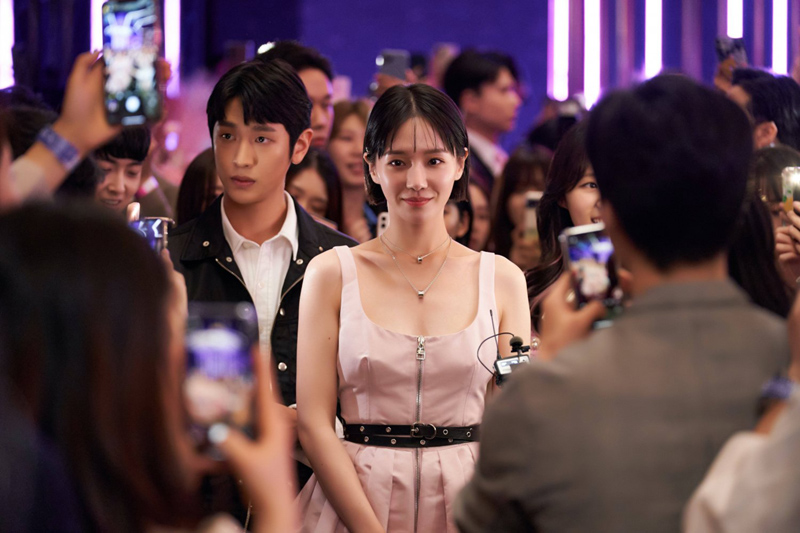 A series of coincidences and a keen sense of style turns Ari into an instant social media star and she wastes no time taking the opportunity to earn from it. She establishes her own fashion brand Ari& and gains millions of followers very quickly. It helps that she has somehow caught the attention of a handsome chaebol in the person of Han Jun-kyoung, whose family owns and runs a cosmetics empire.
Ari finds herself always crossing paths and locking horns with the Gabin Society, a group of rich influencers who think Ari is not up to their level. They are all always scheming and plotting to bring Ari down.
The series starts with Ari doing a livestream… but she's supposed to be dead according the the Gabin Society. Ari digs up all the skeletons in their closets and exposes everything. Thus unfolds the story of Celebrity.
Celebrity is a series that's very relatable for me since I am a blogger with active social media accounts. It's a makjang drama, since situations are very much exaggerated and we get our fair share of cat fights, mudslinging, deaths, and even the occasional resurrection. I actually got The Penthouse dejavu when Jin Tae-jeon started slapping around his male secretary and flinging aside the stuff on his desk ala Joo Dan-tae. All this while shouting at his wife Si-hyeon who was giving me Shim Suryeon vibes.
The plot moves very quickly. I love the pacing, there's just never a dull moment so you don't have time to get bored. You just want to watch and watch and watch. The surprise twist in the end was also unexpected but what must happen, happen. I like how Ari continuously tries to be her authentic self amidst the fame, fortune, and freebies… even insisting on trying all the products sent her way herself prior to posting anything.
Celebrity ends on a satisfying note. They do add a cameo by a major star at the very last moment to give you a cliffhanger-ish feel but nah, I felt it was just that. I don't really see a second season coming.
Highly recommended, this series is available exclusively on Netflix.
Like this post? Subscribe to this blog by clicking HERE.
Let's stay connected: