Back in 2009, I posted a guide to Japan tourist visa application for Philippine citizens. Almost 8 years have passed since then. There have been changes. For starters, they've started issuing 5-year multiple entry visas. Before 2015, we had to apply for a visa for every single trip. I've even experienced lining up at the Japanese embassy — thank goodness they implemented the no appearance policy.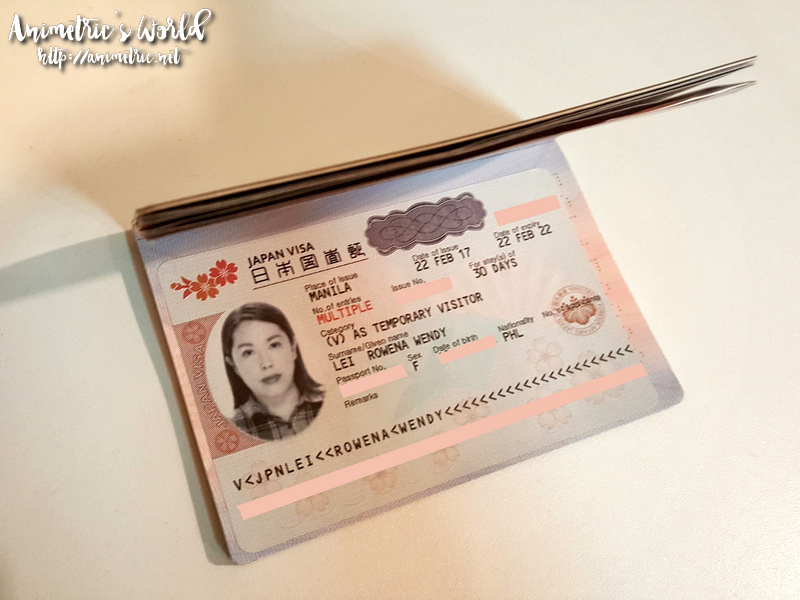 Anyway I'm soooo happy hubby, the kids, and I all got 5-year multiple entry visas! I find visa applications tedious so the less I have to do it, the better.
I'm posting this guide so I have something to refer to 5 years from now, lol. Ready?
Go to http://www.ph.emb-japan.go.jp/visiting/new/visa/tourism.htm and check the requirements.
Now lets go through the requirements:

Philippine Passport – This should be in no less than PERFECT condition. My sister-in-law's passport had this tiny little slit (tear) just a few mm in length near her photo. The Japanese Embassy told her that her passport is considered tampered. She was told to get a new passport before applying again.
Visa Application Form – Download this from http://www.ph.emb-japan.go.jp/visiting/new/visa/tourism.htm. Print it out and fill it up. You can also get a copy from the entrance of the Japanese embassy or from an accredited agency.
Photo – They're really strict about the photo. Photo requirements can be found HERE. Not all photo studios get it right. If the spacing is off by just a few mm it's not accepted. I recommend Picture City because they've been taking my Japan visa photos since 2005. They're cheap and they're fast too — your photos are ready in 10 minutes. Just google Picture City to find the branch nearest you.
NSO Birth Certificate – No need if you've previously been issued a Japan visa. You just need to submit your passport with the Japan visa.
NSO Marriage Certificate – No need if you've previously been issued a Japan visa.
Daily Schedule in Japan – This can be your tour itinerary or your own DIY itinerary. You must detail where you will be every single day of your stay. I put all the tourist attractions that we would be visiting, hotel details, and flight details.
Invitation Letter from Guarantor in Japan – This is not necessary if you're just going there for sightseeing and tourist purposes.
Bank Certificate – This is basically a summary of the money you have in the bank. Your bank will issue this for a small fee. I don't know how true but someone told me that to be safe, it should amount to at least P350,000 for a single person. Please correct me if I'm wrong. Update: I was told people have gotten visas with less than P350k on the bank certificate.
Income Tax Return – According to their website they require the original and a photocopy. I only submitted photocopies as per the travel agency's advise. If you are self-employed, your SEC Registration and Corporate Income Tax can be submitted. This is provided your name is actually on the SEC registration. About the ITR, it doesn't have to reflect super high wages. Mine was minimum wage since that's all I really get.

The agency I applied through asked me to submit photocopies of my kids' school IDs as proof that they're studying here. My husband and I were asked to submit employment certificates.
All documents must be recent. The Japanese embassy pegs the validity at up to 3 months after issue date.
All visa requirements must be submitted to an accredited agency. You can check the list HERE. Processing fees vary per agency. So far P800 seems to be the cheapest.
You will only know if you've been approved or denied when your passport is returned to you. Processing time is 5-7 days. You can ask your agency of choice for recommendations based on your situation. You can also call the Japanese Embassy at 834-7514 or e-mail ryoji@ma.mofa.go.jp for inquiries.
I hope this helps… good luck!
Like this post? Subscribe to this blog by clicking HERE.
Let's stay connected: