So I finally finished my 51st K-Drama — It's Okay To Not Be Okay. Months had already passed after my 50th series, The World of the Married. It's not that I don't want to watch. In fact, I have a string of unfinished K-Dramas on Netflix — The King Eternal Monarch, Hospital Playlist, Mystic Pop-Up Bar, The Light In Your Eyes, Tomorrow With You, Come and Hug Me… ughhh I watched maybe an episode or two and got bored. I was really looking for a series where I'd be hooked from the first episode. It's Okay To Not Be Okay was that series after a string of failures. I couldn't stop watching after I started.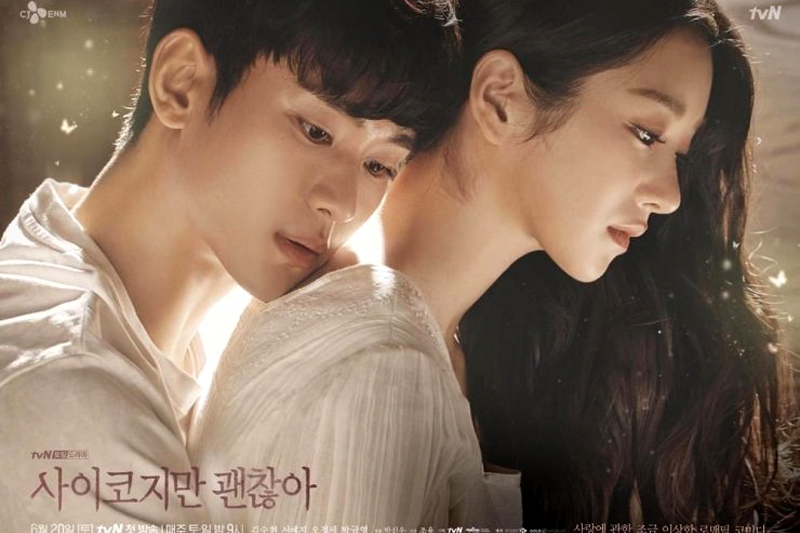 It's Okay To Not Be Okay stars Kim Soo-hyun, who also played the alien in My Love From The Star. That was the second K-Drama I watched. His leading lady here is Seo Ye-ji, an actress I'm watching for the first time.
The story goes something like this. Moon Gang-tae (Kim Soo-hyun) has always taken care of his autistic older brother Moon Sang-tae after their mother was murdered. Sang-tae witnessed the entire thing but due to his autism, he can't really express what he saw. He just keeps insisting that a butterfly killed their mom. This results in a nomadic lifestyle for the brothers. They always move to a new place when it's "butterfly season" (spring).
Then Ko Moon-yeong comes their life. She's a famous author of children's books whom Moon Sang-tae idolizes. They get a chance to meet her for real and Gang-tae finds himself attracted to her. It's the same for Moon-yeong. She can't get him out of her mind.
Moon-yeong, Gang-tae, and Sang-tae eventually become close. Moon-yeong hires Sang-tae as an illustrator for her next book with the condition that the brothers now have to live in her mansion. Sang-tae enthusiastically signs the contract, much to Gang-tae's dismay. So the three start living under one roof.
It's Okay To Not Be Okay is a story about people who are all struggling with some form of mental/psychological disorder. It's most obvious for Sang-tae since he is autistic. But Gang-tae and Moon-yeong are battling their own demons too. I love how the characters evolve into the best version of themselves as the series progresses. They also eventually solve the mystery behind Gang-tae and Sang-tae's mom's murder as well as the mysterious circumstances of Moon-yeong's family. Each episode also shares a parallelism with a particular fairy tale, which makes it so much more relatable. The writer is a frickin' genius.
Gang-tae and Moon-yeong are so so so bagay you'll end up shipping them. Their chemistry is off the charts. They share some of the most passionate kisses in the K-Drama world, where most couples just touch lips.
Highly recommended. This is the series that broke my string of mehhh K-Dramas.
Available on Netflix.
Like this post? Subscribe to this blog by clicking HERE.
Let's stay connected: