When it comes to serious makeup, the type I wear to important parties and occasions (example, my sister-in-law's wedding), my go-to brand for eye and lip color is Inglot.
So when I was invited to the Inglot Berry Obsession Fall Winter 2014 launch last month, I said yes even if the timing was kind of tight (event was 2pm-3:30pm and I had to pick up kids from school by 4pm). Upon arriving, I was immediately given a lipstick from the collection and a form to fill up for my custom drink.
Niner Ichi Nana's bartender crafted a refreshingly fruity drink because I said I wanted a non-alcoholic cocktail that was sweet, salty, creamy, and with bubbles. He got everything except the creamy part lol.
There are exactly 13 products in the Inglot Berry Obsession Fall Winter 2014 Collection.
Let's start with the Inglot O2M Breathable Nail Enamel. These allow water and oxygen to pass through and helps keep nails in the best condition while wearing nail enamel. One bottle costs P650 and there are 6 new shades:
#689 – Bright Toned Reddish Berry
#690 – Mauve Berry
#691 – Deep Wine Berry
#692 – Blackberry
#693 – Deep Plum
#694 – Blueberry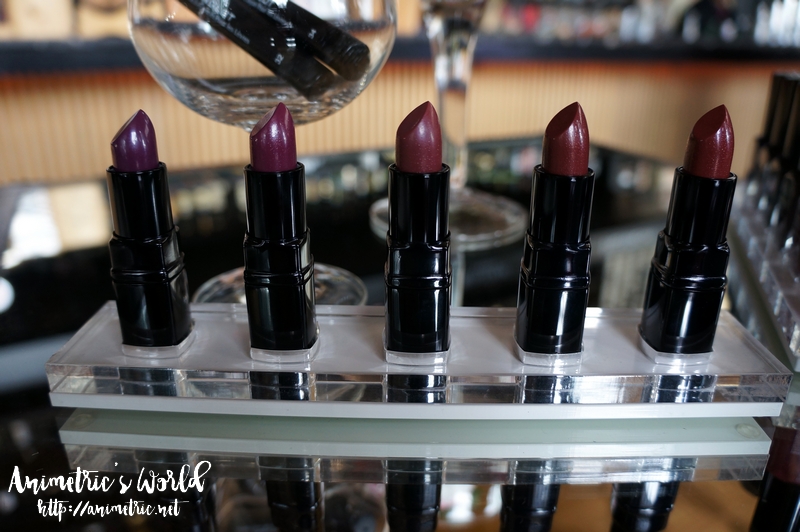 There are 5 shades in the Lipstick Berry Collection. Each cost P895. These are formulated with Vitamin E and Apricot Kernel Oil so your lips are moisturized and protected.
#293 – Blue-based Purple
#294 – Red-based Purple
#295 – Mushroom Plum (I got this!)
#296 – Bourbon
#297 – Rusty Red
Last but not least are 2 shades of Matte Collection AMC Lip Pencil. Thick enough to use as lipstick, yet can be sharpened to a fine point for use as a lip liner. These are formulated with avocado oil to moisturize and regenerate lips. These cost P995 each and the are available in shade #32 and #34.
I was very excited to try Inglot Lipstick #295. Luckily it was the shade I liked best among the five.
Described as Mushroom Plum, I was crossing my fingers that it would not make me look old lol. Darker shades usually make people look older than they are and that's the last thing I need since I just turned 40!
Here's a swatch. It's definitely berry-colored.
Wow, I love it! I think it doesn't make me look old. It makes my teeth look whiter too.
What I like about Inglot Lipstick Berry Collection #295:
It glides on smoothly so it's easy to apply.
It's highly pigmented, just check out how rich and deep the color is!
It's got a matte finish that doesn't dry out my lips.
It smells like berries so it makes me want to eat the lippie hahaha!
Shade #295 makes my teeth look whiter.
The staying power is incredible! I ate a heavy lunch with my daughter and my lipstick was still intact afterwards!
This is definitely one of the best lipsticks I've ever used.
For the superb quality, it's comparable with high-end brands but it's still below P1k so I find it reasonable.
Downside? It's of course, pricier compared to the drugstore variety lipstick but I find it well worth the money. Inglot Berry Collection Lipsticks are available at P895 per tube.
Inglot
G/F Glorietta 5,
Ayala Center, Makati City
Like this post? Subscribe to this blog by clicking HERE.
Let's stay connected: