We were invited to have a meal at Ikkoryu Fukuoka Ramen at SM Aura Premier a week or so ago. Hubby and I have actually had lunch at their store at Shangri-la Plaza Mall's East Wing but I was unable to blog about it because I didn't have my camera with me at the time. Ikkoryu Fukuoka Ramen is a franchise from Japan. They have over 150 stores all over Taiwan, Thailand, China, and Japan.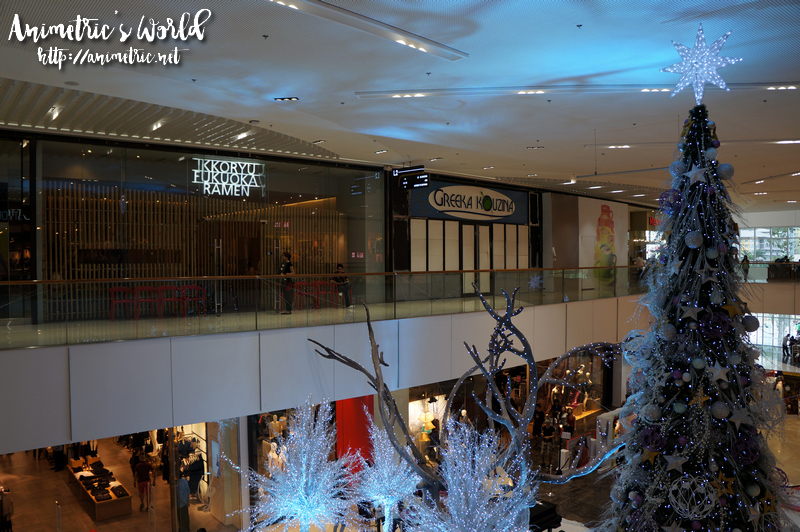 I really like the Ikkoryu Fukuoka Ramen branch at SM Aura.
They even employed the services of a Japanese artist to do some calligraphy on the wooden planks inside the store.
We were immediately seated upon arrival and promptly served glasses of water and cold service tea.
Each table has its own set of condiments like sesame seeds, chili oil, etc.
Without much ado we were served a bowl of Ajitama Tonkotsu (P380) which was divided among four of us (there were other bloggers on the table). Before I go on, I would like to point out that ALL of the ramen in Ikkoryu Fukuoka Ramen use tonkotsu as its soup base. Tonkotsu is derived from boiling pork bones and is seasoned with special soy sauce following a secret recipe only the Ikkoryu people know. Since it's pork broth, it has a substantial amount of oil making it rather heavy but extremely flavorful. So anyway, Ajitama Tonkotsu is considered one of the classic ramen offerings at Ikkoryu, topped with semi-runny half-boiled eggs which have a sweet-savory tasting golden yolk. I liked it a lot! It's the kind of hearty ramen you'd want to slurp during a cold or rainy day.
We were served small dishes of pickled radish on the side to cleanse our palates. What you do is put a bit of it in the broth and then take a sip.
We also tried their Gyoza (P150) or pan-grilled pork dumplings with sauce on the side. It's actually very much like what we've eaten in Japan — juicy inside and lightly toasted at the bottom. Delicious!
The most memorable ramen for me that afternoon was Yuzu-Tama Tonkotsu (P380). Yuzu is Japanese lime unique to the Kyushu region and this one mixes tonkotsu broth with lime juice. For some reason though it's super spicy, so I probably would not be able enjoy it for an extended period (I have high tolerance for spicy food at that). To describe it in Tagalog, gumuguhit sa lalamunan (roughly translated it means "singes the throat"). This is actually one of their two new ramen offerings.
After the very tastebud-shocking Yuzu-Tama Tonkotsu, we had a much tamer bowl of Special Vegetable Paste Tonkotsu (P380). By this time I honestly could not distinguish it from the earlier bowl of Ajitama Tonkotsu we sampled.
We were served Karaage (P180) too. In simple terms, it's just plain old fried chicken, haha. I like how it's thoroughly cooked though — really crunchy outside and tender inside. Karaage is a rather common side dish in Japan.
Last but not least, we tried the second of their two new ramen offerings: Aka Tonkotsu (P380). It was described to us ramen with chili paste that's not spicy.
You mix the chili paste together with the soup before digging in. True enough, their description just about sums up the taste. I was amazed at how I could actually taste the chili and yet not experience any of the spicy sensations that usually accompany it. Interesting.
By the end of the meal I was glad that there were other people to share the bowls of ramen with. As I've mentioned earlier, the tonkotsu soup base is on the heavy and oily side albeit very high in flavor so I don't think I can manage a big bowl on my own. I liked how the noodles are cooked perfectly al dente for each serving — firm and chewy! I would probably share a bowl of Ajitama Tonkotsu with hubby next time if we go back. Prices are similar to other ramen places like Ukokkei Ramen Ron.
Ikkoryu Fukuoka Ramen
2/F SM Aura Premier,
McKinley Parkway McKinley Hill, Taguig City
478-0333 / 478-8333
Like this post? Subscribe to this blog by clicking HERE.
Let's stay connected: