My hubby and I have been meaning to try Huat Pot in Greenhills for some time now. We're big fans of KingOne Rotary Hot Pot but it's located in Macapagal which is really far from us. Luckily they recently opened in QC so we'll be visiting their new branch soon.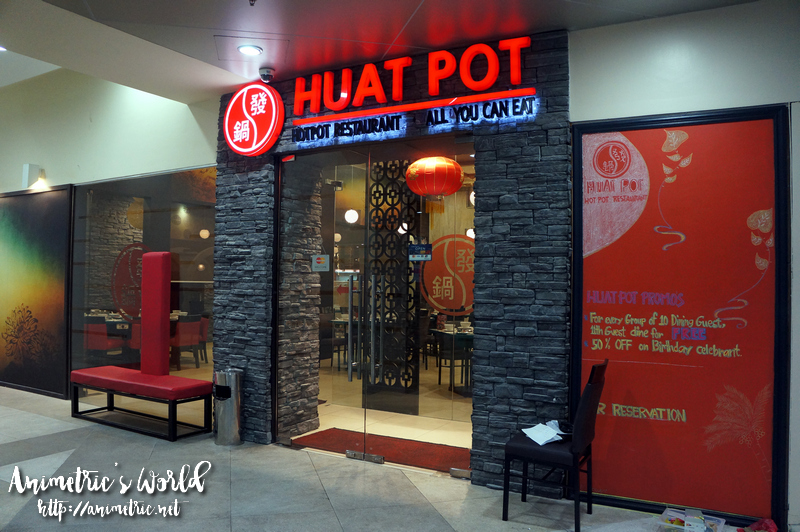 So anyway, back to Huat Pot. We love that it's located in Greenhills because it's very accessible for us. It's pretty hidden as it's on the second floor of the building where Rustans Fresh Supermarket is along P. Guevarra.
We got there a little past 6pm, we were meeting a friend for dinner. It's pretty spacious.
Yes aside from eat-all-you-can hot pot, you can drink-all-you-can. They have beer, soda, iced tea, different kinds of coffee, and even hot chocolate I think.
With hot pot, the secret is in the sauce and you can go wild at Huat Pot as they have a lot of condiments for the mixing. I was surprised to find even sesame paste and peanut paste aside from the usual sate sauce, garlic, soy sauce, etc.
What I like most about Huat Pot was how clean, cold (yes, they have really cold air-conditioning), and organized the place is compared to KingOne. Hot Pot ingredients are neatly laid out on shelves and replenished regularly. They are maybe around 50-60 choices of meats, veggies, seafood, etc.
Mini Fish Cake
Shrimp
Crab
Sweet Corn on the Cob
Sweet Potatoes and Taro
Those purple balls are Lobster with Yam, they turned out to be my favorite.
They have a freezer full of meat, I got mostly beef.
I forgot what these are but aside from beef they have chicken, pork, and lamb if I'm not mistaken.
This is how a typical hot pot table for 4 is set up.
There are 6 soup bases to choose from: Huat Pot Special (Original), Sate (BBQ), Oden (Veggie Lovers), Mala (Spicy), Laksa (Seafood Lovers), and Beef Spicy Soup (Beef Lovers). You can choose 2 so we went for Huat Pot Special which is basically chicken broth and Oden, which tasted kind of like the broth used in Kitsune Udon. The Oden is a winner with its comforting and slightly sweet taste, but we found Huat Pot Special to be kind of bland and boring.
This was my first serving of hot pot ingredients.
We pretty much just dumped everything in the boiling soup.
For dessert, there are three choices. First would be the Taho.
I was surprised by the wide array of syrups available for Taho — ginger, vanilla, lemongrass, pandan, etc.
There are fresh fruits too.
I had come across several blogs claiming that Huat Pot offers unlimited Magnum bars for dessert so when I looked at their freezer and saw none I was kind of disappointed.
Later on, a few pieces of Magnum showed up, but only the Classic variant was available. I wanted Almond, darn! Oh well, I just ended up having Taho.
For P688+ per person (we ended up paying P700+ each), Huat Pot is expensive. KingOne offers a whole lot more choices at a lower cost per head and we could already eat at Vikings Buffet or Dads World Buffet for that price. We were not happy with the quality of the meat. The beef wasn't tender and I actually had a hard time biting pieces off even if they were thinly sliced. Another problem is the veggies weren't fresh. Both the sweet potato and sweet corn had a weird tart-ish aftertaste that freaked me out so I stopped eating them. There are no mozzarella balls too, and it's my favorite hot pot ingredient. The best things I had that night were the Oden soup and the Lobster with Yam balls. On a more positive note, we were impressed by the air-conditioning as it was still comfortably cold even if everybody was boiling/simmering their hot pot. It's also cleaner and more organized at Huat Pot compared to other hot pot places.
Anyway, I don't think we'll be going back to Huat Pot. For hot pot, KingOne Rotary Hot Pot is still king, especially now that they have a QC branch that's closer to us.
*Update as of August 30, 2014 – My hubby and I were invited back to Huat Pot. The owner thanked me for pointing out the problem with the meat and investigated the matter. It was a supplier problem and when we went back, I tried the same meats that I got during my previous visit and wow, the meats HAVE improved a lot — tender and lean, so good. He will also be improving the selections, and yes he will add Mozarella Balls. Since his reforms aren't 100% done yet I've decided to wait until then before paying another visit.
Huat Pot Hot Pot Restaurant
2/F Metropoint Center (where Rustans Fresh Supermarket is)
P. Guevarra cor. Wilson Sts., San Juan City
650-3091
Like this post? Subscribe to this blog by clicking HERE.
Let's stay connected: