Some days ago, I shared my shopping experience at SHEIN. Two out of three items I bought were problematic. Since SHEIN is based in Hong Kong, I assumed that it was going to be too costly to return items and ask for a refund. I was already planning to sell the stuff I couldn't use at a loss on Shopee. But then a friend told me that it was super easy to return items and get a SHEIN refund. The first time you return items is free, but succeeding returns will have a P100 fee. Since this was my first ever order, I availed of the free first time return policy.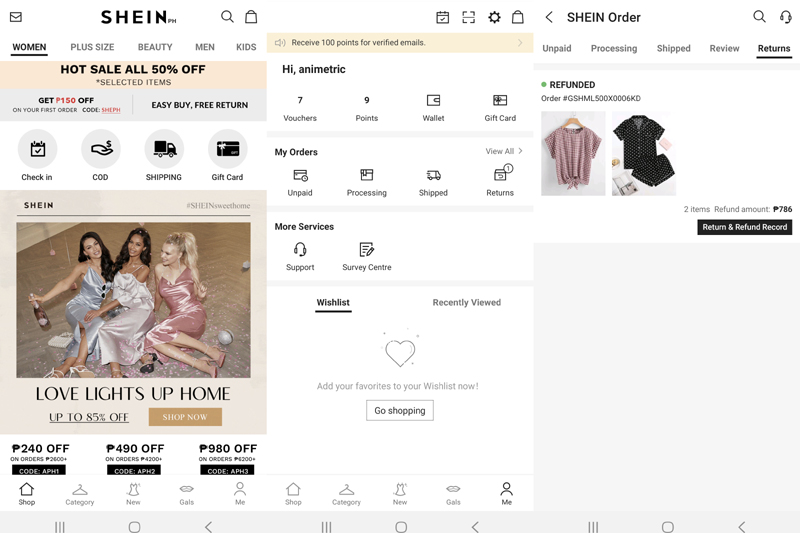 Anyway I've been getting a lot of queries on social media as to how exactly I applied for return and refund. It's surprisingly easy! I took screenshots above. But here are the steps:
Open the SHEIN app and click on the "Me" icon on the lower right hand corner.
In the next screen, go to My Orders and click Returns.
Tick on the items you'd like to return, indicate the reason, and submit.
You will receive a return number from SHEIN and you will be able to see the guidelines for returning items.
Pack the items (I put them back in their original SHEIN bags with bar codes) and drop off at the nearest J&T Express branch. Give J&T Express the return number and they'll print out a return waybill and put your items in a J&T courier bag to be shipped out for return.
I dropped off my items at J&T Express last Monday and I got my SHEIN refund yesterday, Thursday. Shein will issue the refund to either your SHEIN wallet or the account you used to pay for your purchase. It's your choice. They will refund what you paid for the items. In my case, I used Paypal so they refunded the amount to my Paypal account.
Return application to actual refund took a total of six (6) days, as you can see in the screenshot above. Even if they charge you P100 for succeeding returns, it's still worth it if the item is say P500+ and really not usable. Since first time returns are free, you can try ordering to see if SHEIN is okay for you. Just make sure to reach the free shipping threshold so you don't end up paying for shipping in case you want to return everything.
Tips for easy SHEIN returns:
Try on all the items first and do not launder them or remove the tags. SHEIN won't accept laundered, worn, and tagless items.
Keep the original SHEIN bags with bar codes to make it easier to put back items you don't want. I put back all the items in their original bags and I think it contributed to my speedy SHEIN refund.
You only have 15 days to return so I suggest checking and trying everything as soon as you receive your order.
Now that I've seen and actually tried on SHEIN clothing, I have a better idea of the sizing and quality so I know better next time. Honestly I prefer shopping at Lazada.
Like this post? Subscribe to this blog by clicking HERE.
Let's stay connected: