Finally got around to ordering clothes from SHEIN, the newest shopping app people are going wild over. Shein has a lot of clothes and accessories. They're pretty cheap too. They ship worldwide and give discounts for those paying with Paypal, GCash, etc. I've been seeing a lot of my blogger friends' Shein purchases on social media. I finally decided to download the app and give it a try.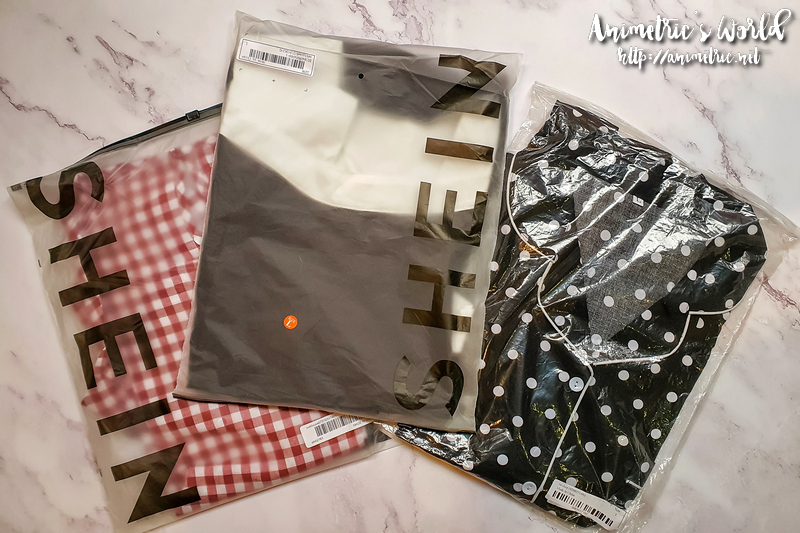 I ordered these on April 13. Got them today, April 17. Not bad — less than a week! Upon checking the shipping label, I was surprised to find that SHEIN is based in Hong Kong. I thought they were a China-based seller.
I ordered these 3 items. Two tops and a pajama shorts set. According to SHEIN's sizing system, it was recommended that I order size L. So I did.
Pardon the murky photo, I forgot to clean the mirror lol. Anyway, out of the 3 things I bought, only 1 was okay. That's this Wednesday Addams-inspired top. I hated the ill-fitting gingham top. Sure it fit, but it looked ugh. I guess it would look better on a thinner person. The button-down pajamas also fit but were too snug at the chest area. I should've gotten an XL.
Here are my takeaways:
The fabrics are all thin, not comparable to Uniqlo. Maybe at the same level as Forever 21.
When ordering pajamas, order one size up. I don't know about you but the last thing I want are tight-fitting pajamas.
The clothes actually do resemble the photos in the app. Problem is, you don't know how they'll fit you.
They have a lot of vouchers and discounts plus free shipping if you reach P990. You will most probably end up paying less than the published prices.
Will I order again? Maybe XL pajamas… but other items? Probably not. Should you order? Yes because first time returns are FREE so you have nothing to lose. I have a separate post on my SHEIN return and refund experience HERE.
Like this post? Subscribe to this blog by clicking HERE.
Let's stay connected: