Back in 2020, we were already booked and ready to go to Taiwan. Hotel Midtown Richardson was our accommodation of choice. Then the lockdown happened. We had to cancel everything. Fortunately, we had no problems getting refunded by EVA Air, Klook, and Agoda. I was able to use all the money I got back to pay for my daughter's tuition fee that year. For this year's first post-pandemic international travel, we resumed where we left off and decided to go to Taiwan for the Holy Week. We booked Hotel Midtown Richardson again as I had already reviewed all the pros and cons then and now.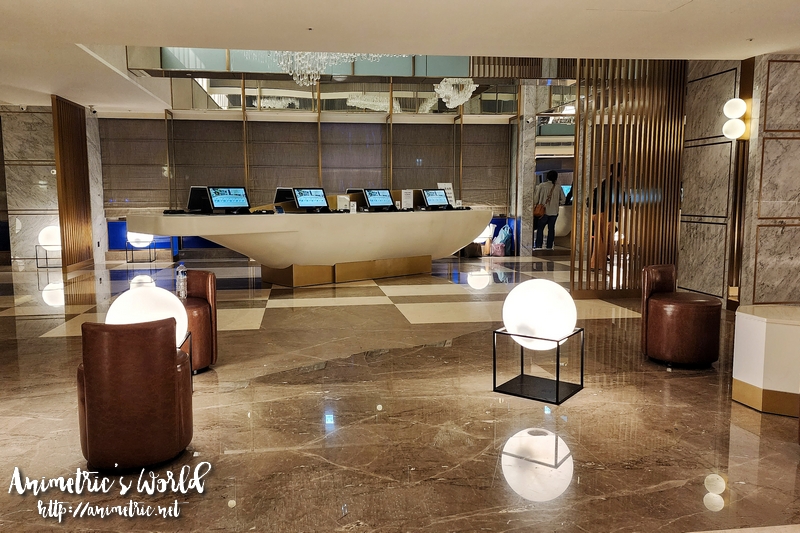 Hotel Midtown Richardson is located in Ximending and is right across the Ximending Night Market. The Ximen Station for Taipei Metro is right beside it too. Check-in time is 3pm. You do everything yourself by going to their self check-in terminal and then typing in your reservation number/code. There are front desk staff who are ready to assist should you have trouble checking in. Everything you need is right there. You swipe your own credit card, scan your own passport, and encode your own keycards (you get 2). It's all very easy and straightforward. After that you can already go straight to your room, no more waiting for porters or whatever.
We got a Superior Family Room for 4 people with breakfast for ₱12,000+ a night. We stayed for 5 nights and our bill came out to a little over ₱60k. The room is 26sqm in size. There was a free round of welcome snacks — 2 bags of chips, 2 cup noodles, and 4 canned drinks. They provide free bottled water daily (each person gets a 500ml bottle daily). There is also free instant coffee in the room and an electric pot you can heat water in. Disposable slippers are also provided.
All Family Rooms for 4 people are furnished with 2 queen beds. It was comfortable for us. We also got a window (Hotel Midtown Richardson has windowless rooms that cost less, this is indicated in the description). It would've been hard to tell day from night had we gotten a windowless room. We got a nice wall-mounted TV with a lot of English channels as well. There was more to watch here compared to Hong Kong or Japan.
There is also a small couch and coffee table with reading lamp at the corner of the room. Quite handy if you want to eat food you take out.
Our bathroom had a bathtub and shower in one enclosure, which may prove hard for seniors and disabled people to access as you would have to step over the side of the tub which is quite high. This shower enclosure also has a design flaw wherein it's too open and there is no shower curtain to stop the water from spilling out onto the bathroom floor. What we did to keep our bathroom dry was use the handheld shower and use it facing the wall mount so that water would hit the wall instead. Each person gets one bath towel each day (so that's 4 total daily). You get charged if you request for extra towels. They provide body wash, shampoo, lotion, and toothbrush kits with toothpaste. There's a hair dryer too. The toilet is equipped with a high-tech Panasonic computerized seat with a seat warmer, bidet, etc.
Since we opted for breakfast with our room, we would go down daily at 7am to avail of it. Breakfast service starts at 6:30am and closes at 9:30am. A lot of people (most of them westerners) on Trip Advisor said breakfast here is bad. I disagree. I liked the breakfast selections — certainly much healthier than the usual western breakfast with processed meats (ham, bacon, etc). Hotel Midtown Richardson's breakfast consists of congee with a complete array of condiments (pork floss, pickled lettuce, sweetened tofu skins, bicho-bicho, beansprouts, etc), fresh DIY vegetable salad, lots of fresh fruits, dimsum, fried rice, Lu Rou Fan (Taiwanese standard fare of steamed rice topped with minced pork), a variety of noodle dishes, steamed egg, meats, breads, cold cereals, and beverages like coffee, tea, and fruit juices. Our senior traveling companions liked it too.
Of course if you want more food tripping, you might be better off not availing of breakfast as it is really nothing special. It's convenient though for when you have an early call time for a tour.
To sum it up here are the good things about this hotel:
The Family Room is very spacious. We had lots of space for our luggage and to move around.
Free bottled water for everyone everyday (500ml bottle per occupant).
Our room and bathroom were satisfactory in terms of cleanliness.
Laundromat in every floor that's equipped with laundry detergent dispenser (10NT per packet), washing machine (100NT per load), and dryer (100NT per load).
Breakfast is good, albeit you need to go early to avoid the crowd.
Check in and check out can be done quickly and easily via the computer terminals.
There were sufficient elevators and we never had to wait long for a ride despite what Trip Advisor reviews say.
Hotel limos are available for airport transfers. Our senior companions didn't want the hassle of transferring train stations and lugging around suitcases so they opted to book a van from the hotel to take us straight to the airport. A van that's good for 5 people costs 1,800NT.
The location is such a winner. It's beside the Ximen Station, across Ximending Night Market, and there are lots to see in the surrounding area. There's a 7-Eleven on the same building as the hotel too. There are shops, coffee places, eateries, and everything else within a stone's throw.
There's a good, reasonably priced hot pot restaurant in the hotel — Takao 1972.
Of course, there are also not-so-good things:
Hotel wifi is next to useless. It's very spotty and slow. We ended up using the pocket wifi we rented via Klook even when in our hotel room.
The corridors outside our hotel room have badly stained carpets they don't bother to clean so it can be a turn-off.
They are very strict with check-in and check-out times. If you go past 11am for check-out you get charged 400NT immediately. There's no such thing as late check-out.
You can book Hotel Midtown Richardson via Klook or Agoda. Klook has flash sales at times that get you rooms at really low rates. I once saw them offering the room for 4 for ₱6,000+. We stayed from April 2-7, 2023.
Like this post? Subscribe to this blog by clicking HERE.
Let's stay connected: