December is the month when diets go bust. There are just TOO MUCH good food going around for you to think of depriving yourself. Suddenly homebakers are coming out with the most exquisite goodies for eating and gifting. Restaurants release special holiday dishes to make the season's gatherings more special. Anyhow, this was the case when we went to The Grid Food Market last weekend. We were treated to special holiday offerings by several different food stalls.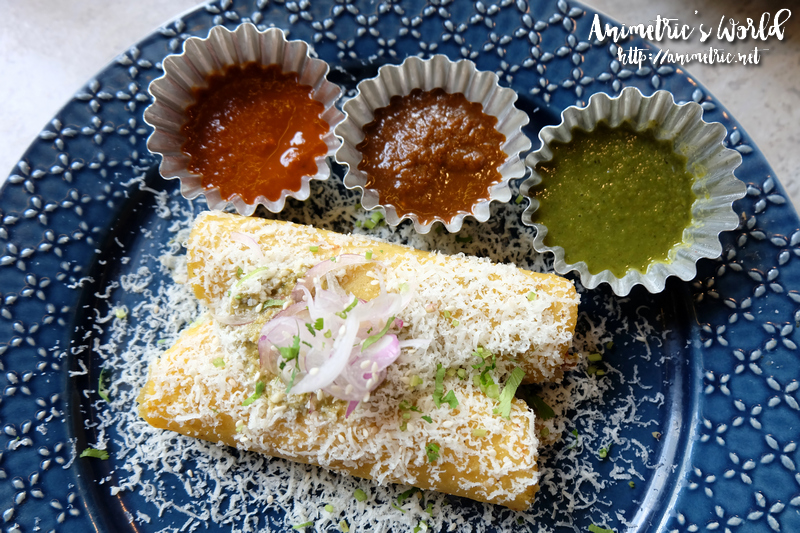 We had the Enchilada Verde from Stall 10 by La Chinesca. Delicately soft tortillas are filled with shredded chicken and diced fresh veggies then topped with finely grated cheese. It's served with 3 different sauces too, which include their signature salsa verde. Delicious! The kids loved it.
Then we tried the Quezo De Bola Tsukemen from Stall 4 Tsuke-men. We already love their usual Tsukemen but they level it up by adding a quezo de bola dip on the side. The tangy yet smooth cheese sauce goes very well with the al dente noodles and traditional dipping sauce.
This is the Pork Hamgyupsal from Stall 6 Gochu-jang. I'd describe it as the sweet pineapple ham version of samgyupsal. It goes very well with rice. You can also wrap them up with the lettuce leaves provided.
From Stall 7 Beefier we have the Ham Burger. Their hefty homemade burger patty is layered with sweet Christmas ham, lettuce, and tomato in between 2 halves of a brioche bun. It's a very flavorful and indulgent burger.
Meatloaf with Roasted Mushrooms, Mashed Potato, and Gravy is Stall 2 Bucky's holiday offering. Everyone loved this dish. The mashed potato is incredibly creamy and the meatloaf is perfectly done.
Of course, there are also holiday drinks to pair all the food with. We were quite enamored with the Egg Nog from Stall 21 EDSA BDG. Light and milky, it has a little bit of alcohol for ooomph. Swirl the peppermint candy cane into the drink for a hint of mint.
Stall 5 Le Chon revamps the classic holiday delicacies Bibingka and Puto Bumbong. The Bibingka is topped with salted egg cream with coconut bits. Meanwhile, the Puto Bumbong is super soft and chewy, the way the Puto Bumbong of my dreams is made.
Peppermint Hot Chocolate from Stall 21 EDSA BDG is a thick and rich chocolate concoction which is served with marshmallows on the side. My daughter had 2 servings of this. It's the kind of drink you want to snuggle up to on a cold day.
For dessert, we had gelato from Stall 19 Risa Chocolates. We tried 2 flavors — White Choco Strawberry Straciatella and Burnt Butter. The Burnt Butter gelato is wow. It's like eating cold, rich, and creamy butter ice cream. It's so good!
We also had pralines from Stall 19 Risa Chocolates. The outstanding flavors for me were Cookie Dough, Salted Caramel, and Quezo De Bola.
Gingerbread Latte from Stall 21 EDSA BDG is what you want to have when you feel like you've had your fill of food. Piping hot coffee is spiced with cinnamon and served with a gingerbread cookie on the side.
The Grid Food Market's holiday offerings will be available until Dec. 31, 2019.
The Grid Food Market
R2 Level Expansion Wing,
Power Plant Mall, Rockwell Center, Makati City
Like this post? Subscribe to this blog by clicking HERE.
Let's stay connected: