After my yummy Korean meat-all-you-can lunch at KPub BBQ, I've been hankering for more of the same thing. So when our cook took the day off yet again last Sunday, we decided to try out a cheaper eat-all-you-can Korean grill place for dinner. And so we ended up at Ho Galbi Korean Grill Restaurant in Pasig.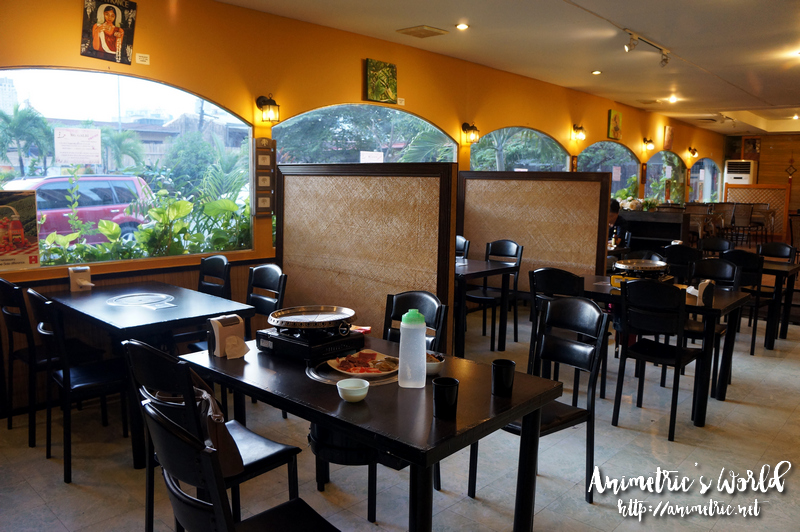 It wasn't dark yet when we got there. It was maybe a little before 6pm? The dinner rate is P599 per adult (P1,198 total for hubby and I). I think the price is halved for kids… I'm not really sure because when our bill came it said 2 kids P599 but I don't know if it's because our 12-year old was charged full price while our younger child ate for free or if P599 was split between the two of them. Their lunch rate is cheaper at P399 per head.
So anyway, there's steamed rice and soup.
There were about 5 kinds of banchan (Korean appetizers / side dishes), starting with these sweet baby potates sprinkled with sesame seeds. Yum! Loved 'em to bits.
There were also beansprouts.
Of course there was kimchi too.
There were 5-6 kinds of meats and there were shrimp (forgot to take a photo though). I really loved these thinly sliced beef strips which are fatty so it's kinda like beef bacon wahahaha.
More beef for me. I dislike chicken so again, I did not get any. There was some really tasty and tender pork too, hubby said it reminded him of tocino except it's a bit spicy. Sorry, no photo. I was too hungry and excited to eat.
They have sushi too!
Yay my favorite kimbap (steamed rice and filling rolled in seaweed) was also available. These were filled with tasty beef. I ate a lot of these when I was in Korea last year.
I was surprised to see a Bibimbap station. I had no clue how to assemble my own though so I asked one of the servers to make me one.
Aside from stuff you can grill, there were a lot of cooked food served buffet-style. If you want something more exciting than steamed rice you can go for this Korean rice.
Want more carbs? Have some Japchae!
According to the server this is steamed pork. There were a few other dishes like Korean Beef Stew and Beef Bulgogi among others but I rushed off to our table to eat already.
This is what our tabletop cooker looks like.
We grilled the meats there. They change the metal plate when it gets black and charred.
You can choose from a multitude of sauces for dipping.
My Bibimbap was brought to our table too. Delicious!
They had this unique dessert of sliced fresh fruits in sweet milk. Light and refreshing, it was the perfect way to cap off our hearty eat-all-you-can meal. Or you can buy Korean ice cream which they have a lot of.
What can I say? The wide variety of food is definitely worth the P599 price tag at Ho Galbi Korean Grill. There was a fly or two buzzing about while we were eating which greatly disturbed our daughter so she didn't eat much. You end up super smelling like food afterwards in the worst way possible, much more so than other Korean grill places like KPub. Let's just say it's suggested that you shower right away when you get home, lol. It's P300 less per head than KPub but I felt in general KPub had better quality meats and of course, the ambiance there was a whole lot better (no flies and it's immaculately clean).
Let's compare, shall we:
KPub BBQ – Awesome interiors, immaculately clean, everything is served to you so you don't need to get up or line up, no short order dishes. There's a one-hour time limit if you choose the P499 package.
Ho Galbi Korean Grill – Wide selection of food (not just meats and banchan), no time limit, buffet-type set up so you have to go get your own food, okay interiors, needs to get rid of flies, cheaper in general especially during lunch.
Take your pick, either way you will end up with a full tummy! 😀
Ho Galbi Korean Grill Restaurant
100 Oranbo Drive, Pasig City
634-2010
http://www.hogalbirestaurant.com/
Like this post? Subscribe to this blog by clicking HERE.
Let's stay connected: