Hey I am Yogost / I am Yogost, or simply Yogost, is a yogurt drink brand that originates from New Zealand. I never would've guessed… given all the Chinese characters on their cups and collaterals. Anyhow, my kids and I are really really into yogurt and yogurt drinks. We were quite addicted to the Australian brand Koomi before lockdown. Of course, we just had to try Yogost.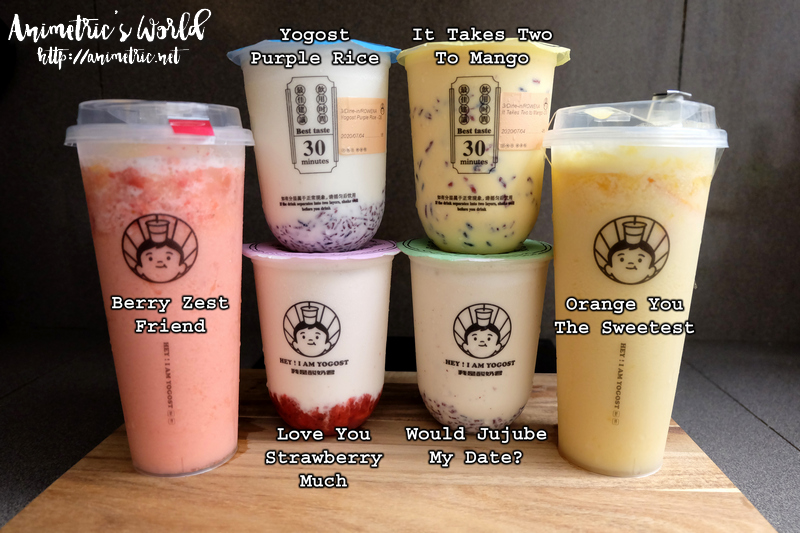 Yogost has 4 categories of drinks — Rich Series, VC Series (Vitamin C), Fruit Series, and Blossom Series. The Rich Series showcases more of their creamy yogurt. The VC Series is a combination of yogurt, green tea, and real fruits. If you want just yogurt and fruits, then Fruit Series is for you. The Blossom Series incorporates more um… exotic and unique ingredients like osmanthus, jujube, etc.
Hubby and I super loved the VC Series. He had Berry Zest Friend (P150) which is a combination of strawberry, lemon, yogurt, and green tea. He dislikes yogurt so for him to actually like this says a lot.
My favorite drink Orange You The Sweetest (P150). It's reminiscent of Orange Julius from my childhood. I never did figure out what they put in Orange Julius but this is very close to what I remember. Who knew orange juice could be creamy and refreshing at the same time?
This is Love You Strawberry Much (P140) from the Fruits Series.
Here's their menu of drinks. There are still a lot to try! But the VC Series is what really got us. I will most probably get Orange You The Sweetest again next time. Drink prices range from P125 to P150.
Yogost currently has 2 stores open in the Philippines:
Greenhills Promenade – G/F Food Court
Ayala Malls Manila Bay – 3/F K-Town
Like this post? Subscribe to this blog by clicking HERE.
Let's stay connected: