My kids and I LOVE Koomi. Before we went into quarantine, we'd always stop by the Koomi stall in Robinsons Magnolia. Our favorite is their signature Stick-On-Me Purple Rice. They used to sell it for P120 per order. When I checked their menu earlier today though, it was priced at P138. Price increase? Maybe. That said, we've really been missing Koomi although they've re-opened recently.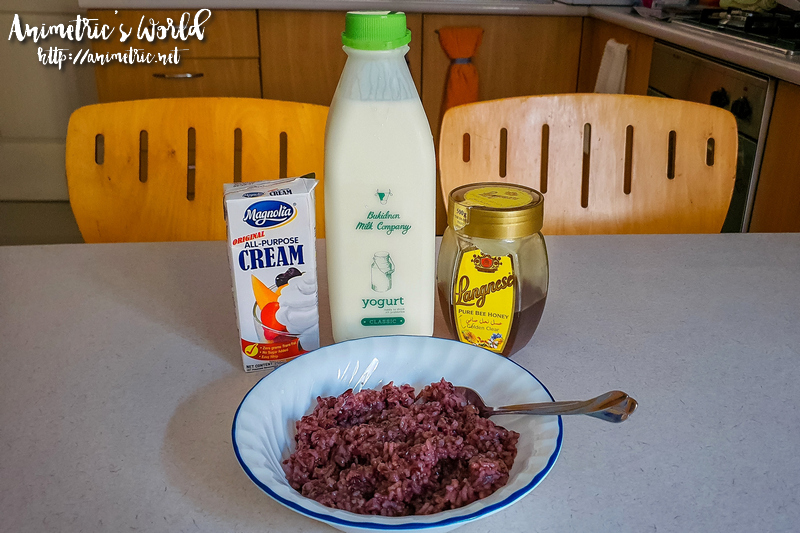 Anyhow, I ordered drinking yogurt from Bukidnon Milk Company (from @cocodeliveryph on IG) last week. I tasted it and wow, it's actually kind of similar to Koomi's yogurt base. My mother-in-law gave me Purple Rice from Baguio. Then I have Langnese Honey which tastes a lot like the honey they use to sweeten Koomi drinks. I knew I could hack it.
First thing to do would be to cook the purple rice. I soaked the grains in water overnight and then boiled them in the morning. I got really nice and sticky purple rice. Drizzle your desired level of Langnese Honey on the purple rice. Mix until the honey is distributed all over the purple rice.
The Koomi Stick-On-Me Purple Rice drink has two versions — the creamier Pinoy blend and the more tart Aussie blend. To make the Filipino blend, put the honeyed purple rice in a blender and about half the drinking yogurt in the bottle. Add about 1/4 cup all purpose cream. Add desired amount of ice cubes. Blend well. Put honeyed purple rice (this is so you have something to chew) onto the glasses and pour the contents of the blender into the glass. This yields drinks good for 3-4 people.
For the Aussie blend, same procedure minus the all-purpose cream. Use less ice if you want your drink thicker. Both my kids said the drink I made tastes very similar to what we'd order. This is more economical because I got the bottle of drinking yogurt for only P170+ and half the bottle can make 3 full glasses of drinks. Even if you combine the costs of cream, honey, and purple rice, it still comes out cheaper. 😀
Like this post? Subscribe to this blog by clicking HERE.
Let's stay connected: