Who has perfect skin? I certainly don't. I have enlarged pores and fine lines just like most people. This is why I need to be super mindful of my skin care regimen so that I can improve problematic areas and maintain my non-40something appearance despite turning 41 later this year. But you can give the illusion of perfect skin with Happy Skin Insta Beauty Blur Cream (P1,299).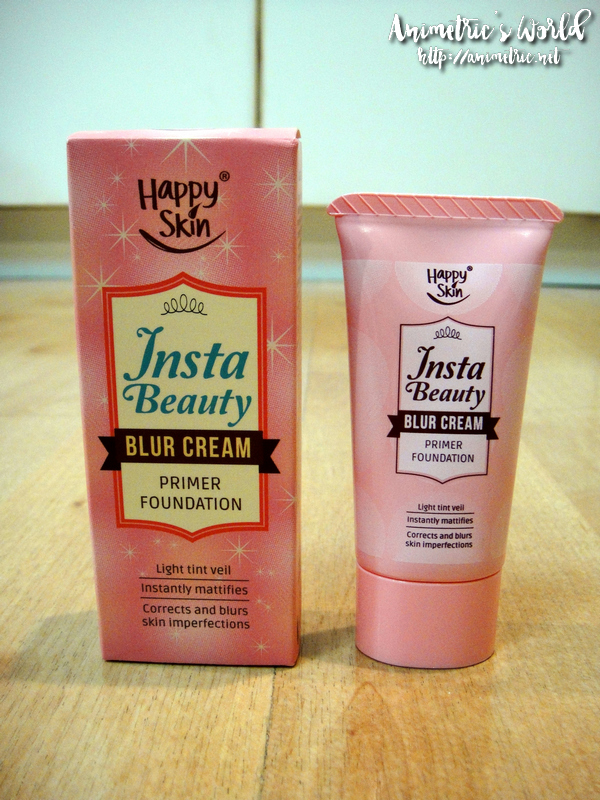 Happy Skin Insta Beauty Blur Cream Primer Foundation (P1,299)
Since we are on the topic of non-perfection, I'm only too happy to introduce Happy Skin's latest product — Happy Skin Insta Beauty Blur Cream Primer Foundation. It's a lightly tinted primer which fills in lines, brightens skin, refines large pores, and mattifies all in one application. It will blur all imperfections making you look picture perfect each time all the time. Wow, right?
Happy Skin Insta Beauty Blur Cream comes in only one shade but it's pretty universal because it's translucent.
It disappears the more you blend it. You can wear it alone or under foundation / BB Cream / CC Cream.
Upon application the first thing I noticed was the instant mattifying effect. Happy Skin Insta Beauty Blur Cream just gets rid of all oil and shine instantly. I had just finished my skin care regimen prior to application and if you look at the after photo you would notice even the sheen from the moisturizer I applied is gone. If you have oily skin, this is recommended for you!
Check out how Happy Skin Insta Beauty Blur Cream blurred my pores and fine lines. They're practically gone after application. This primer helps you create a smooth and even surface for makeup to go on.
Okay so I tried to layer on the Happy Skin ZZ Cream on top of the Happy Skin Insta Beauty Blur Cream. Skin looks even brighter and smoother. I've done a lot of combinations and so far the best one for me is Happy Skin Insta Beauty Blur Cream + Happy Skin Don't Get Mad Get Even Liquid Foundation. My skin isn't that oily and so the mattifying powers of the Blur Cream needs to be balanced with a moisturizing foundation or my skin would look dry.
Right after application vs. 6 hours after
I love how the Blur Cream lets my face look fresh 6 hours after application! My skin doesn't look shiny or greasy, just a bit dewy. Still fresh! Love it!
6 hours after applying Blur Cream and Foundation
What I like about Happy Skin Insta Beauty Blur Cream:
Blurs all my large pores and fine lines.
Mattifies my face so my makeup stays fresh-looking a lot longer.
Doesn't irritate my skin.
Contains anti-aging ingredients like Vitamin C and Vitamin E… also Retinol and Peptide to make skin plump and smooth.
Fragrance-free — that's a plus for me because I don't like different scents clashing on my face.
A little product goes a long way so one tube will last a long time.
Downside? I don't recommend this for dry skin because its mattifying effect may make dry skin look flaky.
Happy Skin Insta Beauty Blur Cream is available online for P1,299 at http://store.happyskincosmetics.com/. You can find it offline in Rustan's, Beauty Bar, Plains and Prints, SM Makati, and SM Mall of Asia by April 2015.
Like this post? Subscribe to this blog by clicking HERE.
Let's stay connected: