Although powder foundation is quick, convenient, and easier to use compared to liquids and creams, I've never been too fond of powder. At my age, I find that most powders make my face look dry and well… old, lol. Looking old is a no-no for me because I'm vain like that. This is where Happy Skin Don't Get Mad Get Even Powder Foundation (P1,299) comes in.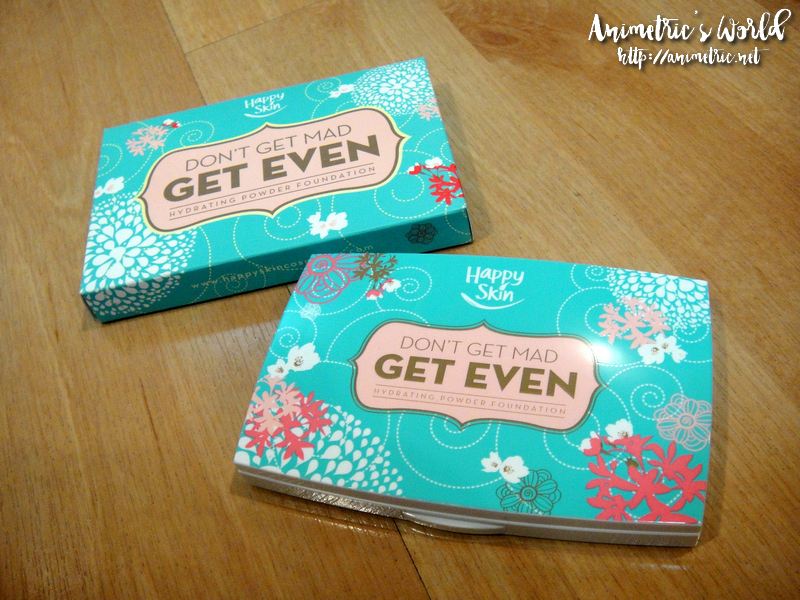 Anyhow, I was given Happy Skin Don't Get Mad Get Even Powder Foundation in 01 Soft Beige (the lightest shade among 3 available) for review some time ago. Now the liquid version of this is one of my favorite products so I was curious as to how the powder version would measure up. I super love the sleek pastel-colored packaging. I asked the HS team if it can be used alone or if I have to layer it on top of another product and they told me it can be used alone. Good — I don't like too many layers especially if it's just a regular day.
I noticed this compact's mirror is bigger compared to most.
It comes with a sponge for application. The powder looks kind of dark when you take a swipe but it easily blended onto my skin when I actually patted it on.
So anyway, my bare face is on the photo above left — I had just washed and moisturized so it looks dewy. The photo above right was taken after applying Happy Skin Don't Get Mad Get Even Powder Foundation and a few other products (eyebrows, eyeliner, mascara, cheek tint, and lippie). See how light-colored the powder turned out to be?
So anyway, the true test of a powder foundation is how it stays on. The photo above right was taken over 6 hours after my initial application, no retouch. My face was dewy but not greasy or oily and it never looked cakey at anytime.
What I like about Happy Skin Don't Get Mad Get Even Powder Foundation:
It's super easy to use! Just take the sponge, take a swipe of powder, and apply evenly all over your face. Blend, blend, blend. No mess, no fuss.
It brightens my face instantly.
It feels light on the face and it's easy to forget you have it on.
It doesn't look powdery or cakey when applied.
It minimizes pores — wow I look poreless even without primer!
Coverage is adjustable and can go from light to medium-heavy.
Looks fresh even after over 6 hours of wear.
It's an excellent alternative to the Bobbi Brown Extra Bright Powder Compact Foundation SPF 25 I reviewed some time ago as it's around half the price.
Downside? It's definitely more costly compared to drugstore-level cosmetics at P1,299 but it's comparable to higher-end products that cost a lot more.
Happy Skin Don't Get Mad Get Even Powder Foundation is available at at Rustans Department Store, Beauty Bar, and Plains & Prints for P1,299. No time to shop? You can also buy online at http://store.happyskincosmetics.com/.
Like this post? Subscribe to this blog by clicking HERE.
Let's stay connected: