I've never been to Italy but my friends who have been there all reacted the same way when I posted GROM on my IG Stories. They all asked WHERE? By that, they meant where can they get GROM gelato here in the Philippines? I scanned the press release and it said select supermarkets and groceries nationwide. But I could've sworn I either heard or read that you can find GROM at Landers, Landmark, and Robinsons.
Anyway, GROM gelato was founded in Italy back in 2002 by friends Guido Martinetti and Federico Grom. They wanted to create the best gelato in the world. Thus they committed to creating GROM gelato the way traditional Italian gelaterias used to make gelato — with pure and authentic Italian craftsmanship. This means no artificial colouring, aromas, and emulsifiers. GROM uses only the best ingredients like fresh milk, cage-free eggs, Carruba flour, and white cane sugar.
There are four (4) flavors available in the Philippines. First is Stracciatella, which I would describe as milk and chocolate. GROM's Stracciatella uses crunchy Ecuadorian chocolate. There is indeed an unmistakeable crunch in every spoonful of smooth, milky gelato.
My favorite flavor is Pistacchio. I thought Carte D'Or Pistachio Gelato was the bomb, but this is on an entirely different level. Using pistachios of different strains and stages of maturity, GROM was able to create a unique flavor with varying textures. There's crunch and there's velvety smoothness. The taste is so pure it was like eating cold, creamed pistachios. Mind blown.
Then there's Crema Di GROM. This is made with pastry cream, Venezuelan chocolate chips, and GROM's very own meliga biscuits. It's like pastry turned into gelato. You can feel and taste the crusty biscuit bits while the pastry cream has a sweet, dulce de leche-like flavor profile.
Last but not least is Cioccolato. Wow, it was like eating cold creamy dark chocolate cake! Incredibly rich, the chocolate taste is so deep. Ecuadorian chocolate is combined with fresh milk and white cane sugar to come up with this explosion of flavors.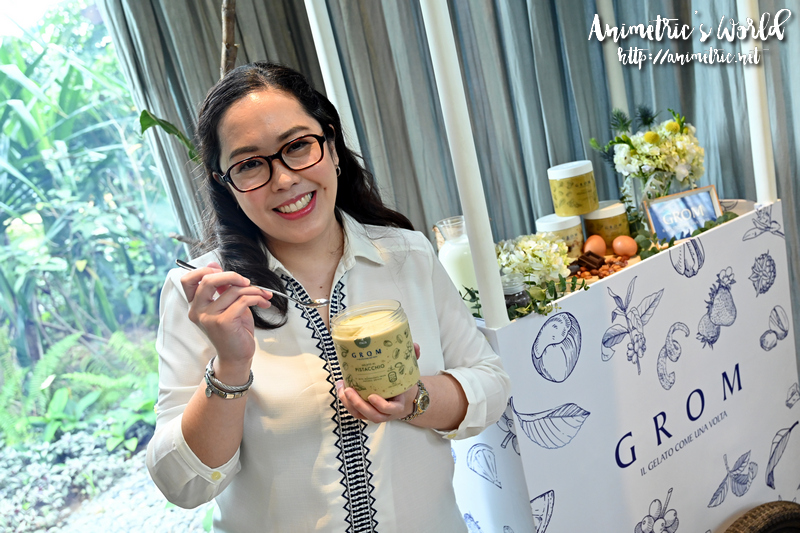 I like Pistacchio because it's the least sweet among the four.
GROM is available in 460ml pints for P495 in select groceries and supermarkets nationwide. I like the packaging… they're reminiscent of the jars used for beauty products.
Like this post? Subscribe to this blog by clicking HERE.
Let's stay connected: