Ever wanted to learn how to make gelato? Well, we got to attend a gelato masterclass thanks to premiere UK gelato brand Carte D'Or. It's really the perfect activity for this scorching hot summer! I mean, we get to make our ice cream and eat it too lol. Here's a bit of trivia: The Philippines is the first country in Asia which will have Carte D'Or readily available in store shelves!
How nice to share the experience with fellow foodies! (Hi Jin!)
These are the ingredients you need to make gelato — milk, cream, sugar, salt, pistachio puree, and pistachio nuts. As you can see, there are no artificial ingredients and additives.
Chef Miko Aspiras of Freezer Burn fame was our teacher for the day.
We combined all the ingredients except for the pistachio nuts and started mixing.
The mixture was then taken to this churning machine.
The mixture was churned. It's -21° inside this machine. You can see the mixture solidifying.
After churning, the pistachio nuts are folded in. Since the gelato is still quite soft at this stage, it was taken for flash freezing.
After flash freezing, we were all served freshly made pistachio gelato! Whoa, it's smooth, creamy, and not overly sweet. This is exactly how they make Carte D'Or gelato, only on a bigger scale.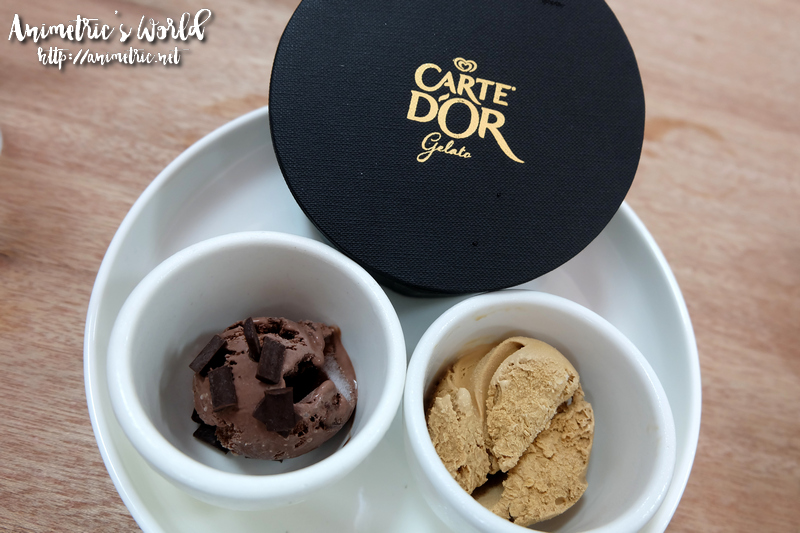 We got to try the Double Dark Chocolate and Salted Caramel flavors too!
Four flavors will initially be available to us: Pistachio, Double Dark Chocolate, Salted Caramel, and Choco Hazelnut. They will retail for P295 per 475ml pint. Carte D'Or will be available at selected supermarkets and convenience store starting May 23, 2017.
Like this post? Subscribe to this blog by clicking HERE.
Let's stay connected: