Do you use PayMaya? I do! I discovered it back in 2017 and I've been using it to buy load, pay bills, and shop. I love how they always have rebates, so I always get cashbacks whenever I spend. Load is always discounted too. I used to have to drive to the nearest telco business center whenever I needed to pay for my mobile phone bills. Ever since I started using PayMaya, all I need to do is log in the app and pay in a few clicks. It's so convenient!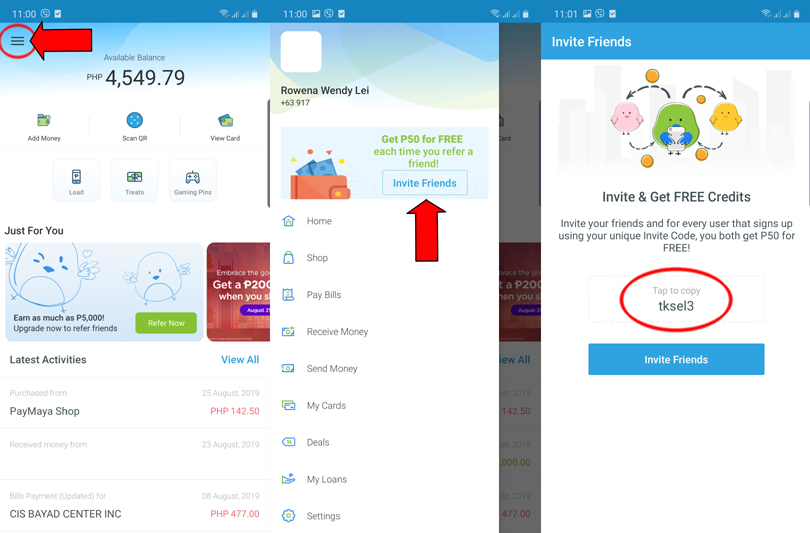 In case you're not yet using PayMaya, now's a good time to register for your FREE account. Just download the PayMaya app and use my PayMaya referral code tksel3. Click the "Upgrade for Free" button within the app and submit the requirements. Account upgrades are usually done in as fast as 30 minutes. Once all these steps are completed, both you and I will get P50 each in our PayMaya accounts.
After your account is upgraded, you'll get your own PayMaya referral code to share to your friends too so you both get P50 each. We can all get up to P5,000 in referral credit this way.
For new users, the free cash doesn't end there. New users can get an additional P60 reward by completing the welcome challenges from PayMaya. After upgrading their account, the new user immediately gets P20 on top of the P50 referral credit. By sending P20 to a friend, he gets another P20. By paying at least P20 via Scan-To-Pay QR, he gets another P20.
Once you have an account, adding money is also quick and hassle-free. It can be done through more than 30 bank partners via Instapay, or through the more than 40,000 PayMaya Add Money channels nationwide that include Smart Padala by PayMaya centers, Smart stores, Bayad Center, SM Business Center, Robinsons Business Center, Gaisano Capital Business Center, 7-Eleven, ExpressPay, Palawan Pawnshop, Cebuana Lhuillier, RD Pawnshop, Shopwise, Wellcome, UnionBank ATMs, BDO, Metrobank, RCBC, iBayad, ECPay, VMobile and Touchpay, eTAP & Pay&Go Kiosks, among many others.
Check out https://www.paymaya.com/deals to make the most out of your PayMaya account.
Like this post? Subscribe to this blog by clicking HERE.
Let's stay connected: