I've been working Monday to Friday from 9am to 3pm since MECQ. That said, I just want to rest on weekends. We often order food so I don't have to slave away in the kitchen all day long. Stocks in supermarkets haven't been consistent too so it's somewhat a pain to get all the ingredients. Chinese food has always been our staple and so we are always on the lookout for the best Chinese homecooked meals. We think we've found it through Fullness of Joy Comfort Food.
Fullness of Joy Comfort Food is a home-based food business which specializes in Chinese dishes. These are family recipes handed down from one generation to the next. I have a bunch of picky eaters at home who have never liked anyone else's Cha Misua (also known as Birthday Misua) except my mom-in-law's (she makes it really well). In fact, they've never liked any of the Cha Misua in restaurants. This was going to be challenging, lol.
Anyhow, on to our orders! This is the Egg Tofu (P475 for the Family Pack, good for 4-6 people). Silken tofu, mushrooms, julienned carrots, and a smooth flavorful golden sauce make this a really delectable vegetarian dish. Everyone loved it! The serving portion is pretty hefty so we had a bit left over after lunch which I served for dinner.
This is the Premium Chicken and Pork Kikiam (P280 for 4 pcs). I usually don't like Kikiam because they always come across as super oily and well, luma. Fullness of Joy Comfort Food's Kikiam is comes across very fresh and tasty. Hands down one of the best Kikiam I've tried. We had this for lunch and dinner too, lol!
This is the Boneless Taosi Spareribs (P520 for 500g / P900 for 1kg). You can order this cooked or frozen. If frozen, it's a bit cheaper at P420 for 500g and P800 for 1kg. It comes with a pack of their homemade chili garlic oil.
We ordered it cooked and wow, I'm not exaggerating when I say this is the best I've had. We always order this at Le Ching and the Fullness of Joy Comfort Food version is better by leaps and bounds. Premium pieces of lean pork means EVERYTHING is edible — no telltale bones, ligaments, fat, and other undesirable bits. The dish is seasoned just right too, so it's tasty but very natural and comforting. Yum!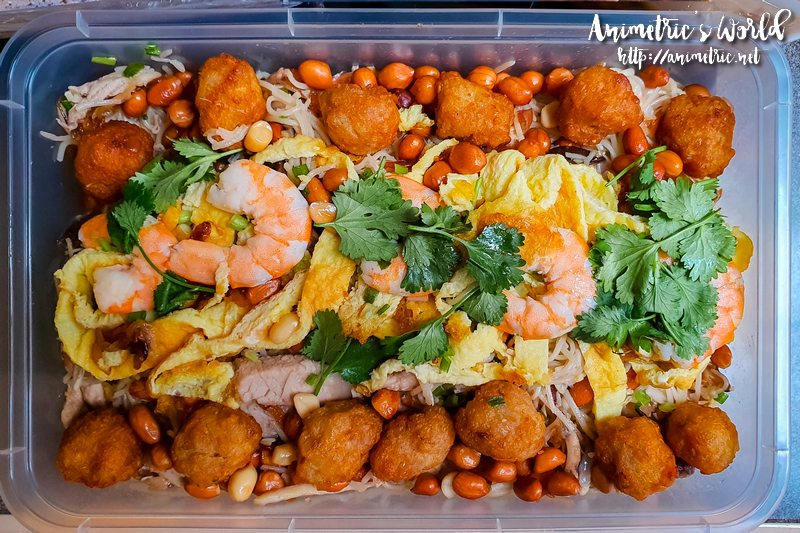 We also tried their Cha Misua (Birthday Misua) which they named Mommy's Special Misua (since it's their mom's recipe). The Family Size portion you see here is good for 4-6 people and is priced at P800. The bigger tray for 8-10 people is P1,500. Everyone here at home has never met a Cha Misua that can compare to my mom-in-law's Cha Misua. Hers is so good we find restaurant versions too heavy with MSG or too oily or whatever. There's just always something off. Mommy's Special Misua is the first Cha Misua that we all liked apart from my mom-in-law's. It's flavorful without being overwhelming, not greasy, and they use quality ingredients. We loved the mini meatballs they put on top. It's got pork, shrimp, egg, peanuts, coriander… the works! Cha Misua is tedious to prepare so I'd be more than happy to re-order this delicious rendition. 😀
It was a really hearty and delicious lunch spread for us. I love how comforting the food is, they really do live up to their name. There's no yucky feeling afterwards, you just know that everything you ate was carefully made with good quality ingredients.
To view their full menu, please check the Fullness of Joy FB Page. They have lots of other stuff like Sirloin Tapa, Pork & Mushroom Siomai, Sushi Bake, etc. For orders and inquiries, message them on FB or IG. You may also contact them via Viber at 09175608316.
Like this post? Subscribe to this blog by clicking HERE.
Let's stay connected: